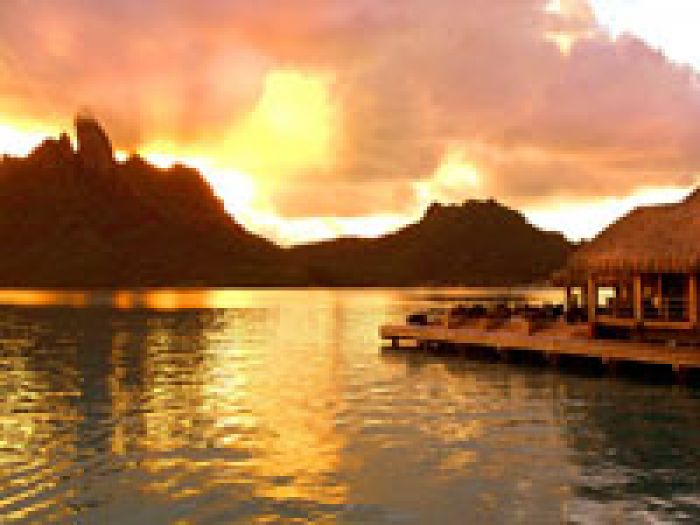 Luxury Resorts:
Bora Bora is simply one of the most beautiful and desirable destinations on Earth. The inviting turquoise waters of the lagoons open up a "seaworld" vista of enchanting explorations for diving and snorkeling. Sailing into a Tahitian sunset on a catamaran is a romantic experience a couple cherishes for a lifetime. Experiencing the guided hiking tours and seeing the indigenous arts and crafts of the local artisans introduce guests to island culture seamlessly.
It is so enchantingly picturesque that it borders surreal. Actually, it is in the South Pacific among the Society Islands of French Polynesia. It is an extraordinarily romantic getaway as well as an oasis for aquatic adventure seekers and entire family vacations. It is almost too perfect that such a natural wonder also has an incredible man made wonder as well, a five-star St. Regis resort.
Travel Weekly Magazine rated the St. Regis Bora Bora Resort the #1 Resort in 2007. Travel + Leisure, Cigar Aficionado, Robb Report, New York Weddings, and the industry's own Hotels & Accommodations have acknowledged it as a top destination. Hotel & Accommodations named the St. Regis resort the Best Property in the South Pacific.
The St. Regis Bora Bora Resort fits into this tropical haven swimmingly. There are various luxury-latent villas, tennis courts, a 24-hour fitness center, and a 13,000 square-foot spa set on its own private island. There is something for every member of the family or the entourage. The adults-only Oasis pool has intimate secluded cabanas for ultimate privacy, while the Kids Creativity Club offers various indoor and outdoor activities, such as storytelling, arts and crafts, and video games to sailing, swimming and tennis.
While there are wonderful villas available ranging from 1,550 up to more than 3,450 square feet, there is but one Royal Estate on the resort that is as spacious as a mansion with 13,000 square feet of living space. The big house features a private spa and pool, a Jacuzzi, a chef's kitchen, and a private beach. It also has three bedrooms, a dining room and two living rooms.
All accommodations come with high-speed Internet access, two 42-inch plasma-screen televisions, a DVD/CD player, an espresso/coffee machine, and a mini bar. A St. Regis butler is on hand for all guests and at their disposal with a push of a button. For dining and lounging, there are three restaurants and a poolside lounge with seating for 10 directly in the water. The Lagoon Restaurant by Jean-Georges, which presents an international cuisine, is suspended over the water to further enhance the dining experience.
There are plenty of activities on the island to keep the St. Regis concierge hopping, such as chartering a sailboat; parasailing off a roundabout; arranging a daylong fishing expedition; viewing island relics and WWII memorabilia. Whether it is romance, adventure, or a pleasant combination of both served up in heaping portions around the clock, Bora Bora is a treasure of the South Pacific that measures up to all visitors' expectations splendidly. Staying at the St. Regis Bora Bora Resort lavishly adds the finishing touch. It's an award-winning experience.
By James Rothaar
JustLuxe Contributor
Owner,
Luxe Lifestyle