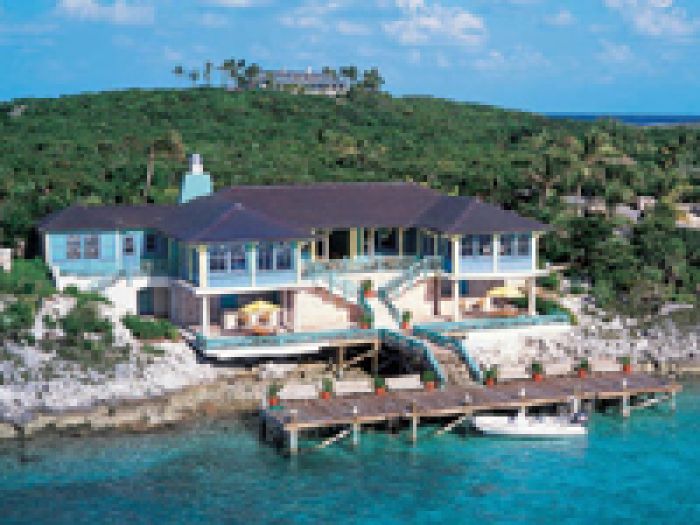 Luxury Resorts:
Can you get more exclusive than a private island, outfitted with houses flanked by their own individual beaches? Musha Cay and the Islands of Copperfield Bay offer the richest in luxurious amenities in private residences with sprawling and spacious floor plans, exotic treasure-like furnishings, and some of the softest sand on earth.
Only 700 acres of land total, this out-island of the Exumas in the Bahamas can accommodate only 24 people at a time, which makes it the perfect location for extravagant yet personal events: a beach wedding or a special anniversary with your closest friends and family. With only five houses but 40 private beaches, the 11 islands of Musha Cay have been scrupulously tailored to offer a getaway experience rivaled by no other resort on earth.
If the name Copperfield rings a bell to you, it should. Yes, we're talking about David Copperfield, famed magician and performer. But, even if you aren't one for illusions and spectacles, there's no denying that he has imparted his love for the magical on every area of the Musha Cay Resort.
With everything at the guests' disposal from the moment your toes touch the sugary sand, the staff of personal chefs, a massage therapist, tennis professional, and a yoga/pilates instructor are there to ensure your stay is as perfect and beautiful as the chain of islands themselves.
From the Beach House, a thatched roof cottage with open-air and wall-less living and bathrooms, to the 3,200 square foot Pier House equipped with two bedroom suites and a pier that runs straight into the ocean from the front door, to the staggering Highview: 10,000 square feet sitting on the highest hill of Musha Cay with a 360-degree view of the entire chain of islands, there is no denying the grandeur and perfect luxury of Musha Cay and the Islands of Copperfield Bay.
For rates and information about reservations, visit
www.MushaCay.com
or call their offices at (203)602-0300 or (877) 889-1100.
For LxM Kate Prihoda