JustLuxe View Profile

Editorial Staff
There are numerous activities at the St. Regis. There are two pools and two swimming beaches where guests can check out kayaks, snorkel gear and canoes free of charge. Scuba diving, fishing, jet skiing and other activities can be arranged with the concierge. I strongly recommend the scuba diving with sharks just outside the reef entrance to Bora Bora, which guests can do without a certification.
The myriad of fish, sting rays, reef and lemon sharks that occupy the reef are breathtaking and the water is warm and clear. While the idea of diving with numerous sharks may sound daunting, our instructor Ben quickly put us at ease with endless stories of his daily scuba diving and calm instructions. The St. Regis also has a complimentary grass tennis court and fitness center for guests who choose to stay on land.
The Spa Miri Miri is the perfect end to a day in the sun. It is located on its own private island in the lagoon with a small swim beach and deck for diving. Traditional and contemporary Tahitian treatments are offered including facials, waxing, body wraps, massages, manicures and pedicures. I recommend the relaxing massages, which are given by pleasant and capable therapists who will change pressure according to your desire s. Be sure to make a reservation, as there are only seven treatment rooms and they fill up quickly.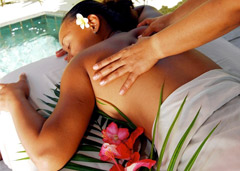 The St. Regis Bora Bora is truly the trip of a lifetime. The beauty, elegance and luxury of the resort set a new standard in five-star accommodations while the scenery, smells and sounds of this spectacular vacation will be burned in my memory forever.
Browse More St. Regis Hotels...
Related Topics :
LET'S CONNECT LUXURY NEWS & MORE






Featured Luxury Hotels
Dana Point, United States
The Ritz-Carlton, Laguna Niguel
The Ritz-Carlton, Laguna Niguel premiered as the first luxury beach resort...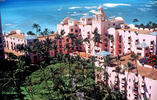 Waikiki, United States
The Royal Hawaiian, a Luxury Collection Resort
Welcome to The Royal Hawaiian, a Luxury Collection Resort, affectionately known...

Madrid, Spain
The Westin Palace Madrid
Commissioned by King Alfonso XIII in 1912, the newly restored Westin Palace...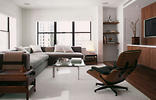 Chicago, United States
The James Chicago
Luxury Liberated at The James Chicago This unique hotel has all the...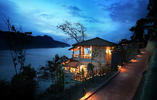 Langkawi, Malaysia
The Andaman, a Luxury Collection Resort
The Andaman, a Luxury Collection Resort located in an idyllic tropical setting...

Fort Lauderdale, United States
W Fort Lauderdale
Lounging on Florida's sugar-sand coastline W Fort Lauderdale makes its debut as...