By Elizabeth Hansen Feb. 18th, 2011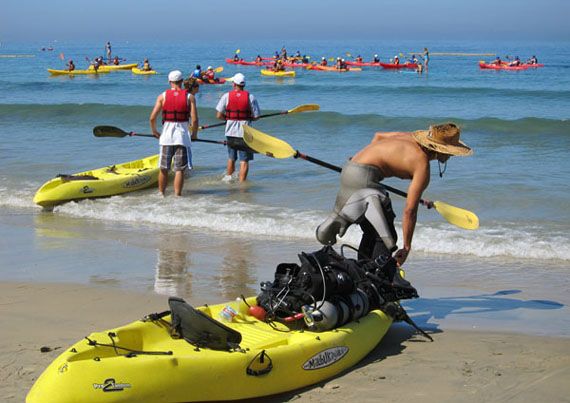 Photo Credit: Adams/Hansen Stock Photos
"Excuse me, but could you tell us how to get to
La Jolla
?" the woman in the front seat inquired as her male companion squirmed behind the wheel.
I smiled having heard this question many times and refrained from pointing out that they already were in La Jolla. I could see from the open maps strewn about the car and the scowl on the driver's face that the last thing this person needed was another lecture. Instead I pointed them in the direction of Prospect Street and Girard Avenue-the shopping and dining area in the heart of "the village."

As they headed in the correct direction and I continued my walk to the beach, I couldn't help thinking how much visitors miss by limiting their time in La Jolla to this one popular area.


Our lovely seaside community, 15 minutes north of downtown San Diego, is well known for its restaurants and boutiques, but those of us who live here know that La Jolla is so much more than two streets and a couple of post card viewpoints. I can't help wishing that visitors would wander off the beaten path and experience more of our community.

As I waled along La Jolla Shores Beach, I saw kayakers, surfers, swimmers, boogie boarders and scuba divers taking full advantage of all that this area offers.

Ever since some La Jolla High grads opened a rental shop up the street, the lime green and bright yellow kayaks have become permanent fixtures on this stretch of sand. Experienced paddlers rent one of the plastic vessels and take off on their own. The uninitiated usually opt for a guided excursion, which includes instruction and a tour of the nearby La Jolla Caves.

La Jolla Kayak also rents masks, snorkels and fins, so kayakers have the option of paddling over to the La Jolla Cove, dropping anchor, and having a look around the 6,000-acre San Diego-La Jolla Underwater Park. The area is sheltered from the open ocean and its marine inhabitants are protected by a strict look-but-don't-touch policy.


The ecological reserve is home to colorful garibaldi, California's state fish, as well as abalone, octopus and lobster. Sea lions have recently moved into The Cove, but are co-existing peacefully with swimmers and snorkelers.

Visiting surfers can rent a board at La Jolla Surf Systems in La Jolla Shores, and Surf Diva Surf School shows men and women of all ages how to hang ten. Menehune Surf specializes in teaching kids.

North of The Shores, Torrey Pines State Park offers hiking trails and breathtaking ocean views. The park is home to the rare and beautiful Torrey Pine-a relic of the Ice Age-and docents lead guided nature walks on weekends.

Nearby Torrey Pines Golf Course-the site of the 2008 U.S. Open and the annual Farmer's Insurance Tournament-has two very popular 18-hole courses, as well as a driving range. Locals are given preference for coveted tee times, so savvy travelers make bookings through San Diego Golf Reservations.


From the course, golfers have an expansive blue-water view and can also watch hang gliders floating above the cliffs to the south. For close-up views of the gliders, visitors need only drive to the Torrey Pines Gliderport, which is sign-posted off of North Torrey Pines Road. Here, the Cliff Hanger Café, which provides picnic tables and a drop-dead gorgeous view, is a popular insider spot for a light lunch.

UCSD (University of California San Diego), which is close to the Torrey Pines Gliderport, is an important part of the La Jolla community. Locals attend shows at the Tony-Award winning La Jolla Playhouse, located on the campus, and take pride in the university's avant garde architecture and artistic elements. In fact, following the self-guided tour of the Stuart Collection of site specific sculpture is a great way to get in a good walk while viewing the work of leading artists of our time.

Walking, kayaking, surfing, snorkeling, golf, hang gliding-everyone in La Jolla has their favorite pastime. However, we all meet up on Sunday morning at the immensely popular La Jolla Farmers' Market. Well, not all of us, but it sometimes seem that way to me when I'm navigating around baby strollers on my way from the strawberries to the ranunculus.


The Farmers' Market is held on the playground at La Jolla Elementary School on Girard Avenue at Genter Street every Sunday (rain or shine) from 9 a.m. to 1 p.m. This is a certified market, which means the people selling produce are real farmers and what they offer is all grown locally.

Is this place of interest to visitors? Yes, if you love to picnic and want to fill your basket with delicious treats at down-to-earth prices. While it's true that a portion of the profits from the market end up in the school's coffers, it's not just altruism that attracts the locals.

Everyone enjoys this "happening" where live music and chatter fill the air as friends compare bargains and catch up on the local scuttlebutt. The market brings out the goofiness in everyone. One regular is accompanied by her shih tzus-notable because they always wear little visors.

While I know that it is restaurants, shopping, and iconic scenery that bring most out-of-towners to La Jolla, I'm always glad when visitors go beyond the obvious and experience our community from an insiders' point of view.
Elizabeth Hansen
Elizabeth Hansen is a veteran travel writer and photographer. She is the Travel Editor of Ranch & Coast, San Diego's luxury lifestyle magazine, and the author of two award-winning blogs: La Jolla Travel Information, and Authentic Luxury Travel. Her articles and photos have been published in National Geographic Traveler, Travel & Leisure, Islands, Conde Nast Traveler, and numerous other tra...(Read More)