By Merilee Kern May. 13th, 2011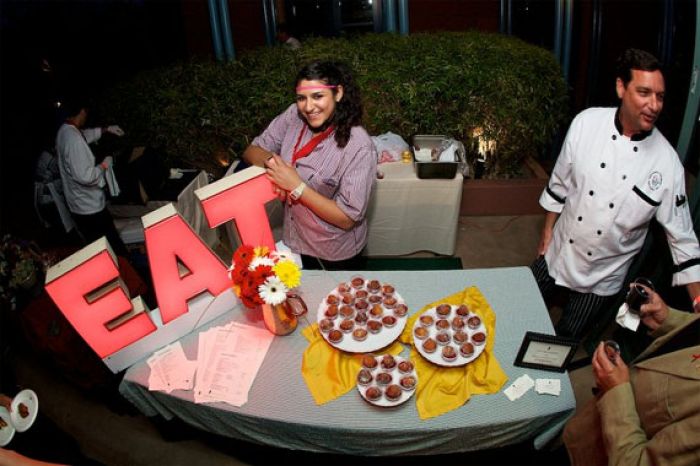 Photo Courtesy of Mama's Kitchen
As an ever-appreciative
San Diego
resident and a good life connoisseur indelibly on the hunt for the best of the best, it's incumbent on me to experience and inform you, dear Reader, about notable San Diego
-area "happenings" - you know, those society events, grand openings, launch parties and such where the A-listers lurk and that make the local luxury scene tick.

Here's the inside track on yet another sensational San Diego soirée:


The Event
Mama's Day 2011 - the 20th Annual restaurant tasting event featuring more than 55 of San Diego's top restaurants and chefs, all benefiting the non-profit Mama's Kitchen.

The Cause
Proceeds from the annual Mama's Day food fests help Mama's Kitchen continue cooking and delivering hot nutritionally-specific meals free of charge to more than 300 men, women and children throughout San Diego County affected by HIV/AIDS or cancer.


The Scoop
On May 6, more than 700 of my fellow foodies and I convened poolside at the Hyatt Regency La Jolla Aventine to revel in our gastronomic glory and channel our inner philanthropist at the 20th Annual Mama's Day event. This premier palette party featured culinary creations from San Diego's top restaurants and chefs as well as wineries, catering companies, cocktail bar, music and stellar silent and "super silent" auctions with exciting offerings like a 10-course dinner for two at Addison and a trip to a Grand Mayan Resort. As with last year, emceeing Mama's Day 2010 was former NBC 7/39 anchor Vic Salazar. Also as with the year prior, the ever-affable local celebrity chef Sam Zien, a.k.a. Sam the Cooking Guy, also meeted, greeted, mingled and broke bread with guests. San Diego Mayor Jerry Sanders also made an appearance, declaring May 6 to be "Mama's Day" in America's Finest City.


The Fare
Mama's Day offers a mosaic of taste as was this year's event motto, rallying an impressive roster of San Diego's most esteemed food purveyors to serve up inspired culinary creations. Participants included Fleming's Prime Steakhouse & Wine Bar, Café Japengo, Truluck's, BiCE Restorante, The Oceanaire, Top of the Market, and dozens of other revered San Diego restaurants.

As expected given my experience at this event in 2010, the extent and quality of food offerings was remarkable, as they were preparing and plating dishes in makeshift booth-side kitchens. Standouts from this year's event would include Cowboy Star's Rabbit Sausage with sautéed cabbage, black trumpet mushrooms and whole grain mustard; JRDN Restaurant's Meyer Ranch Braised Short Rib with spring onion and English pea ravioli; Stone Brewing Company's Herb Crusted Venison Carpaccio with Crow's Pass Farms Chandler strawberries, fresh heart of palm, Thai basil, white balsamic, and Connelley Farms micro greens.


The Bottom Line
A whirlwind of sights, sounds and flavors and philanthropy, Mama's Day is a worthy event for a worthy cause. After all, Mama's Kitchen is the only organization that prepares and delivers three meals a day, seven days a week at no cost to San Diego County residents affected by HIV/AIDS and cancer.



The 411
Pre-sale tickets for this year's event ran $125, tickets sold at the door ran $150 and Premium VIP tickets were available for $250 per person. Sponsorship opportunities are also available each year ranging from $1,000 - $25,000. Visit mamaskitchen.org to learn more.
Merilee Kern
Branding, consumer product trends, leisure and lifestyle expert Merilee A. Kern is a good life connoisseur who keeps her finger on the pulse of the marketplace in search of new and innovative must-haves and exemplary experiences at all price points, from the affordable to the extreme. The best of the best across all product, service and travel categories–as well as noteworthy marketplace change ...(Read More)