By Merilee Kern Apr. 25th, 2012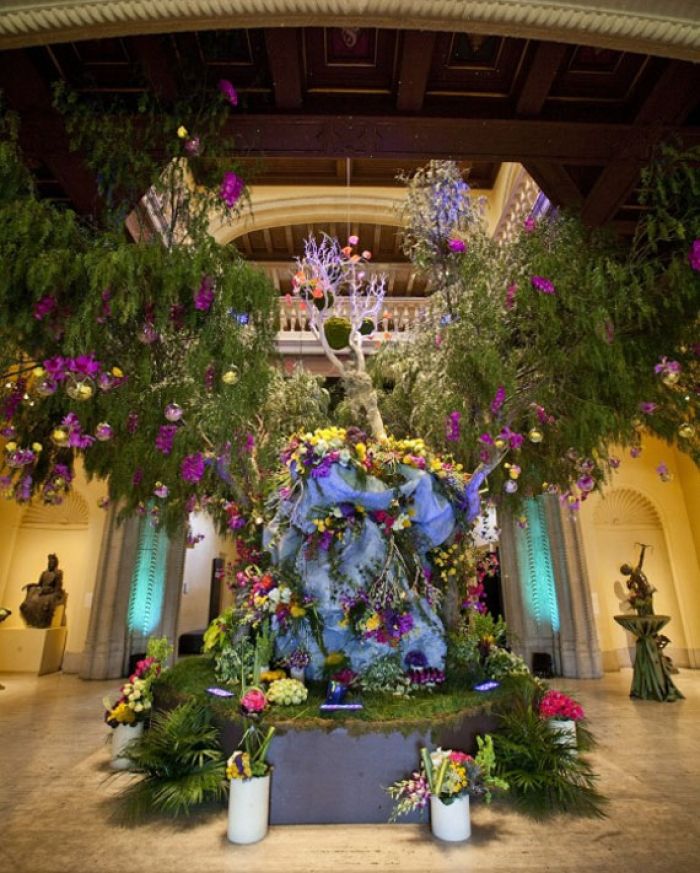 All Photos by Bauman Photography
As an ever-appreciative San Diego resident and a good life connoisseur indelibly on the hunt for the best of the best, it's incumbent on me to experience and inform you, dear Reader, about notable San Diego-area "happenings" - those society events, grand openings, launch parties and such where the A-listers lurk...and that make the local luxury scene tick. Here's the inside track on yet another sensational
San Diego soirée
.
The Event:
The San Diego Museum of Art's 31st Annual Art Alive Exhibition Opening Celebration
The Scoop:
I've again had the pleasure of attending the Opening Celebration event for Art Alive, The San Diego Museum of Art's venerable annual fundraiser. This year is was held April 12-15, in which nearly 100 floral designers transform famous works of art from the Museum's permanent collection into exquisite, equally expressive floral interpretations.
As the Museum's flagship fundraiser and a San Diego tradition for decades, Art Alive brings the permanent art collection to life in a fresh and imaginative way, replete with vibrant displays of color, texture, shape and artistic vision at its best. The result is a not-to-be-missed experience with sights and smells you'll not soon forget.
Multiple events ensue throughout the highly anticipated Art Alive exhibition period, which kicked off with an Opening Celebration event that splendidly merged fine art, gourmet fare, and extraordinary floral displays. Here, VIP patrons were able to explore this year's spectacular floral designs and the art that inspired them while sipping cocktails and sampling cuisine from San Diego'smost esteemed restaurants and chefs, including Trulucks, Nobu, Eddie V's, The Marine Room and Mille Fleurs. Amid a music-filled, lush garden-inspired backdrop, this sophisticated affair also proffered luxurious and unique silent auction items to further bolster the Museum's fundraising effort.
A spokesperson for the event noted, "Art Alive is The San Diego Museum of Art's primary fundraiser for the institution. Celebrating its 31st anniversary this year, the event is one of the longest running and most widely attended happenings of its kind in the United States. The unique exhibition features highly creative floral designers who take inspiration from the Museum's renowned collection, and create magnificent floral arrangements. The results are truly awe-inspiring." New and notable this year, the Museum shared several works of art from the permanent collection by artist Marc Chagall and proudly hosted New York-based floral designer and Chagall's granddaughter, Bella Meyer, as the featured lecturer.
The Bottom Line:
As the Museum's signature fundraising event and a highly anticipated San Diego tradition, Art Alive provides financial support for critical programs, education, outreach and the preservation, presentation, and interpretation of priceless works of art. The beautiful transformation of the art and the Museum itself, in addition to complementary programming and kids' activities, draws a diverse crowd and even fosters a new generation of art and floral enthusiasts. 
Through this event, visitors will undoubtedly take away a new appreciation for The San Diego Museum of Art's permanent collection by viewing each piece through a new perspective. Art Alive encourages viewers to see art differently, as interpreted through nature's bounty.
The 411:
Tickets for the private Art Alive Opening Celebration are available for $200 for Museum members and $250 for non-members. A separate annual Art Alive event, this year held on April 13, was Culture & Cocktails: Flowers After Hours. This posh party included a signature cocktail, live entertainment, and flower-power activities while patrons peruse the exhibition. Tickets to this year's edition of Culture & Cocktails were $50 for members and $60 for non-members. Visit
SDMArt.org
for a complete schedule of Art Alive events and to learn more.
Image 1: Marie-Guillemine Benoist. Portrait of a Lady, ca.1799. Oil on canvas. Gift of Anne R. and Amy Putnam.1946.5. Floral interpretation by Jolene De Hoog
Image 2: Jules Tavernier. Kilauea Caldera, Sandwich Islands, 1886. Oil on canvas. Museum purchase with funds provided by Kevin and Tamara Kinsella. 2002.35. Floral interpretation by Barbara Perkins
Image 3: Wayne Thiebaud. Caged Pie, 1962. Oil on canvas. Museum purchase through the Earle W. Grant Acquisition Fund. 1977.109. Floral interpretation by Karin Kratz
Merilee Kern
Branding, consumer product trends, leisure and lifestyle expert Merilee A. Kern is a good life connoisseur who keeps her finger on the pulse of the marketplace in search of new and innovative must-haves and exemplary experiences at all price points, from the affordable to the extreme. The best of the best across all product, service and travel categories–as well as noteworthy marketplace change ...(Read More)