By Sara Cardoza Jul. 27th, 2012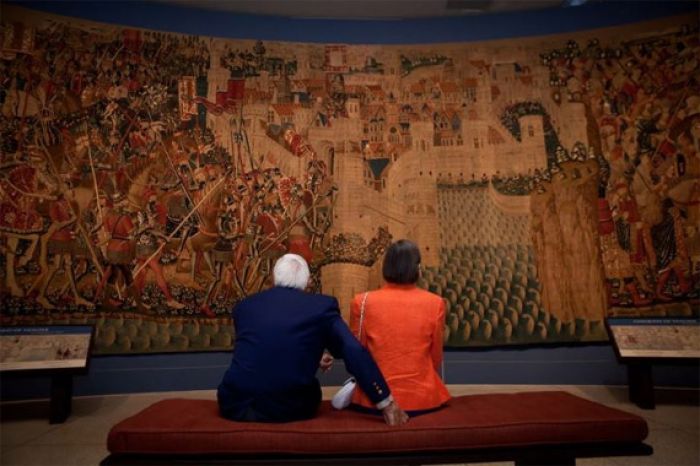 Photo Courtesy of the San Diego Museum of Art
If you love art then you'll love the 2012 Summer Salon Series, hosted by the
San Diego Museum of Art
. The series began in June and will run through the end of August. Every Friday, artists, lecturers, poets, and performers will discuss topics pertaining to the intricacies of our social, political, and cultural climate and will investigate how fiction and art interact with it. The theme of this year's series is "Beyond the Banner." The idea stems from a pair of Gothic tapestries woven after the illustrious battles for the African cities of Asilah and Tangier, won by the Portuguese in 1471.
The tapestries are commonly referred to as the "Pastrana Tapestries," and are considered to be some of the finest Gothic tapestries in existence today. "Beyond the Banner," refers to the idea of modern advertising, the banners displayed across many websites that features products and brands that keep a website profitable, in contrast to the banners and flags carried throughout the Renaissance and Medieval time period. In conjunction with the San Diego Museum of Art, Agitprop, a community-driven art space in the North Park district of San Diego, has helped to co-curate the Summer Salon Series.
This Friday, July 27 2012, the series will present the 36 Hour Event, featuring The Yes Men, Katherine Brook, The Nervous Wreckords, Century of the Self, Stephanie Lie, The Third Party, Jacob Turnbloom, among several others. During the event Katherine Brook will present her cyclical, one-hour play that details a janitorial crew of Latina women cleaning up after white workers. There will also be a workshop by social commentary artists Mike Bonanno and Andy Bichibaum (The Yes Men), as well as a viewing of Stephanie Lie's kinetic drawing machine, among many other presentations.
(Photo Courtesy of Katherine Brook)
.
To see the full schedule of events visit
SDMart.org
.
Sara Cardoza
Sara graduated from the University of Mary Washington in Fredericksburg, Virginia with a degree in creative writing. As a military child she spent her childhood living and travelling overseas which shaped her passion for travel, language, food, and intercultural exchange. She has recently joined the JustLuxe editorial team....(Read More)