Jan. 14th, 2014
New HouseCall App Puts Vetted Household Service Providers in the Palm of Your Hand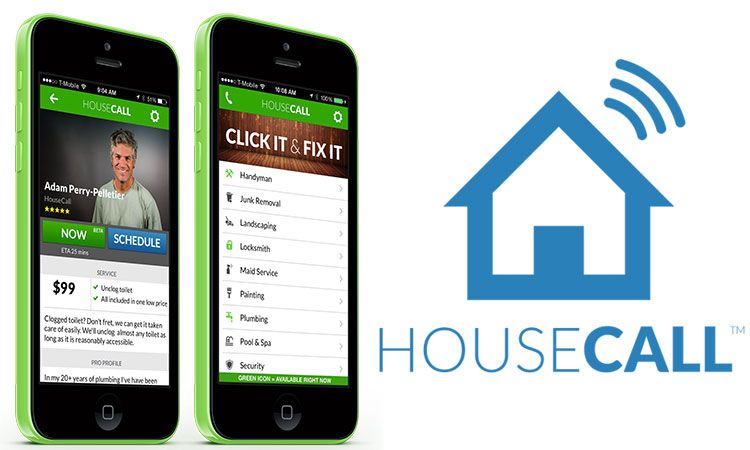 Image Courtesy of HouseCall
By now it's an old joke. Apple's "There's an app for that" campaign is long over, and the catch phrase has since become more of an everyday statement. In fact, there are so many useful apps out there that some get lost in the shuffle or lay untouched until the day you go hunting for an app that can make your life a little easier. Well San Diego, let me spare you a little trouble (possibly a lot of trouble actually, you can thank me later) and point you in the direction of HouseCall.
Developed by the minds previously over at Qualcomm, HouseCall is somewhere between Angie's List and pizza delivery — an app that puts almost every household need in the palm of your hand. No it won't deliver groceries to you, but what HouseCall will do is give you access to everything from appliance repair to a locksmith. Many of the services are even available right away, with ETAs hovering just around the 30-minute mark. Or, of course you can go the more traditional route and make an appointment. According to HouseCall, every service provider listed has been hand selected and invited to be included in the app, ensuring the best in the game will show up on your doorstep.
"We built HouseCall because we had the same problem that every homeowner has - it's tough to find good, reliable, local help," said Ian Heidt, CEO and co-founder of HouseCall. "HouseCall puts reviews and prices in one spot and users are kept up-to-date on the status of a job from start to finish. We are bringing ease and transparency to the world of local home services."
The process is very simple. Download the app, enter your billing information and address, select the service you need, and you are on your way. Recently I had the pleasure of testing out HouseCall, to see if the app and process was as user-friendly as one might hope. I wasn't disappointed.
Courtesy of Shutterstock
In this particular case, it was carpet cleaning services I was after. I went through the set up process, selected the task and chose the company based on the star ratings left by previous customers. Shortly after requesting an appointment (about three minutes to be exact), a call came through from a friendly professional named Chad Warner, the owner of Warner Carpet & Tile Cleaning. We nailed down the time, and a few days later Mr. Warner and his assistant showed up to clean the agreed-upon three rooms.
In the end, the company did a great job, and when it came time to settle the bill, Chad simply handed me his phone to approve the total and that was that. No cash exchanged, just a simple digital transaction. Shortly thereafter HouseCall sent me a quick alert, asking for me to rate the work, bringing the process full circle. If you are thinking that this sounds a little like Uber, you would be right; as it turns out the San Diego manager for the blossoming car service app is one of the company's advisers.
Courtesy of Shutterstock
What is great about HouseCall is that it really fills in a gap. Before he left I had a brief chat with Mr. Warner, who had nothing but nice things to say about the program. The company simply takes a cut of every job, unlike standard paid advertising that may or may not result in sales. Plus, now Chad's company is totally modernized, all thanks to just signing up as a Pro with the program. A real win-win for parties on both sides of the transaction.
Roland Ligtenberg, co-founder of HouseCall was recently quoted saying, "The Pros version of HouseCall allows home service professionals to book more jobs by giving them the mobile tools to do so...we bring real-time opportunities to our Pros, organize schedules, generate invoices, and process payments so that they can focus on completing jobs and making HouseCall users happy."
So there you have it. A shiny new app that makes typical household chores and headaches that much easier, all while benefiting small businesses. Would I use it again? You can count on it.
Currently HouseCall is only available in San Diego, but the creators have big plans and will soon be expanding. Services currently on offer include appliance repair, audio & TV tech, auto detail, carpet cleaning, electrical, fire, flood or mold, flooring, garage services, junk removal, heating and AC, landscaping, plumbing, painting, pool, spa, security, solar, windows and much more.
Ready to give it a try? Download HouseCall from the App Store.
.

San Diego Map

.
.

Luxury Hotels in San Diego

.
Hotel Del Coronado
Romantic, Business, Family Friendly, Spa, Beach, Golf, Wedding, Villas, Luxe Superior, Culinary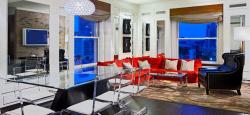 Andaz San Diego
Business, Boutique, Luxe Superior, Tourism, Nightlife, Urban