By Katherine Bond Mar. 14th, 2009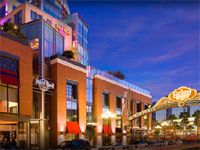 Luxury Hotels:
Many hotels and resorts try to give their guests rock-star service, but few can make a guest actually feel like a rock star. Maybe it's the Beatles and Madonna memorabilia, the personally selected music in your room, or the random guitar pick symbols that make San Diego's bold Hard Rock Hotel so enticingly hip.
I was able to sneak in an overnight stay during one busy Saturday night. The look of the hotel is just my style: modern and sleek with sweeping strokes of white, black lacquer accents, and airy spaces. The pools of guests, club goers, and passers-by sailing through the main lobby area while I was checking in gave me a juiced-up vibe, and I found that the hotel's overall feel is one of constant excitement and a never-ending chic, cool time. Not pretentious like LA, not ostentatious like Las Vegas, just laid-back cool like classic San Diego.
My room would befit a rock star: a ridiculously over-stuffed bed, views of Coronado Bay, and club-like lighting made the petite suite a pretty posh nook. I took what had to be a 25 minute shower under the double-head, rain-style shower before heading to the Rock Spa for a massage. The Rock Spa, located on the 3rd floor of the hotel, is a tucked away retreat showcasing five treatment rooms, a small boutique, and a lovely lounge. I wouldn't expect the Hard Rock's spa to have some sappy spa-y music playing or a waiting area with blankets and nuts to nosh on, and it certainly didn't. Although small, the Rock Spa stays true to the hotel's hip feel: soothing rock music, bar seating in the locker's room vanity areas, and white leather lounge chairs with shag carpet in the lounge. A relaxing but hardly dull spa is what the Rock Spa encompasses.
After an 80-minute signature massage by one of the Rock Spa's pros, I left the hotel to poke around Mary Jane's Cafe, a kitchy diner modeled like one from the 50s, except with upgrades of flat panel TVs at every table. Nearby, Nobu, the famed sushi restaurant, anchors another corner of the hotel. While dozens of restaurants remain only steps away from the Hard Rock Hotel in the Gaslamp Quarter it calls home, the hotel makes sure you don't have to venture far for a late evening nosh, super glam or low-key.
Bottomline: The San Diego Hard Rock Hotel cultivates your inner rock star like you'd expect the brand to do. Hip without trying too hard, fun without making you feel like you need to be 21 to stay, the Hard Rock Hotel is just the place for refined rockers.
Get your Rock on: 
www.hardrockhotelsd.com
Katherine Sutton
Freelance Writer
JustLuxe
Contributor
Encore
Lobby
Lobby
Mary Jane's Coffee Shop
Mary Jane's Coffee Shop
Moonstone Lounge
Moonstone Lounge
Nobu
Rock Shop
Rock Spa
Rock Spa
Rock Spa
Rooftop Cabana
Rooftop Pool
Sweetwater Salon
Sweetwater Saloon
The Edge
Walk of Fame
Watchtower
Katherine Bond
Katherine Sutton Bond is a freelance travel and luxury item writer for Justluxe.com. She's traveled the world and sampled some of the leading hotels and destinations of the globe. She often covers luxury events and technology. ...(Read More)