By Merilee Kern Jun. 22nd, 2009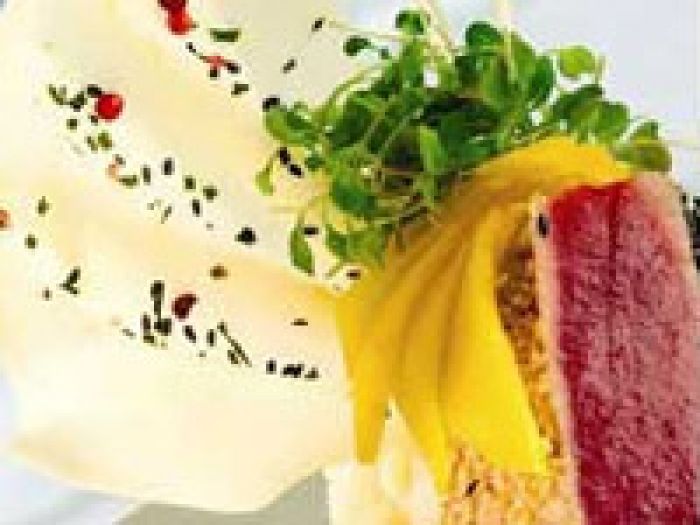 Food & Spirits:
One of San Diego's brightest culinary jewels is The Marine Room restaurant, not only located in La Jolla Shores, but on it -- quite literally. This esteemed restaurant and lounge, located on the grounds of the exclusive
La Jolla Beach & Tennis Club
, offers an unsurpassed ocean-side dining experience replete with exquisite artisanal food and an impossibly high caliber of service.
With a rich history dating back to 1941, The Marine Room has been a staple among residents, tourists, celebrities and world leaders alike. And it's no wonder give the litany of awards and accolades the restaurant has cooked up over the decades. Recent recognitions from San Diego magazine alone include "Best of the Best, Money No Object," "Best Restaurant with a View," "Most Romantic Restaurant," and "Best Service." I concur on all fronts.
The Marine Room is governed by Executive Chef Bernard Guillas, a native of Brittany, France. With a family lineage of butchers, bakers and restaurateurs, and tutelage under multiple industry masters, Chef Guillas was seemingly destined for culinary greatness. He and his French-rooted menus at The Marine Room are inspired by local and regional fresh produce and seafood as well as a love of Pan Pacific, South American and other ethnic flavors cultivated from his travels around the world. In 2001 the San Diego Restaurant Association saw fit to anoint Chef Guillas as the "Best Chef in San Diego" -- a lofty designation well earned and indubitably maintained.
The ambiance of The Marine Room is unquestionably sophisticated but not at all stuffy. With the surf and sand mere inches away and a sweeping panoramic view of the Pacific Ocean as a kinetic backdrop, the dining room has a laid back vacation atmosphere that commands you to relax and enjoy.
And I did just that having visited The Marine Room for dinner with three of my best girlfriends, whose love of fine food thankfully equals mine. While all of the restaurant's tables enjoy a spectacular ocean view whether they are window-side or in the elevated booth section further from the tempered glass panes, our primo location on this evening afforded us an unencumbered front row view of a spectacular sunset, itself worth the proverbial price of admission.
The Marine Room's copious wine list offers everything from champagne and sparkling wine to domestic and international white and red wine varietals of every sort. Sommelier Jeff Hoover puts his 27 years of experience to good use helping guests select the perfect wine or champagne to pair with their chosen courses. I was not the least surprised to learn that the restaurant's wine program has been recognized by Wine Spectator magazine with an "Award of Excellence."
Notoriously inventive, The Marine Room's dinner menu boasts an eclectic, spirited and downright inspired assortment of appetizers and entrees, each so artfully presented they're a feast for both the eyes and mouth.
Appetizers range in price from $12 to $18 and feature such delights as the vanilla infused Maine lobster with a sesame cone, yuzu shooter and Petrossian trout caviar accompaniment. This dish, unanimously my group's favorite, was beautifully plated and each harmonious component was a delicious adventure. Other mouthwatering starters include the Fiji macadamia spiced wild prawns with whole wheat couscous, espelette aioli, mint sprouts and ginger papaya preserve; pumpkin seed annatto crusted blue crab cake with yam soba noodle, serrano ham, tangerine lace, and violet acai berry infusion; Mano De Leon diver scallop and foie with truffled 20 year old royal ambrosante; and the spinach wrapped Pacific oysters with lobster mousse, caviar quintet, lemon myrtle and beurre blanc.
Entrees run $27 to $45 for a selection of seafood, poultry, lamb and beef. While at first glance I knew the Galangal Kalbi basted Australian rock lobster tail, served with coconut bamboo rice, heirloom melon, linguiça and an elderflower tarragon emulsion, was my destiny, other options were just as tantalizing. Also vying for my affection was the M'Ocean fennel pollen dusted Alaskan halibut served with rose fingerlings, tomato confit, lardoons, wild ramps, and a Maltese orange saffron infusion, and the Country Meadow rack of lamb served with black currant mustard, pistachio, St. Andre bread pudding, rosebud jam and an old vine zinfandel reduction.
Suffice it to say I made the right decision, with this large lobster tail more succulent and flavorful than most that have graced my palate before it. All three of my dinner guests were equally enthralled with their respective dinner selections: one a Black Angus center cut filet mignon, cooked to perfection, with cumin gouda potato, guajillo butter, mountain berry chutney and a luscious petite syrah glaze; another the basil macadamia crusted organic Pompano on special with Kafir lime ginger scented mochi rice, dragon fruit honshimejis, summer peas and royal tokaji essence; and the other the surf and turf offering a bountiful combination of the lobster and filet mignon served with truffled celeriac potato tian, white asparagus, cipollini root vegetables, and saffron and petite syrah sauces.
As you might imagine, dessert at The Marine Room evokes yet more delicious confusion. Options for this final course range in price from $12 to $24 and include the cobblestone pie, this critic's choice and purportedly the restaurant's "most popular," which consists of a velvety espresso and vanilla bean gelato, chocolate nuggets and a spiced caramel sauce. My party also indulged in the Ibarra Aztec chocolate cake with pineapple confit, Agave morello cherry coulis and a pepitas crisp; Carlsbad strawberry and peach cobbler with pistachio tuile, farniente dolce spritz honey and wildflower ice cream; and, the group's collective least favorite, the Royal Khana crème brûlée with roasted Hawaiian pineapple, plantain chip and cassie sugar crunch.
For the savory lover, an artisan cheese plate is offered with fennel pollen, walnut fig jam, green apple paste, and an agrumes ciabatta crisp. Can't decide? Share the restaurant's "Take Five" platter, featuring gianduja hazelnut crunch, chocolate caramel bombe, sun dried blueberry zinfandel brûlée, Blue Sky Ranch hibiscus lemon tart, and cardamon gelato in a brandy basket.
This dining experience at The Marine Room had it all -- drama, intrigue, passion -- and that was just the food, alone. Factor in the ideally situated surf-side locale, captivating coastline and ocean views, exemplary service and one of the best wine selections in town, and it's no wonder this restaurant has endured as San Diego's premier dining destination for nearly seven decades.
Visit The Marine Room online at
www.marineroom.com
The Luxe List product, service and travel review editor Merilee Kern scours the luxury marketplace for new and captivating "musts." Submissions accepted via e-mail at Merilee@JustLuxe.com.
- Merilee Kern
JustLuxé.com's "The Luxe List" Executive Review Editor
Merilee Kern
Branding, consumer product trends, leisure and lifestyle expert Merilee A. Kern is a good life connoisseur who keeps her finger on the pulse of the marketplace in search of new and innovative must-haves and exemplary experiences at all price points, from the affordable to the extreme. The best of the best across all product, service and travel categories–as well as noteworthy marketplace change ...(Read More)