By Merilee Kern Jun. 29th, 2009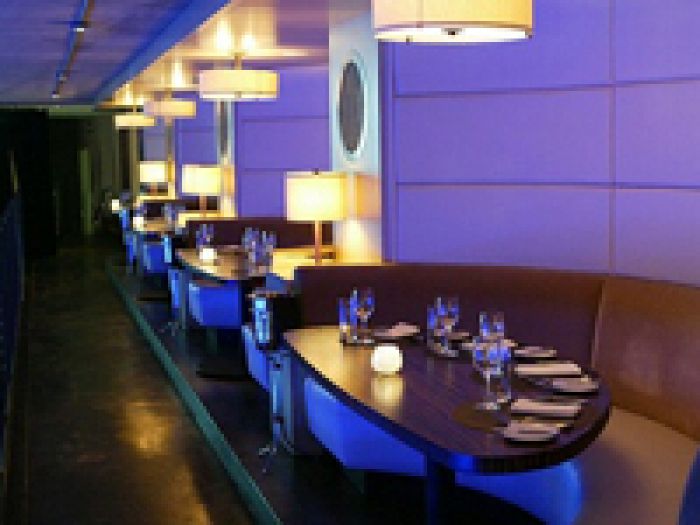 Food & Spirits:
My quest for all things "spectacular San Diego" inevitably led me to
Anthology
-- a distinctive venue offering a combination of avant-garde dining with an eclectic mix of live entertainment. Located near the bustling Little Italy district adjacent to downtown San Diego, Anthology is wonderfully reminiscent of the intimate supper clubs of yore, though modernized to deliver a magnificent mélange of fine food, entertainment and ambiance in a sultry and sophisticated venue.
Having opened its doors in June of 2007, this bona fide hotspot is the brainchild of Howard and Marsha Berkson. Howard, a San Diego-based real estate developer, used his 20 years of world travel and jet-setting club experiences as the foundation for his vision, which came to fruition in the form of Anthology.
Attracting couples, small groups and large parties, alike, this hybrid fine dining and live music and entertainment establishment, which can accommodate 300 seated or 500 cocktail reception patrons throughout its two levels and mezzanine, offers something for everyone.

Enticing Entertainment
First, there is the music. There is not one bad seat in the house, whether enjoying performances from the ground floor, the mezzanine above, or the bar. The space, with its 30-foot high ceilings and an expansive draped wall bathed in a moody blue light, has been strategically designed for enhanced acoustics and to provide optimal viewing of the performers, also boasting a state-of-the-art digital sound, video and lighting system.

Anthology shows feature a diverse selection of musical genres -- Jazz, Blues, Soul, Classic Rock, R&B, Latin and even some stand-up comedy in between. The venue showcases a house band when a headlining act is not scheduled. Recent shows have included Joe Piscopo, Stepping Feet -- A Dave Matthews Tribute, Paula Poundstone, Thunder Road -- A Tribute to Bruce Springsteen, and Saffire -- Uppity Blues Women. Other artists who have performed include Ramsey Lewis Arturo Sandoval, Kenny Rankin, Larry Coryell, Mose Allison, Sonny Landreth, Chick Corea and Lee Ritenour. Shows typically run Tuesday through Sunday at 7:30 p.m. or 8 p.m. with two sets, and on Friday and Saturday a second seating and show kicks off at 9:30 p.m.

On the night of my visit Hiromi commanded the stage. This demure, unbelievably talented Jazz pianist, keyboardist and composer, along with her three-man band, delivered an invigorating performance worth far more than the affordably priced $25 admission ticket. While the house band garners ticket costing just $5, other recession-friendly ticket prices range from $10 up to $48.

Splendid Sustenance
Second, like its multi-faceted entertainment offering, the restaurant offers a revolving New American menu inspired by seasonal, locally produced fresh ingredients and Executive Chef Eric Bauer's apparent high standards and attention to detail. Our party's entrées were served while the show was underway, resulting in a multi-sensory delight allowing me to savor the fab fare without conversational distractions.

Complimenting Chef Bauer's culinary skill set is Matt Ahern who serves as Anthology's Wine Director. While Ahern has a propensity toward boutique wines that may be new to many patrons, the wine menu itself is quite comprehensive with many recognizable standards interspersed with surprising selections for those who like to drink outside of the box.

With a menu that changes daily, eating at Anthology is always a culinary adventure. For my "First Set" appetizer course on this evening, I opted for the steamed Mediterranean Black Mussels ($13), sizable, meaty and well cleaned, served with shaved fennel and spring garlic in a delicate white wine and saffron sauce also with a garlic and herb crostini. I also had the Argentinean Empanadas ($12) that were filled, albeit sparingly, with American kobe beef, boiled egg, and green olive and accompanied by a sweet golden raisin compote and a vibrant chimi churi sauce that, for me, was the essential component completing the dish. Other representative starters the evening of my visit included Calvados and Black Pepper Lacquered Pork Belly with roasted Schaner Farm's spring onions and Chino Farm's creamed sweet corn, and a Cypress Grove Goat Cheese Tart Brûlée with a frisée and field greens salad topped with a summer raspberry vinaigrette. "Second Set" main courses offer high caliber versions of perennial favorites like Pan Seared Sea Bass with Manila clams, oven-dried tomatoes and caramelized onions; Grilled Filet Mignon with potato gratin, grilled asparagus and herbed butter; and a Slow Roasted Pork Chop with walnuts, faro, figs, criminis, and Granny Smith apple gastrique.

After agonizing over the decision since each dish offered the evening of my visit were equally appealing to me, I finally settled on the Pan Sautéed George's Bank Sea Scallops ($28), cooked to a perfect medium, served atop a flavorful Yukon gold pomme purée and with fava beans, asparagus and petite tomatoes in a Meyer lemon burre blanc sauce. A perfect light-side entrée without sacrifice. My dinner guest thoroughly enjoyed the lean, richly flavored and extremely tender 18-Hour Braised Boneless Beef Short Rib ($29) with candied pearl onions, Scarborough Farm's baby carrots, horseradish pomme purée and a natural jus.

If you can, save room for "Third Set" desserts, which offer an array of comfort confections with a touch of flair, like the Pineapple-Hazelnut Bear Claw with cinnamon ice cream; a Chocolate Truffle Cake with hazelnut ice cream; Fudge Covered Chocolate Brownie with chocolate mouse and chocolate espresso ice cream; and a selection of daily house made cookies served with a "Cup O' Joe." Alternatively, an Artisanal Cheese Plate is also featured.

Along with the coffee and cookies ($7) -- an assortment of three including a chocolate chip and rich, dark chocolate-dipped biscotti, my party also indulged in the Tiramisu ($9) good enough to beguile any Italian pastry connoisseur. We also savored the Napoleon ($10) with mascerated fresh berries, a flaky puff pastry, basil sabayon and garnished with a fried basil leaf.

Extraordinary Events

Finally, the venue is a memorable place to hold any type of event. With more than 13,000 square feet spread amongst the multi-level building, the venue can accommodate gatherings of various sizes and types, including weddings, cocktail and dinner parties, product launches, fundraisers, corporate events, fashion and art shows, Bat/Bar Mitzvahs, and film screenings. There are many space options, such as a patio, fireside lounge, outdoor balcony, VIP dining room, two full bars, and a stage. Event planners may select from pre-set menus, or the chef is more than happy to custom tailor a menu around a specific theme. The events department also offers ancillary services, such as live entertainment booking, audio visual production professionals, floral arrangements, valet programs, creative and promotional services, party favors, and even hotel accommodations. Both pre-fabricated and custom event packages are available.

The Real Deal
Recognizing that everyone likes a little economic stimulus of their own now and then, Anthology runs a number of enticing specials like half-price Tuesdays from 5:30-7:30 p.m., when select dinner menu items and bottles of wine are half off. Happy Hour runs each Tuesday through Friday from 5:30-7:30 p.m. with special prices on bar bites, including tuna tartare avocado, fried calamari, marinated olives, and a cheese plate. To make the hour even happier, cocktails of all types are also offered at reduced price.

With a packed house for the 7:30 p.m. show and dinner seating the evening I recently visited, and with an impressive number of pining patrons lined out the door for the 9:30 p.m. show and dinner seating noted on my departure, it's clear that Anthology has captured the hearts, minds and palates San Diego's culture-set.

Anthology is located at 1337 India Street in San Diego. Visit www.anthologysd.com for more information.

The Luxe List product, service and travel review editor Merilee Kern scours the luxury marketplace for new and captivating "musts." Submissions accepted via e-mail at Merilee@JustLuxe.com.

- Merilee Kern
JustLuxé.com's "The Luxe List" Executive Review Editor
Merilee Kern
Branding, consumer product trends, leisure and lifestyle expert Merilee A. Kern is a good life connoisseur who keeps her finger on the pulse of the marketplace in search of new and innovative must-haves and exemplary experiences at all price points, from the affordable to the extreme. The best of the best across all product, service and travel categories–as well as noteworthy marketplace change ...(Read More)