By Katherine Bond Feb. 10th, 2010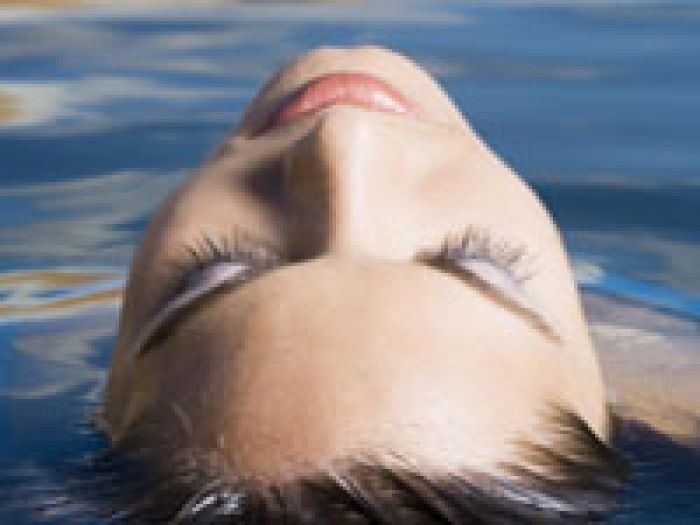 San Diego Wellness:
I admit, I don't own a boat at this moment in time, nor does this latest JustLuxe experience involve a boat. Rather, it involves an insane amount of salt, a very dark chamber, and a fabulous escape like I've never experienced.
"Floating" came on the scene in the 1950s and has since been used across most of Europe for those seeking stress release, sports rehabilitation, and mediation. In a nutshell, one enters a tank, closes the door, and floats (aided by Epson salt) in isolation for an hour or so. It sounded surreally tranquil to me, and I was delighted to note that San Diego has a
float spa
, rumored to be a favorite therapy of some NFL and MLB players.
My first "float" was not how I imagined. Just how would one imagine what bobbing in a foot of salty water in pitch-dark feels like? It was just wonderful, actually. I believe I now have a true grasp of what "drifting away" feels like. Soothing music whisks your thoughts away as the still water wraps your body in a weightless cocoon. Emerging from my tank, I felt I had just clocked a few deep hours of sleep but it wasn't until the evening that I experienced a spectacular nine-hour night of sleep. (Float Spa says this is quite typical and maybe a reason why you shouldn't book a float in the morning or mid-work day since it puts you in such a zen comma state.)
Overall, I think Float Spa should list "sleep aid" as another one of the reasons clients should float. For me, I'll now always fancy a float.
Katherine Sutton
Freelance Writer
JustLuxe
Contributor
Katherine Bond
Katherine Sutton Bond is a freelance travel and luxury item writer for Justluxe.com. She's traveled the world and sampled some of the leading hotels and destinations of the globe. She often covers luxury events and technology. ...(Read More)