By Danika Garlotta Nov. 19th, 2010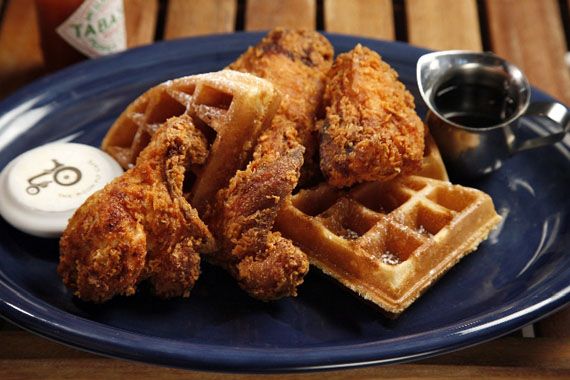 Food & Dining:
As we approach the holidays, food plays a critical role in the overall excitement of the season.
The Holidays
are a time to eat, indulge, and visit with friends and family. A few of our acclaimed chefs from restaurants ranging from San Francisco to Napa, have shared with us a few of their favorite comfort
food recipes
. Perfect for this fall and winter. The first Recipe is from the Boon Fly Restaurant at The Carneros Inn in Napa.
Chicken & Waffles
Chicken:

1- 3 Pound All Natural Chicken Cut into 10 pcs
2 Cups Franks Hot Sauce
1 Cup Buttermilk
1 TBL Onion Powder
1 TBL Garlic Powder
2 Cups AP Flour
Kosher Salt & Freshly Ground Pepper



Process:
Place chicken in a large bowl with hot sauce, buttermilk, onion and garlic powder and mix well to evenly coat chicken pieces. Place in a container and refrigerate for 24 hours to marinate.


Waffles:

2 Cups AP Flour
¼ Cup Malt Flour
2 TBL Corn Meal
2 TBL Sugar
1 ¼ TSP Baking Powder
½ TSP Salt
2 Eggs
2 Cup Whole Milk
¼ Cup Melted Butter
1 TBL Vanilla Extract
Butter
Maple Syrup
Powder Sugar



Process:
In a large bowl mix all dry ingredients together. Add eggs, then milk, vanilla and melted butter. With a whisk mix wet ingredients thoroughly into dry. Let batter rest for 10 minutes before using.

Remove chicken from marinade and season with salt and pepper. Dredge in AP Flour and fry at 350 degrees for 13 minutes. While chicken is frying, place batter in a waffle iron a cook until done. Place waffle on bottom of plate, spread with butter and sprinkle powder sugar. Place pieces of Fried Chicken on top of waffle and serve with warm Maple Syrup on the side.


The Carneros Inn is the first full-service resort to be built in Napa in more than 20 years, and the first ever in the world-renowned Carneros wine region. The resort features 86 charming private guest cottages and suites and nightly private luxury Home rentals, each furnished with casual elegance and nestled in a lush garden courtyard with private deck. Innovative dining options at The Carneros Inn, include the architecturally dramatic Hilltop Dining Room, FARM, and The Boon Fly Café, a roadhouse-style public eatery. The Carneros Inn has been named "one of the 25 most romantic getaways in the world" by Travel + Leisure magazine.
Danika Garlotta
Danika is an experienced marketer and luxury travel writer who left an awesome life in San Francisco, to travel around the world with her husband Chris. Together they make up the blog, No Destinations where their photos and words are meant to inspire others to get out and see the world. Their images have appeared in the likes of Travel & Leisure, Expedia and Food & Wine to name a few. When they a...(Read More)