By Katherine Bond Nov. 16th, 2011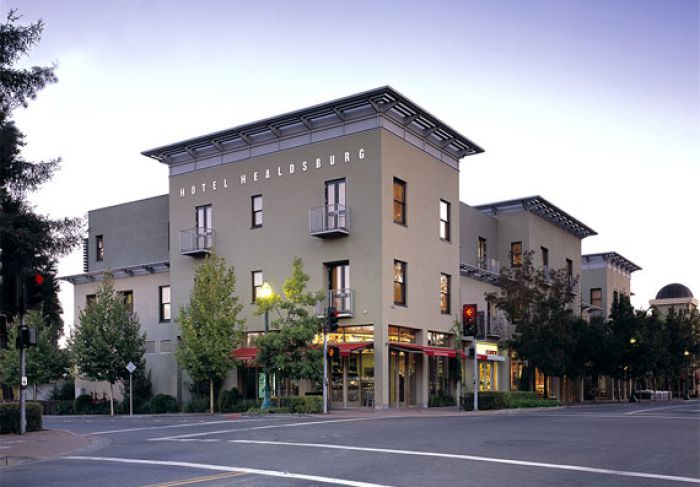 Photo Courtesy of Hotel Healdsburg
No one needs to entice me to visit wine country. I could probably pitch a tent in a vineyard and be content with the charm of the Californian countryside and the aromas of a culinary rich landscape. Fortunately, though, I didn't need to brush up on my Girl Scouts skills on a recent
trip to Sonoma
. 
Instead, Hotel Healdsburg was my base camp for my stay in Healdsburg, one of the most well-dressed and ready-to-impress little towns of the region. Here are my favorite finds of the hotel and town. 



Perfectly placed: I love a property that makes the best of a town's offerings right on your doorstep. Hotel Healdsburg isn't an "urban" hotel because there is nothing urban about it. But it is precisely in the middle of everything Healdsburg, perhaps the linchpin for the community. From my balcony, I could glance at the gorgeous park square across the street, rimmed with local boutiques and artisan shops. My favorite was The Cheese Shop of Healdsburg, owned by an endearing woman, Doralice Handal. Over at the Flying Goat coffee house, I had one of the best lattes in my coffee drinking career. Seems like others would agree, as this local spot was brimming with those with strollers to laptops.



A treat to eat: Below, just outside the lobby doors, is the Dry Creek Kitchen captained by one of New York City's adored chefs, Charlie Palmer. Simply elegant and always in season, Dry Creek Kitchen sources nearly its entire menu literally down the street, from local farmers. Pumpkin cheesecake or white corn soup topped with a hefty dollop of black truffle crème fraiche, currently delight the nine-to-fivers of the town on the "End of Work Week Menu." I plan to return during the Hotel's and Palmer's 7th Annual "Pigs and Pinot" celebration in March. It will be headlined by an all-star lineup of chefs, including Guy Fieri, Michael Mina (my chef crush of all time), Casey Thompson of Top Chef, and Michael White. I'm not sure if I can hold out until the pork and pairings, so I may need to return for the six-course gala New Year's dinner, featuring American Kobe, a surprise seasonal course, and roasted porcini soup. 



Events for all, all the time: Resorts that make themselves more than the beds guests sleep on create a certain culture among visitors. Hotel Healdsburg is the kind of property that seems to fondly say, "Go! Play, explore and be merry!"  I like that. Consistent in being the epicenter for the town's happenings, Hotel Healdsburg keeps a robust calendar of events and frequent treats for guests and locals alike. Every Thursday and Friday afternoon in front of the artistic fireplace, guests can enjoy complimentary tastings from local wineries. My guest and I savored the Harvest Breakfast along with a few others one morning, of course by the fire. The weekly Saturday yoga, nearby the hotel's stunning 60-foot pool, is also not to be missed. In January, Hotel Healdsburg participates in the 20th Anniversary Winter Wineland weekend, an impressive tour of 140 wineries (if one can visit that many!)



I always like to engage the concierges to gather if they have a real sense of the area and the best insights. Indeed, Hotel Healdsburg's are polished and welcoming. One introduced me to the concept of "farm tours." They are like winery tours, but for farms, complete with cheese, cows and carrots. I'm planning a trip next year for this! Visit HotelHealdsburg.com to learn more.
Katherine Bond
Katherine Sutton Bond is a freelance travel and luxury item writer for Justluxe.com. She's traveled the world and sampled some of the leading hotels and destinations of the globe. She often covers luxury events and technology. ...(Read More)