By Touring & Tasting Jun. 19th, 2012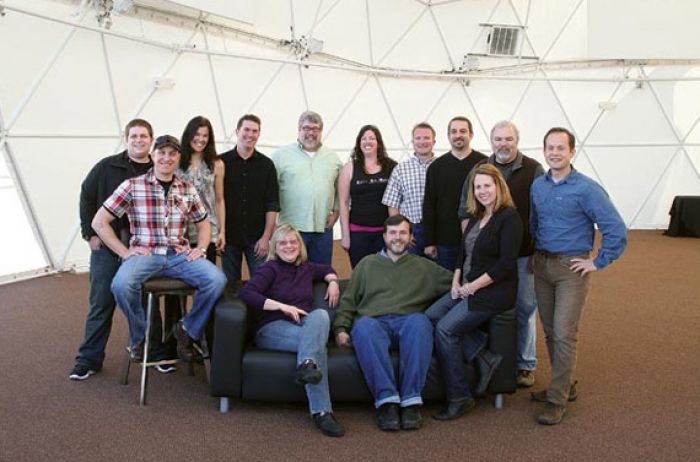 Photo Credit: Linda Blue
The San Francisco Bay Area has long been admired as one of the most beautiful and
romantic destinations
in the world. Although the area actually enjoys a long heritage of winemaking, its wines—crafted in the city proper as well as Berkeley, Oakland, Alameda, and a short drive east in Livermore Valley—have just begun to receive the international recognition they deserve.
Here are some of the people who are making it happen: rising stars of the Bay Area and Livermore.
Shauna Rosenblum, Winemaker, Rock Wall Wine Company
RECENT KUDO: I was named best Female Winemaker of a Sparkling Wine, International Women's Wine Competition.
ON THE BAY AREA: The Bay Area is the spot! Our grapes come from Napa, Sonoma, and other sought-after AVAs, allowing us to make the very best wines.
Dave Gifford, Co-founder & Winemaker, Dogpatch WineWorks
ON WINE: I love sharing my excitement about making wine with people outside the industry. It's a mysterious thing to them.
ON THE BAY AREA: There really is something for everybody here. From fine dining with a coveted bottle of wine to a burrito and a beer in the Mission, San Francisco has it all.
Collin Cranor, Winemaker & General Manager, Nottingham Cellars
RECENT KUDO: In 2011, I became the youngest winemaker to score 90+ points on any offering from the Livermore Valley AVA in a major wine publication.
ON THE BAY AREA: The wine scene in the Bay Area, particularly in the Livermore Valley, is in the midst of a renaissance.
Fred Dick, Co-owner & Winemaker, Urbano Cellars
RECENT KUDO: Bob Rawson and I stumbled upon a rather forlorn-looking Chenin Blanc vineyard in Solano County. We had to pick the fruit ourselves, but it won a Silver medal at the California State Fair.
ON THE BAY AREA: Visitors to this area can sample some of the most exciting and delicious California wines without the hassles of traffic and driving.
Amy Hoopes, Chief Marketing Officer & EVP Global Sales, Wente Family Estates
RECENT KUDO: Wente was named American Winery of the Year in 2011 by Wine Enthusiast. This year, we're also celebrating 100 years of bringing Chardonnay to America.
ON THE BAY AREA: Livermore has a storied history and this year it's marking 30 years as an AVA. Our East Valley orientation lends itself to ideal growing conditions, and there are many great things to do beyond wine tasting.
Chris Graves, Winemaker & Principal, Ruby Hill Winery
ON WINE: I love the wine lifestyle. I'm surrounded by happiness.
RECENT KUDO: We received a Gold medal for our 2009 Zinfandel Livermore Valley Estate Reserve Peacock Patch and last year's Best of Show for the 2008 Intesa (a red blend of Barbera and Cabernet Sauvignon) in the local Tri-Valley Conservancy Uncorked wine competition.
Julian Halasz, Winemaker, Concannon Vineyard & Darcie Kent Vineyards
ON WINE: I love the fact that the wine business is continually changing. I love challenges to help evolve technology and to improve quality.
RECENT KUDO: My new series in the Concannon Reserve Wine Tier, Concannon Vineyard Polo Field Petite Sirah is being very well received. I am also thrilled that the 2010 Darcie Kent Demayo Chardonnay was awarded Double Gold in the 2010 San Francisco Wine Competition.
Tracey Brandt, Co-proprietor & Co-winemaker, Donkey and Goat
ON WINE: My husband Jared and I love the tangibility of our creations and the fact that something we made with our hands can be enjoyed by someone halfway around the world or someone ten years from now.
RECENT KUDO: Eric Asimov, wine columnist for The New York Times, and Jon Bonee, San Francisco Chronicle's wine editor, gave our Stone Crusher Roussanne high praise. We were also named Winemakers to Watch in 2011.
Bryan Kane, Winemaker, The Winery SF
ON WINE: It's never the same, from year to year, vintage to vintage, varietal to varietal. In the past year, quality winemaking initiatives have spread amongst a sizeable group of wineries.
RECENT KUDO: The American Fine Wine Competition named one of my Syrahs "Best in Class" as the Top Syrah in all of America in 2012. I was also named Next Generation Winemaker by Sommelier Journal last year. ON THE BAY AREA The Bay Area wine scene is personal and real.
Marilee Shaffer, Co-owner & Co-everything else, Urban Legend Cellars
RECENT KUDO: My husband and partner Steve and I won three Golds at the recent San Francisco Chronicle Wine Competition but it was Michael Jordan, K&L Wine's discerning wine buyer, who convinced us we're on track. He tasted our entire portfolio because he loved how we captured Europe's complexity and finesse while preserving the integrity of California's vineyards.
ON THE BAY AREA: Flavor. We get incomparable quality, diversity, and vibrancy of flavors—and life, really—all in our backyard.
WINES TO TASTE
2008 Concannon Polo Field Petite Sirah
2010 Donkey and Goat Red Wine Blend
2011 Rock Wall Sparkling Blanc de Blancs
2008 Rosenblum Carla's Reserve Zinfandel
2006 Stage Left Cellars Grenache
2009 Urban Legend Barbera
2008 Urbano Sangiovese
2010 Wente Morning Fog Chardonnay
2008 WSF Zinfandel
Touring & Tasting
Established in 1995, Touring & Tasting offers an array of compelling marketing opportunities through its biannual, nationally distributed magazine wine club services weekly e-newsletter print newsletter and Website, TouringAndTasting.com. Touring & Tasting's Wine Club delivers an incomparable assortment of premium, hand-selected wines to a broad spectrum of motivated wine consumers. We offe...(Read More)