Kimberly Fisher View Profile

Lifestyle Writer/Media Personality | LuxeSoul/Jetsetera
Sun Valley Resort, Idaho: Summertime Sanctuary
Feb. 24th, 2011 | Comments 0 | Make a Comment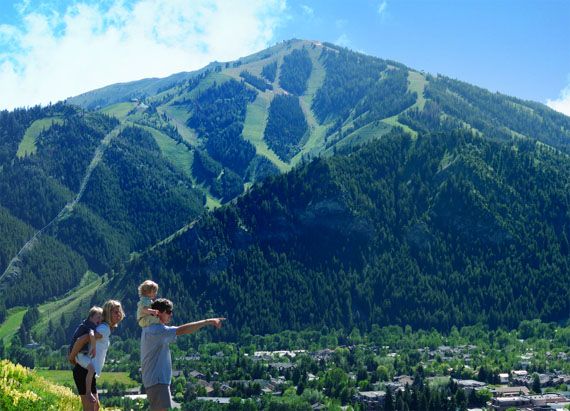 When someone mentions Sun Valley, Idaho you probably envision
snow capped mountains
, lush winter landscapes, and visions of lounging around the fire sipping on steaming hot cocoa.
Surprise! This winter playground holds fun and adventure in the peaceful summer months. Hiking, biking, fishing, tennis, exploring nature and rejuvenating in the tranquil untouched wilderness are some of the top reasons to explore Sun Valley in the summertime.


Sun Valley is located in the central part of Idaho and has been known mostly as a winter getaway. Located adjacent to the small towns of Ketchum and Hailey (of Bruce and Demi Moore second home fame), the term "Sun Valley" describes the alpine ski area; which is made up of two mountains, Bald Mountain and Dollar Mountain.

Sun Valley boasts a handful of hotel accommodations from small, cozy little inns to resort like houses grazing the mountain's edge. To maximize your stay, check into the luxurious Sun Valley Lodge. Designed after a European ski resort, this original chalet and village has been mesmerizing visitors from around the world since 1936. As a full-service, year-round resort, Sun Valley Lodge features exceptional service and first class amenities.


Everything you could possibly need to relax and enjoy your stay is located in The Village, a small version of an old-fashioned, upscale town. On paved walkways, gaze at the swans on the lake, grab a homemade ice cream cone or choose from hundreds of childhood favorite sweets from the Chocolate Foundry, including salt water taffy and pixie sticks.

Explore the many options located on site: restaurants, lobby bar, gift shops, art gallery, opera house, pools, golf course, tennis courts, ice rink, spa, fitness center, stables and gun club. The resort truly has something for everyone of all ages.

To start off your day in Sun Valley, visit a local favorite for a casual hearty start, Gretchen's. For breakfast, the conventional upscale diner serves up delicious old-fashioned breakfasts such as fluffy omelets, pancakes, French toast and waffles complete with freshly squeezed orange juice and Starbucks coffee. Located on the first floor of the Sun Valley Lodge, take in the stunning views of the nearby ice rink and the outdoor terrace.


One very popular pastime is Sun Valley is bike riding. Grab a bike and helmet from Pete Lane's rental and see the sights of downtown Ketchum. The town is located mere minutes from the resort, and cyclists can opt for a leisurely city tour, a challenging mountain terrain or coast along miles of more mellow and relaxing trails from Hailey to Ketchum. While in downtown Ketchum, stop into one of several quaint, local shops and see the sights. From art galleries and antiques to boutiques and bookstores, Ketchum covers a rainbow of shopping possibilities.

When the need to snack hits, try the happy hour at The Burger Grill. This casual, cafeteria-style refectory has a cozy feel and yummy, simple foods. Try the burgers, specialty sandwiches and salads with a cold beer or glass of wine.


From fine dining to quick bites, hearty portions to healthy servings, Sun Valley caters to every guest. For dinner head back to Sun Valley Lodge and be swept away by elegant crystal chandeliers, marble floors and dramatic lighting at The Lodge Dining Room.

Located on the second floor, the views out of the floor to ceiling windows will remind you of a picture perfect postcard; cool, clean and crisp. As the black-vested wait staff graciously takes your order.

For a special experience, try some of the nightly entertainment that is both family-friendly and ideal for any sized group of adults. The ice show is a great way to spend an evening, as is spending time relaxing at the Sun Valley Pavilion. Seating 1,500 people with a gorgeous backdrop of the sky and mountains via its free flowing roof, The Sun Valley Pavilion is home to the Sun Valley Summer Symphony, as well as many visiting artists. As you relax in the comforting arms of nature, let it embrace you with all of its charms, graces and tranquility-for then you have discovered the heart of Sun Valley, Idaho.

Sun Valley Resort
1 Sun Valley Road
Sun Valley, ID 83353
800.786.8259
www.sunvalley.com
Featured Luxury Hotels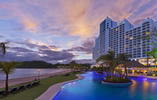 Panama City, Panama
The Westin Playa Bonita Panama
Discover complete rejuvenation at the natural refuge, where a serene beach...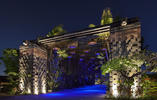 Bali, Indonesia
The St. Regis Bali Resort
Bask in luxury on the soft, sandy beach of Nusa Dua, the Garden of Bali, where...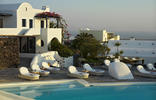 Santorini, Greece
Vedema Resort Santorini
Vedema Resort is the place where style, emotions, creativity and perfection...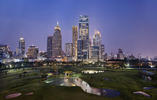 Bangkok, Thailand
The St. Regis Bangkok
Experience the splendor of Bangkok from a premier location along Rajadamri...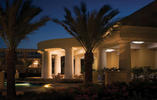 St. Maarten, Netherlands Antilles
The Westin Dawn Beach Resort and Spa, St. Maarten
The Westin Dawn Beach Resort & Spa, St. Maarten is an island treasure...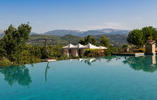 Cannes, France
Terre Blanche Hotel Spa Golf Resort
This approximately 741 acre luxury resort, on an outstanding estate in the...