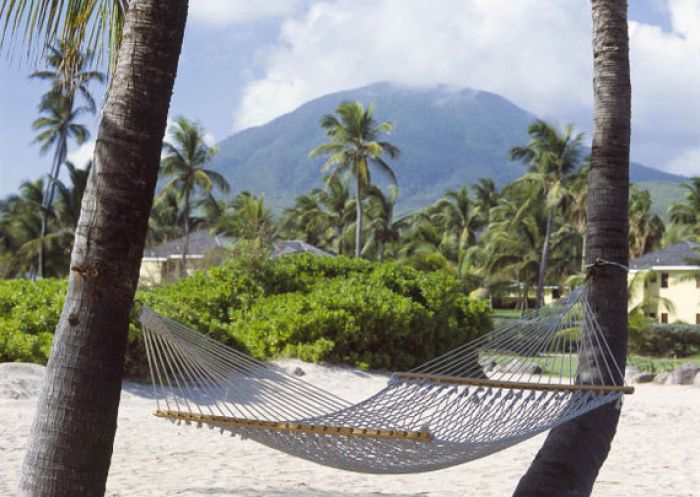 Photo Courtesy of Nisbet Plantation
Nisbet Plantation on the island of Nevis in the British West Indies is a very special resort. For the past two years, Nisbet Plantation has earned the coveted designation as the Number One
Resort in the Caribbean
, Bermuda and Bahamas, and Number Six in the world, as voted by readers of
Travel & Leisure Magazine
.
Visiting Nisbet Plantation is reminiscent of being invited to a private beach club where members enjoy the quiet charm and very attentive personal service. The journey to Nisbet Plantation is part of the fun. We flew to the sister island of St. Kitts where an awaiting taxi brought us on a scenic drive to Cockleshell Beach to meet our water taxi.



It's just two miles across the channel to the sleepy island of Nevis, with quaint villages hugging the shore and a soaring volcanic peak rising from the center core. A quick trip up the road brings you to the ruins of a
sugar mill marking the entrance to the plantation.

Nisbet Plantation is a resort for discerning travelers who appreciate a stunning setting coupled with quiet solitude and fine cuisine. The attentive staff hails you with smiles and personal greetings at every opportunity. The resort is as much about what you won't find as what you will. Nevis is a laid-back island with no casinos, or high-rise hotels, and Nisbet Resort entertains without the need for televisions, radios or clocks in the rooms. But you may see the occasional vervet monkey and jewel-tone hummingbirds to remind you that you are vacationing in a pristine environment.


For those who cannot completely disconnect, high-speed wifi is available throughout the property. Thirty-six cheerful yellow and white cottage-style accommodations are nestled among the royal palms dotting 30 acres of rolling green lawns that stretch down to the sea. Nisbet is the only historic Caribbean plantation to enjoy a beachfront setting and was home to Captain Horatio Nelson and his wife Fanny Nisbet.

Wander down to the inviting beach where you'll find soft white sand, distant islands on the horizon, clear turquoise water with softly rolling waves and great snorkeling right off the shore. There is never a rush for lounge chairs and a romantic stroll down the beach will likely see you making the first footprints in the sand.

Stepping inside the guest suites, visitors are greeted with soothing tropical colors and comfortable relaxed furnishings. Marble bathrooms are ample in size with attractive amenities and a generous wardrobe area. Units enjoy either a balcony, terrace or screened porch, to allow for the hours of relaxation ahead.


Dining at Nisbet Plantation is an anticipated event. Rates include a full breakfast, delightful afternoon tea and formal four course dinner. Breakfast is served beach-side at Coconuts, a breezy pavilion where guests are greeted by the ever cheerful staff. "Good morning Miss Susan, how was your sleep? What do you have planned for today?"

Next the Sea Breeze Beach Bar takes over for lunch, beverages and afternoon snacks. Then all attention turns to the beautifully restored historic Great House sitting proudly at the top of the hill. Afternoon tea is served as the day cools down offering a generous plate of homemade confections and a selection of English teas.

Evening brings a reason to put on your finery and join the other guests for dinner at the Great House. The Great House Restaurant at Nisbet Plantation enjoys a AAA Four Diamond rating with menus that blend traditional dishes with local Caribbean ingredients and flavors.


Guests have their choice of being seated on the veranda overlooking the estate or in one of the elegant interior rooms. A not to be missed event takes place on Thursday evenings when Manager, Jamie Holmes, welcomes everyone to Coconuts for a Rum Punch Party followed by a beach-side dinner, cocktails, live music and dancing under the stars.



Guests of Nisbet Plantation often reconnect with their partner and family in this pristine tropical setting where there is nothing more important than spending time together. Many vacationers return year after year. We met one couple who has been returning for 27 years! It is evident that the friendliness and competency of the entire staff coupled with the beautiful setting makes Nisbet Plantation a destination unique in the Caribbean, if not the world.