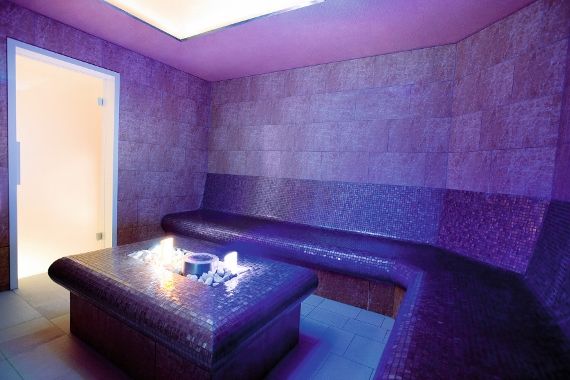 Photo Courtesy of Resort-A-Rosa & Karen Carra
"Look, here's another one," I said to my wife Karen. She peered into the doorway of the darkly lit blue sauna. I walked a few feet further within the airy central fountain room of the Travemünde
Grande A-Rosa Spa
and opened the next door.
"And another one." I was amazed at how many saunas, and types of saunas, were housed within the enormous 4,500-square-meter Resort-A-Rosa spa facility. The spa has seven large saunas, each with a different theme. Unable to decide where to start our spa adventure, I randomly picked the Caldarium. Inside, blue ceramic benches were shaped to follow the natural curvature of the spine. As we sat with our eyes closed in the dim light, occasional puffs of steam wafted soothingly through the air.

After about ten minutes, we moved onto the Laconium, an allegedly cooler and drier room. Drier it was, but it felt just as hot as the Caldarium. We again reclined onto ceramic tiled benches for about ten minutes before trying the bio-sauna. The bio sauna is - in a word - awesome! The ceramic benches formed a square around a central fountain. The heat radiated across our upper bodies while cool mist from the fountain sprayed our legs. Overhead, colored fiber optic lights gave the room a futuristic look.


Next, it was the smoky sauna. The smell of incense permeated the air in this dry and hot chamber. A Tepidarium, warm room, gave us a break from the heat without a full cool down. This softly lit room featured an array of golden ceramic lounges. The Finnish sauna was hottest of all. It felt like two hundred degrees. With multi-tiered wooden benches, it overlooked an outdoor patio with two hot tubs.



After a bit of baking, we sauntered outside and started into the pools. And quickly stopped. They were cooling tubs, not hot tubs. One was ice cold. I steeled my nerves and sank into the warmer of the two tubs while Karen dangled her feet in it. After not having a heart attack, I tried the more frigid pool. I told Karen that it actually felt quite nice once you got used to it. She didn't believe me.

We made another lap of the six saunas (the seventh woman's only one being in the ladies locker room) and finished back at the cooling tubs. This time Karen joined me in the cool plunge - but not the ice cold plunge.


The spa area adjoins an indoor/outdoor heated swimming pool. A three story tall glass wall separates the two portions of the pool, with a glass door used to go from one part to the other. In the middle of winter, swimmers can watch the snow and freezing rain from the comfort of the pool. We swam around, inside and out, and found an actual hot tub next to the pool.

There's also a hot Roman Bath in a separate room off of the pool. This spa near Lübeck, Germany on the Baltic Coast has everything including a fitness center, a yoga studio and 27 treatment rooms. For treatments, Karen elected a facial and massage and I signed up for one of the signature Thalassotherapy treatments. Thalasso means salt, sea salt. The spa features a myriad of salt related and salt water body treatments. There are multi-day packages and even a six-day Thalassotherapy package.


Mine lasted about an hour. It started with a full body coating of mud. Then I was wrapped within a heated mat. I felt like a burrito. I cooked in the mat for about 15 minutes and then the therapist exfoliated my skin with rock salt. The chunks of slat were fairly large and I worried that my skin would be scratched raw.

However, with gentile pressure from the therapist's hands, the exfoliation was more like a Swedish massage. I showered with instruction not to use any soap. And the treatment concluded with a half hour deep tissue massage.

I met up with Karen afterwards. We were both basically Jello and ready for a nap. Whew, an afternoon of pampering is really exhausting! We're going to have to toughen up if we ever want to do a multi-day package. Did I mention that this place also has an indoor cycling and aerobics room, an Ayurvedic room, private spa suites and an ice grotto. How did we miss the ice grotto?