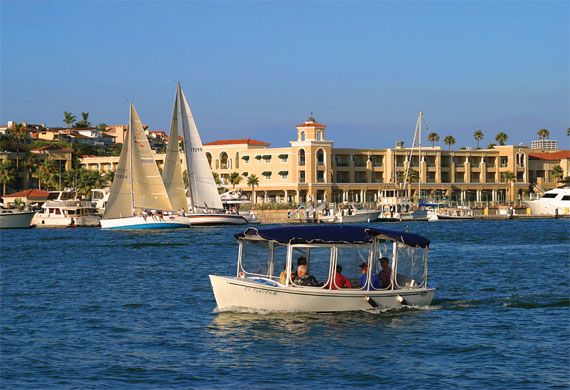 Photo Courtesy of IMW Marketing
Long before
Newport Beach, California
was known for "Real Housewives" hijinks and giant luxury shopping malls, it was a sun-splashed, Pacific-edged swathe of pricey beach shacks and yachters' hangouts.
Balboa Bay Club was the favorite members-only hideaway; though few were privileged enough to have the run of the 15-acre property, people from Newport and beyond delightedly passed rumors of the starry clientele. John Wayne (known by his nickname "Duke"), Frank Sinatra and Ronald and Nancy Reagan were just a few of the luminaries reported to frequent the place.

In 2003, the owners reopened the property as The Balboa Bay Club & Resort after a $65 million expansion and overhaul. Keeping apace with Newport's transformation from Southern California secret to spotlight destination, Balboa Bay was reintroduced as a members' club with a hotel component, including 160 guest rooms. Its flagship lounge, named Duke's after the most famous regular, would be open to the public, as would the sunny walkway fronting the yacht slips.


Though this may have dismayed a few of the old guard, Balboa Bay Club hasn't changed all that much in character. It still isn't the kind of place where reality TV stars congregate or flashy Lamborghinis grumble in the roundabout. Flashiness is downplayed here to conform to Balboa Bay's sunny brand of understated posh. From the welcoming warmth of the open-air foyer to the nautical décor to the squeals of children running in the halls, this is a place that seems steeped in generations of hospitality.



Poolside, blond teenagers try hard for the high-school cool vibe and then give up under their mothers' gimlet eyes. Couples snooze while mothers and daughters catch up on gossip. Should you want to get a glimpse of the members' clubhouse, book a spa treatment in the 17,000-square-foot facility on the members' side.


In Duke's Place, Newport's sophisticated singles make a not-too-self-conscious effort to shake their designer-clad tail feathers every night, accompanied by live music led by a lead singer who can pull off Andrea Bocelli as easily as Lionel Ritchie. The eats are good and drinks are generous. The only place that the true multi-million-dollar glamour of the Balboa Bay Club & Resort really shines through is at its signature
restaurant, First Cabin.

Not only is the California cuisine exquisite enough to make you wish you could return daily (as some lucky members actually do), but the decor is all polished wood, starched linens and shining silver. The service is impeccable. And looking out the bay windows, your eye falls on the harbor with its many boats bobbing in their slips.


From 50-foot Sunseekers to 150-foot mega yachts, this collection represents the ultimate in wealth and freedom...particularly when you know that your neighbors just cruised up to a slip, fresh from a crewed jaunt to Cabo. Balboa Bay Club is a harborside home-away-from-home to the privileged few and a delightful South Orange County escape for those who know enough to find it.