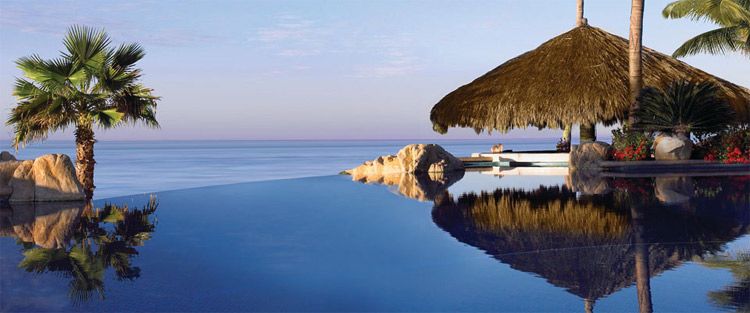 Photo Courtesy of One&Only Resorts
This resort is all about enjoying the best bits of holiday living. Hit it in the right season, and the weather is sublime — very little humidity and a beautiful breeze at night. Spending mornings overlooking the brilliant shimmering sea, with just a breaching grey whale breaking the horizon; we know already we'll return with our family next year.
On the Pacific coast of Mexico, sandwiched between a mountainous desert and a blissful beach, One&Only Palmilla is about as good as Cabo gets: top cuisine, fabulous spa, amazingly large pool, lively bar scene in the evening at the property and even tequila tastings!


Need to Know
Great for
A sporty relaxing holiday. Special events would be well placed here too: birthday, wedding, anniversary...I met with their Special Event Coordinator Beatriz Mejia to explore having my friend's husband's 50th here in 2014.

With whom
Romantic, but equally welcoming to kids (even in the spa). The KidsOnly Club has a whole host of awesome activities (from Spanish lessons to pi?ata-making!) from 9 a.m.-5 p.m. every day.



Memorable moment
Has to be the whales. I was at the property in season (December-March) and our room had an incredible view of the Pacific Ocean. Relaxing in the room or getting ready for excursions and dinner while watching the whales bobbing in the ocean was just a surreal and amazing experience.

Best time to go
It's warm year-round, but best to avoid 'Spring Break' season when Cabo gets crowded with college students.

Be aware
Hurricane season is from June-November, with most activity in July and August.


Specifics
Room options
Gorgeous views of either the Pacific Ocean or the Sea of Cortez from every 'casa.' Mexican style reigns throughout; with bright colors, wrought iron and exposed stonework, all given a sophisticated beach twist. Every 'casa' has a private balcony or patio for enjoying views — or for your afternoon margarita, delivered via private butler. Families with kids might want to opt for a multiple-bedroom villa fronting one of the swimmable beaches, while couples could retreat to an Ocean Front 'casa,' with cliff-top views and a personal telescope for whale watching. The Villa Cortez is perfect for larger groups, with room for up to eight adults and two kids, plus theater, gym, kitchen, infinity pool, poolside fire pit and private staff.



Service & vibe
Exceptional service (and I don't say that easily!). Staff can't do enough, from poolside foot massages to incredible events. Despite this, the atmosphere is all very relaxed — this is a place for pure enjoyment.

Food
Varies from traditional Mexican dishes to the resort's own 'Mexiterranean' which, unsurprisingly, fuses Med with Mex in dishes such as Roasted Medley of Vegetables "Tortita" with Picholine Olive Tapenade or Grilled Veal Chop served with Plátano Macho "Estofado" (stew) in a Black Mole Sauce. The other stand-out pick is Jean-Georges Vongerichten's Euro-Asian inspired 'Market,' or sushi and sake at 'Suviche.' Of course, there is an excellent wine selection, but a little more uniquely, the hotel also has tequila tastings, with 53 exclusive labels.

Price per night From $575


Experience It
To Do & See
Surprisingly, there is some pretty good shopping in either the tiny shops or nearby shopping center The Shoppes of Palmilla. The hotel also has its own boutique with a carefully curated selection of designer clothing and accessories. A little further afield are the hot springs of Miraflores. Alternatively, let the hotel do all of the work for you with Hummer excursions into the desert, aerial tours, private yacht cruises and horseback riding.



Sport & Activity
Proximity to the ocean means plenty of water sports, deep sea fishing and whale watching. In addition, there is an excellent golf course, rated in the top 100 of the world by Great Golf Resorts of the World. Also: tennis courts with lesson options and a ball machine for solo practice.

Spa & Grooming
There are 13 private spa villas (doubles available for sharing with lover/friend), beauty salon, finishing studio and outdoor oceanside Palapas. Huge treatment menu to choose from including typical body treatments, massages, facials but also bridal spa options and new beginnings (expectant or new mothers) all administered by ESPA-trained professionals. To ensure that your feet are beach-ready, try the Pedi:Mani:Cure Studio by Bastian Gonzalez. There are even options for kids, including the 'My Princess Collection.'


Local Insights
To Eat
Plenty of choice in the resort, but if you fancy seeing a bit more of the local area, try the sophisticated Mexican seafood at La Panga Antigua — EG: Ahi tuna lacquered with honey, rosemary and guajillo pepper over squash blossom and corn kernel rice — or something a little more traditional in a great atmosphere at Mi Casa.



To Buy
The Shoppes of Palmilla has lots of clothes and galleries but for pretty souvenirs in the form of Mexican handicrafts and jewelry head to Necri or find bespoke jewelry at SAX — the sisters are wonderful designers and can create something personal in just 24 hours.


Contact

Where
Km 7.5 Carretera Transpeninsular
San Jose Del Cabo
BCS, CP 23400 Mexico

Getting there
From Los Cabos International Airport the resort is a 20 minute drive along the Carretera Transpeninsular Number One Highway.

Contacts
Palmilla.OneandOnlyResorts.com
+52 624 146 7000
+1 866 8292977 (toll free U.S.)
+1 954 809 2726 (outside U.S.)
General Manager: George Sotelo