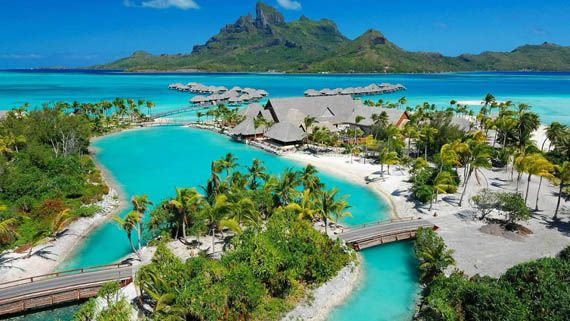 With its crystal-clear waters and surrounding islets, the island of Bora Bora is one of the most strikingly beautiful destinations in the world. The most popular of French Polynesia's Leeward Islands, this is an extraordinary place for both romantic getaways and aquatic-centric adventure vacations; it is also the location of the fabulous Four Seasons Resort Bora Bora.
The picturesque property is absolutely otherworldly, with beachfront villas and over-the-water bungalows on stilts that dot the translucent, turquoise waters. There are seven lavish beachfront villas and 100 one-bedroom bungalows at the five-star resort. Amenities include a fitness facility, a swimming pool, and tennis courts. Other activities include snorkeling, windsurfing, waterskiing, and parasailing.  
All of the beachfront villas feature a private swimming pool and marble bathrooms. The largest three-bedroom beach house has 5,380 square feet of living space plus an additional 2,152 square feet of space outdoors. There are three full bathrooms that include a double vanity, an oversized tub, and a separate shower. The two-bedroom, two bath villas provide 3,228 square feet of space.
The bungalows differ in size and range from 1,080 to 1,576 square feet of total living space. The units contain one master bedroom, a living room with a queen-size pullout sofa, and a dining area for up to five guests. The larger bungalows also feature a plunge pool. All the bathrooms in the bungalows include a double vanity, an oversized tub, and a separate shower.
The Spa at Four Seasons Resort is at the edge a the lagoon and is surrounded by tropical groves and oceanic waters. Guests are encouraged to arrive an hour ahead of their appointment to take in the entire facility. The facility includes a steam room, an outdoor vitality pool, a sensorial shower, a drench shower, dressing rooms, and separate lounge areas for men and women.

There are four restaurants and bars on the resort's property. The menus present locally-grown fruits and vegetables served with a variety of freshly caught seafood. Guests also can dine either on the ocean-side terrace of their bungalow or on the beach.
 The Four Seasons Bora Bora Resort offers an ocean full of pleasurability for all comers. For more information, visit FourSeasons.com/BoraBora.