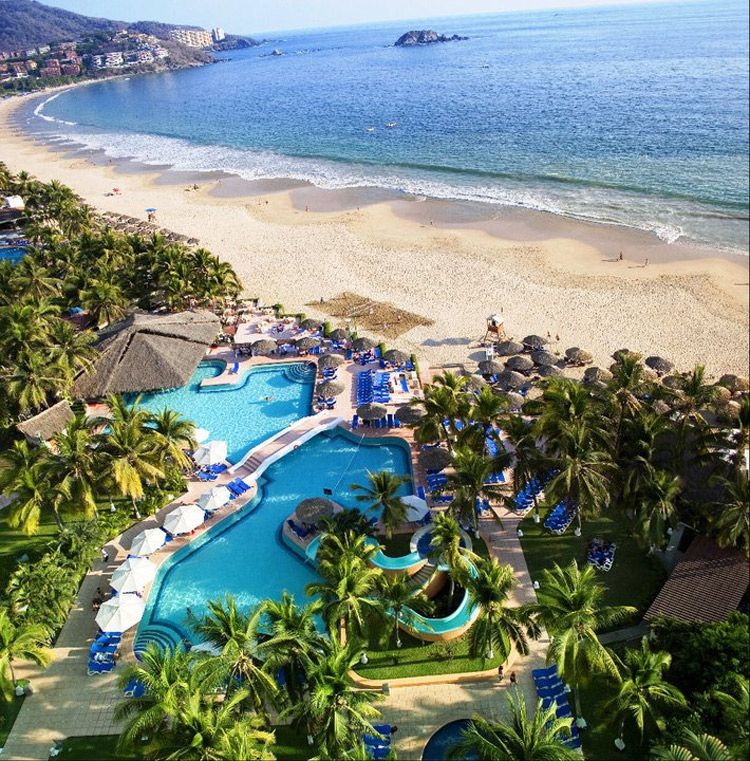 Photo Courtesy of Sunscape Dorado Pacifico
Luxury
all-inclusive hotel
management company AMResorts continues its path of rapid growth with an Ixtapa opening and a West Coast triumph—soon to be followed by a major move in the Caribbean. Classic Baja del Sur luxury outpost Marquis Los Cabos is now Secrets Marquis Los Cabos—right in time for 2012.
This follows the opening of Sunscape Dorado Pacifico, the first property in the "new" incarnation of AMResort's former flagship brand Sunscape. And in November 2012, the Caribbean's "ABC Islands" will get a first taste of AMResorts, as Princess Beach Curacao transforms to Sunscape Curacao Resort & Casino.
The Marquis Los Cabos achieves a first for AMResorts, in that it's become the only Secrets property to achieve membership in hospitality consortium Leading Hotels of the World. Those who have ever spent a vacation on "The Corridor," as Los Cabos' famed luxury hotel strip is called, will perhaps recall Marquis as a palatial yet cheerful-looking property, almost hidden from the main highway, and perhaps the most authentically Mexican of all the Corridor properties. As a member of the AMResorts brand Secrets, the hotel can look forward to welcoming a more international crowd, since Secrets is a familiar brand in Riviera Maya and the Caribbean.
After a soft opening in November 2011, Dorado Pacifico has been picking up momentum for the 2012 summer season. Reviews from critics and guests alike have been positive during the first six months, ranking the Sunscape Dorado Pacifico above other "value" all-inclusives—probably due to the fact that it shares many programs and policies with Dreams and Now, which are both positioned as luxury offerings.
In addition to 24-hour dining options and premium bar offerings, Sunscape offers The Explorer's Club for Kids—a fully supervised, richly programmed and highly active children's program for the 3-12 set. One of the special Explorer's Club activities at Dorado Pacifico is a visit to La Chola Archaeological Site to explore Meso-American ruins.
But the company's first move into Curacao—which was just announced on June 20—is significant, because this is relatively uncharted territory for AMResorts. Secrets has a strong presence in Jamaica and the Dominican Republic, and indeed, Secrets Royal Beach Punta Cana was recently awarded a TravelAge West Wave Award—an "insider's" accolade, since this publication informs travel agents and professionals. But moving Sunscape into the Eastern Caribbean, and taking over a family-friendly all-inclusive in an island not known for cheap all-inclusives...this is an interesting step for AMResorts.
The official announcement stated that the company would be assuming management duties by July 2012, but renovating through November 2012—at which point there will be a grand opening to property to the world. It'll be an interesting test of versatility for an exciting new brand. Visit
AMResorts.com
to learn more.