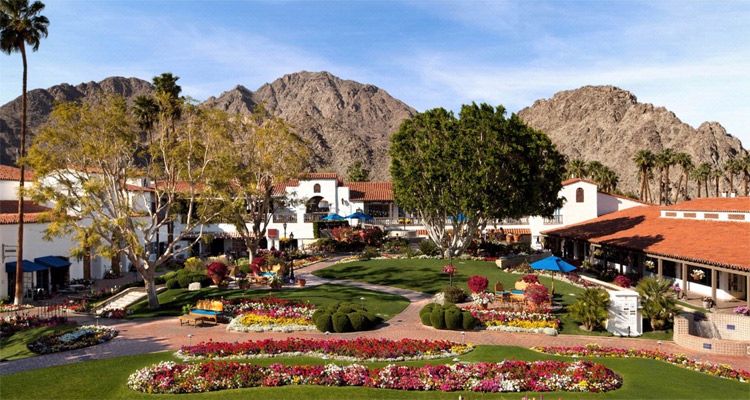 Photo Courtesy of La Quinta Resort & Club
Greta Garbo, Ginger Rogers, Bette Davis—these were the Hollywood elite that flocked to
La Quinta Resort & Club
in the late 1920s, lured by the quiet retreat's desert mountain shelter from the celebrity lifestyle and movie-making demands. Some, like Oscar-winning director Frank Capra, made La Quinta Resort & Club a home, his own "Shangri-La of Screenwriting." Others, like acclaimed painter Diego Riviera, left remnants of their inspirations within the resort (Nine such charcoal and paint artworks by Riviera hang in the lobby to this day). 
Nearly a century later, the travel elite (and a celebrity from time to time), continue to trek to this stunning desert resort, nestled neatly under the plum colored shadows of the Santa Rosa Mountains. Here are a just a few reasons to discover this "original hideaway," still intact with the glamour of its legendary history.
Spas for Him and Her
Once a 20-room property, built by savvy businessman Walter H. Morgan, La Quinta Resort & Club expanded to 796 guest rooms and suites. "A heck of a lot of rooms," I thought. However, the property has quite the capacity to keep hundreds of guests at a time delighted without compromising intimacy. Once one tires of the resort's 41 swimming pools, 23 tennis courts, and 90 holes of golf, the nationally noted Spa with 38 treatment rooms is a fine choice.
Led by newly appointed spa veteran Leslie Johnson, the Spa La Quinta is the resort's lynchpin of updated luxury. It boasts a crisp, airy 1920s era hacienda design amidst Saltillo tile, backlit etched mirrors, and bronze ceiling insets. Plenty of outdoor space, centered by trickling fountains and canopies of bougainvilleas, set the scene for all-day sun-soakings (Guests receiving a spa treatment also enjoy all-day access to the spa's facilities).
With the arrival of Johnson came an updated spa menu as well, including the unusually soothing California Essential treatment. I've had a number of scrubs, wraps and massages, but this therapy triad is comprised of a "dry" exfoliation with an organic brush, followed by a dense avocado wrap, and head, neck, and foot massage. I liked the brushing; a soothing scratching that literally buffed off dry skin, as well as the avocado application to my primed skin. If ever there was a time to feel as rich to the touch as freshly sliced avocado, then this was my moment.
For the more masculine, the Havana Club Cigar Lounge is a great spot. Reasonably priced haircuts and barbershop style shaves, along with dozens of premium cigars have made this paneled wood den a favorite among locals. Several flat panel TVs and rich leather couches invite lingering.
No Need to Leave...Even the Dog
For three days, I didn't leave the grounds of La Quinta Resort & Club. Beyond activities, the property's own shopping boutiques, including Polo Ralph Lauren and Tommy Bahama, and half a dozen dining avenues keeps most everyone content in between tennis, golf, swimming, and spa time. Even more, La Quinta Resort & Club encourages dogs to stay, further allowing concerned dog parents to relax alongside their pooches. Dogs of any size can stay on property as part of the resort's Paws La Quinta program. Dog bones at check in, an extra fluffy dog bed, and even a dog massage offered through the Spa's services, ensure an equally soothing desert escape for Fidos.
Dining in the Desert
The desert may often be viewed as barren, unable to sustain anything beyond a sturdy cactus or stubborn shrub. Morgan's in the Desert, La Quinta Resort & Club's fine dining restaurant, proves otherwise, culling the Coachella Valley's seasonal harvests and regional picks. Opened in 2009, Morgan's in the Desert is a collaboration between the resort and Executive Chef Jimmy Schmidt, a humble Midwesterner who helped spur the "farm to table" movement over two decades ago (Having put culinary "money" where his mouth is, Schmidt founded the Chefs Collaborative, the nation's leading nonprofit chefs organization devoted to fostering a sustainable food system in 1991).
Winner of the James Beard Award for "Best Chef Midwest," the nationally noted Schmidt focuses his menu on rustic Americana cuisine employed with slow techniques such as roasting, pickling, and braising. The interior of the restaurant matches this style of cooking, as its comfy leather chairs, wood beamed ceilings, and seductive fireplace convey a "settle in" ambiance. Our server, Jonah, set a relaxing tone, much appreciated after a long road-trip.
I liked the summery two peach salad with local prosciutto and the hand cut, whole-wheat orecchiette, a light pasta served with heirloom tomatoes and roasted fennel. The buttered popcorn ice cream, if available, is not to be missed, particularly with the salted caramel. Check often the event schedule of the restaurant, as many pre fixe menus pop up in tune with the seasons. I'll be excited to see the Pumpkin festival pairings later in October.

A more festive dining experience on property can be had at Adobe Grill, a colorful Mexican restaurant overlooking the main plaza of the resort. Live music is featured on weekends, perfect for sipping a margarita made with one of the 100 tequilas available.
To learn more, visit
LaQuintaResort.com
.