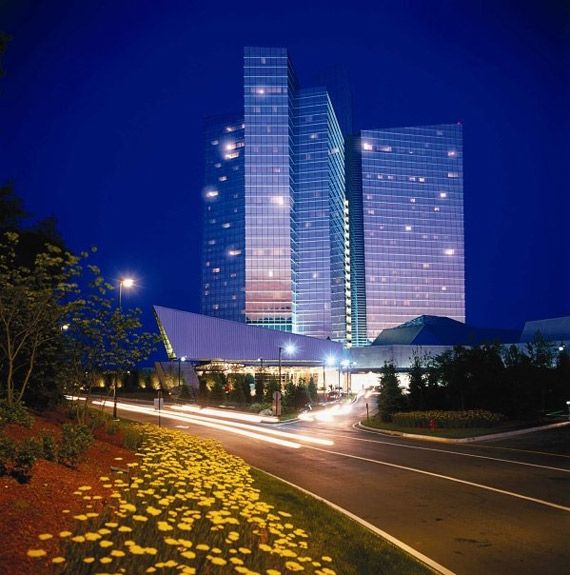 Photo Courtesy of Mohegan Sun
Looking around the colorfully mood-lit, cocktail-posh seating area of the
Mohegan Sun
's brand-new luxury nightspot Vista Lounge the last Friday in July, it was hard to believe that summer flash floods were wreaking havoc outside.
People lined up at the velvet rope outside the elevator to the entrance. The few who had been granted immediate entrance preened and flirted around low glass tables—not a damp head among them. Nor an umbrella at the coat check. And outside, thousands of people who hadn't been invited to the party, were finding their own version of Saturday night fun at one of the Mohegan's umpteen restaurants, pubs, clubs, pool parties and even a blackjack table or two.
Anyone who's been to Las Vegas understands the concept of a modern hotel-casino: Big. Flashy. An entertainment destination, not just a gaming spot. But the crammed-together casinos of the Strip and Atlantic City cannot compare, size-wise, with the massive destination hotel-casinos of the Northeast—for these properties are built to host the entire population of neighboring counties if need be, with no off-flow to a competitor down the street.
As the premiere luxury hotel-casino in the Tri-State area, the Mohegan is an entirely self-contained little city, with name-brand shops (Sephora, Landau, Puma, Godiva), headline entertainment every week, and a dynamic restaurant/nightclub roster geared toward bringing in locals as much as overnight guests from nearby cities like Boston or junket tours from China.
No matter what storms may rage outdoors, the vast covered acreage of the resort is always perfectly lit and the ideal temperature, with a dozen things to do. There always is something new, and 2012 brings a slew of exciting openings and additions to the specialty entertainment calendar.
Vista Lounge at Wombi Rock is certainly primed to be the closest thing Connecticut has to a Manhattan-style bar. Two floors are connected by spiral staircases, with an interesting open geometric interior and ample booth seating. Though the small-ish dance floor might get a bit crowded sometimes, the rest of the place feels roomy and urbane—the lighting is bright enough to appreciate the interestingly textured "rock" walls and slick white banquettes. This is the latest venture by Boston nightlife impresarios The Lyons Group, who also operate Ultra 88 Night Club, Lucky's Lounge and the Dubliner within the Mohegan Sun.
Earlier in the summer, the property announced two other new afterhours offerings. BALLO Social Club, transforms fine dining venue BALLO into an Italian-style nightlife adventure where people dance on tables in chandelier lighting, under dramatic stone archways. Once the dining tables get cleared out on Friday and Saturday at 11 p.m., it's a party till the wee hours.
And in a move that actually one-ups a lot of city rooftop parties, the swimming pool complex is turned into GLO (Thursdays and Saturdays), an indoor-outdoor pool party that's casual yet sexy, with go-go dancers on stage and attendees free to strip off their clothes for hot-tubbing under the stars. How is this better than the city, one might ask? Quite simply, the pool's indoors, along with one hot tub—so even if it's pouring rain outside, the party still keeps rolling with summertime tropical atmosphere intact.
Although the party organizers probably didn't foresee this, the indoor-outdoor setup has already saved the party during multiple summertime flash floods. Though currently scheduled only till September 1, GLO might do well to take a page from Tahoe's book and keep the hot-tub nights cranking through winter, when cold temperatures shut all the rooftop parties down and leave this indoor-outdoor venue as the only game in the Tri-States.
Another offering that was initially part of the summertime lineup: DIVA Fridays, where all-female parties enjoy ladies-only photo booths, gaming lessons in a "No-Judgement Zone" across from Jimmy Buffett's Margaritaville, mixology lessons at Todd English's Tuscany, and shopping and dining discounts at about a dozen participating businesses. This recurring Friday event has proven so popular, it's been extended through December 30.
The special event calendar at Mohegan is a mixed bag of pop culture, comedy, celeb sightings and old-school rock. For anything cultural and medium-sized, look to the Signature Events Series, under which banner there's two events on average each month. Subcategories include Reality Check, Signings & Sightings, and Winning Authors. In recent months, Karina Smirnoff of
Dancing with the Stars
took to the stage for a Reality Check event, Tenacious D stopped by for Signings & Sightings, and of course, Real Housewives galore have guested in every slot.
Though not a part of Signature Events technically, the free shows at Wolf Den are definitely a Mohegan Sun signature, drawing lines that go around the casino. You might see a '90s throwback like the Gin Blossoms, eighties hair band Skid Row, seventies favorite like David Cassidy...or you might just get a really great tribute band. No matter what, it's always free—and always packed.
Though there isn't a huge emphasis on daytime activities here—after all, there never is one, in casinos—a special shout-out must be made to the newly renovated Country Club at PautiPaug. With a redesigned course and clubhouse, 125 more yards of playable greens, and five redesigned holes, the course is poised to welcome guests from around the world. On the last weekend of July, the annual Ahmad Rashad Golf Classic drew sports stars from the NBA, MLB, NHL and NFL Hall of Fame, all of whom participated in raising funds for nearby White Plains Hospital.
One might guess that the Mohegan would go into a slower phase during fall and winter—as many Northeast summer destinations do. But different rules apply in a place unaffected by seasons. Thus, summer's end brings the sweetest opening of the year: Dylan's Candy Bar, the first New England store for "candy lifestyle" mogul-in-training Dylan Lauren (daughter of Ralph).

With shops thus far only in a few major cities and the Hamptons, Dylan's move to Mohegan Sun is the latest in a series of great brand partnerships that keep this Connecticut landmark a must-visit—no matter what the season, and regardless of whether you've ever spent a penny at a slot machine. (Photo courtesy of Dylan's Candy Bar)
Go to
MoheganSun.com
to see more.