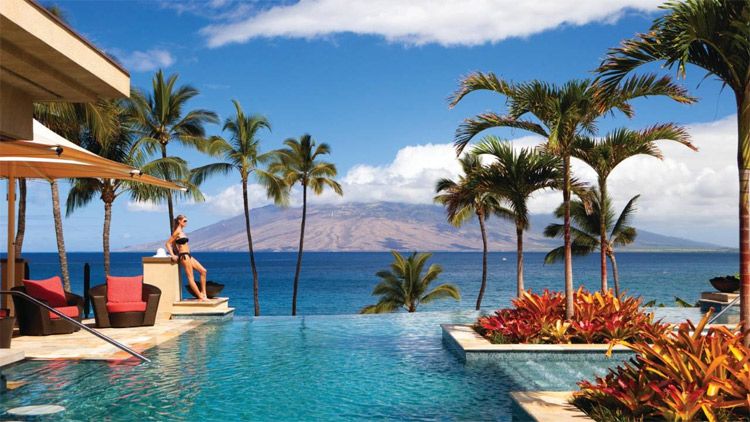 Photo Courtesy of Four Seasons Maui
So you've been slaving behind a desk the entire summer while it seems like everyone else is on the beach perfecting their tans. You have vacation time to burn up come fall, but where can you go to experience the same summer fun after Labor Day has symbolically ended the season? You don't have to travel too far—plenty of hotels and resorts right here in the U.S. still keep the relaxed summer vibe alive with lounge chairs firmly planted in the sand and outdoor activities aplenty; and of course, you can sport your favorite white outfits all you want. Here are a few of the
best luxury beach resorts
that stay true to their tropical spirit well into the autumn months.
Hawaii might be one of the first destinations you think of when it comes to reliably warm weather in the fall. The best part is that September through mid-December is actually the best time to go because the islands are a lot less crowded and temperatures stay consistent—mid 80s during the day and mid 70s at night. Hotel rates and airfare can also go down during this off season, so you can usually find a good deal or complete vacation package.
Four Seasons Maui at Wailea has a little something for everyone, whether traveling solo, with a significant other or with the family. Just a few of the amenities to keep you busy include three pools, three golf courses, a 13-treatment-room spa, two tennis courts, on-site shopping, complimentary activities and lessons, and even a Kids For All Seasons program to engage the little ones in cultural experiences.
If you're looking to let loose and turn your fall getaway into a bit of a spring break situation, then South Beach will most likely satisfy those needs. While there are a lot of great oceanfront hotels to choose from, the W brand delivers when it comes to keeping things exciting, vibrant and nightlife-centric. Although Southern Florida's rainy season can extend into late November, the showers usually only last an hour, so we suggest posting up at the lobby's swanky Living Room Bar during your downtime from the outdoor action.
It's hard to not have a good time even inside the guest rooms and suites, with funky, yet stylish décor like metal-studded doors, eclectic photography and shell chandeliers. Each accommodation comes with its own 'theme' to suit any travelers' mood, from the Cool Corner Suite with wraparound balcony and calming colors; to the two-bedroom WOW Suite with media room; and the Fabulous Studio complete with plunge tub and outdoor shower. Conveniently located on Collins Avenue, W South Beach is just steps from the sand, designer shopping, alfresco restaurants, and some of South Beach's hottest bars including Tommy Lee's Rok Bar and the hotel's own WALL Lounge.
Since this is supposed to be your chance to relax and forget about all the stresses back home, why not go to a beach resort that will make sure you are truly pampered and catered to? The St. Regis Monarch Beach is one such place, providing their signature butler service for over 100 years and counting, with no request out of their reach at any time of day (I'm sure we could think of something outlandish to ask for, but why push it?). September still sees daytime temperatures in the high 70s, and with low humidity and a breeze off the water, it's ideal for a game of golf or a day strolling around or sipping a drink on your private balcony.
What's great about staying at the St. Regis Monarch Beach is gaining access to their private beach and Monarch Bay Club, and they even have the transportation taken care of. Every 15 minutes starting at sunrise, the resort tram takes guests to and from the exclusive spot where you can enjoy your own personal lounge chair, umbrella and towel with refreshments available at the Club. If you want private lessons, be it surfing, kayaking or swimming, make a reservation with the concierge to have one of the St. Regis Surf Butlers show you the ropes and have you feeling like a local in no time.
You don't have to hop a flight to Hawaii to escape to your own quiet island retreat. Kiawah Island, located just 15 miles south of Charleston, South Carolina, is a quaint 10 mile stretch of land with a laid back approach to luxury. It was named #1 Island in North America by
Condé Nast Traveler
in 2009, and has continued to rack up countless accolades for its offerings since. At The Kiawah Island Golf Resort you can rent your own condo, villa or private home, but we suggest their beachfront hotel, The Sanctuary, for a shorter trip.

Rather than exuding the typical island feel with hammocks and tiki torches, this property maintains an aura of Southern hospitality and casual elegance. Walking through the doors of this extravagant mansion, you'll feel you just stepped into a piece of history with its grand staircase, ornate paintings and crystal chandeliers. Surprisingly enough, the hotel was built in 2004, and has all the modern amenities you'll need during your visit. If you want to be active, there's golf, tennis, kayaking, biking, fishing, wildlife tours, and the list goes on. Or let the beach concierge set you up with your own chair and umbrella so you can bask in the sun and worry only about reapplying your sunscreen.