Sally Farris View Profile

Assistant Travel Editor | JustLuxe
Ultimate Mountain Escape for Nature Lovers at Switzerland's Whitepod Resort
Posted: Oct. 11th, 2012 | Comments 1 | Make a Comment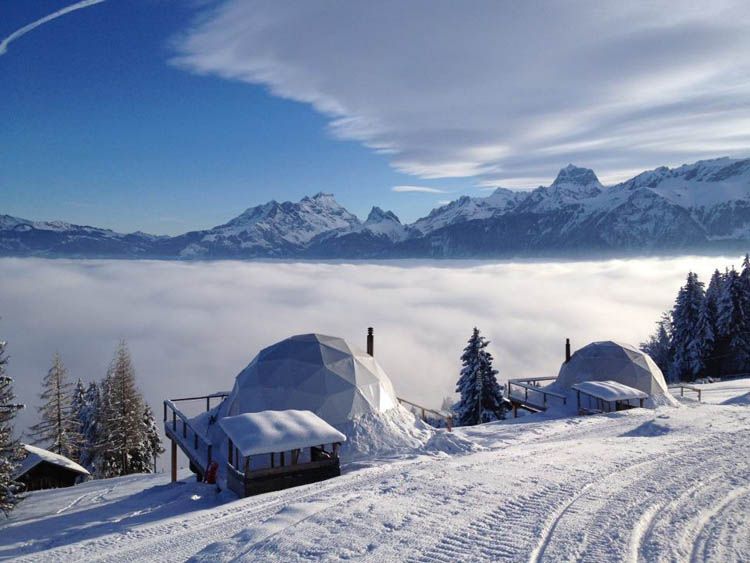 Photo Courtesy of Whitepod Resort
Drive only an hour from Geneva Airport, to Dents du midi in the Swiss Alps and you will find an interesting place called The Whitepod Resort. There are 15 igloo-like domes each equipped with its own freestanding wood burner, king-sized beds dressed in organic bedding, and full service bathrooms. The side of each pod that is facing down the mountain is made of translucent material, making the view of the sunrise incredible. At this glamping resort, the pods' placement is focused on making guests feel like they are out in nature even as they lay cozy in bed.

The Chalet Les Cerniers is the starting point of the resort, and includes concierge service, massage rooms and double baths. The Restaurant Des Cerniers features refined dishes after the local tradition, inspired by their mountain location. By reservation, you may even have your gourmet dinner delivered to your pod. The Pod House, which is a lot closer to your little igloo, includes a Finnish sauna, Japanese bath, with changing rooms and showers. This area of relaxation is open on request or daily from 3 p.m. to 8 p.m.

The resort is a prime example of a new trend in travel, known as eco-tourism. It caters to the growing market of ecologically conscious travelers, hoping to vacation in ways that have little negative effect on the environment they are visiting. Many said eco-tourists reviewed on Tripadvisor.com how impeccable the service was and commended the resort's attention to detail. The facility also won an International Sustainable Tourism award in 2005 for their exemplary waste reduction, use of renewable resources, and minimal energy and water consumption.

The facility's primary function seems to be to encourage outdoor activity. The pods themselves give the feeling that they are a part of their mountainous, snow-covered surroundings. Included in the price of a pod is access to a 4-mile-long ski slope with private ski lifts. Guests are also allowed free-reign of over 15 miles of sign posted trails and provided with the equipment needed to hike or ski them. For a price, guests can also enjoy dog-sledding lessons, guided snow-racketing excursions, or a guided snow trek up and ski run down the mountain.
Read More on
Whitepod.com
You might like :
Luxury Hotels Switzerland
Related Topics : Travel Destinations, Switzerland, European Vacations, Romantic Vacations, Eco-friendly, Luxury Travel
LET'S CONNECT LUXURY NEWS & MORE






Featured Luxury Hotels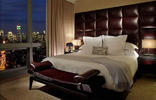 New York, United States
Trump Soho New York
Introducing a new definition of hotel design to SoHo, the neighborhood's only...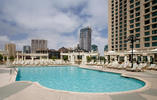 San Diego, United States
Manchester Grand Hyatt San Diego
See the best of San Diego, California up close with a stay at Manchester...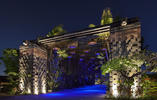 Bali, Indonesia
The St. Regis Bali Resort
Bask in luxury on the soft, sandy beach of Nusa Dua, the Garden of Bali, where...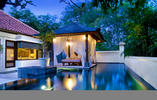 Bali, Indonesia
The Laguna, a Luxury Collection Resort and Spa, Nusa Dua-Bali
Nestled on Bali's finest white sand beach overlooking the majestic Indian Ocean...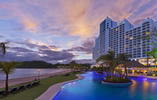 Panama City, Panama
The Westin Playa Bonita Panama
Discover complete rejuvenation at the natural refuge, where a serene beach...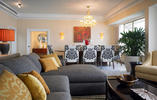 Kauai, United States
The St. Regis Princeville Resort
The St. Regis Princeville Resort marks the legendary brand's first resort in...