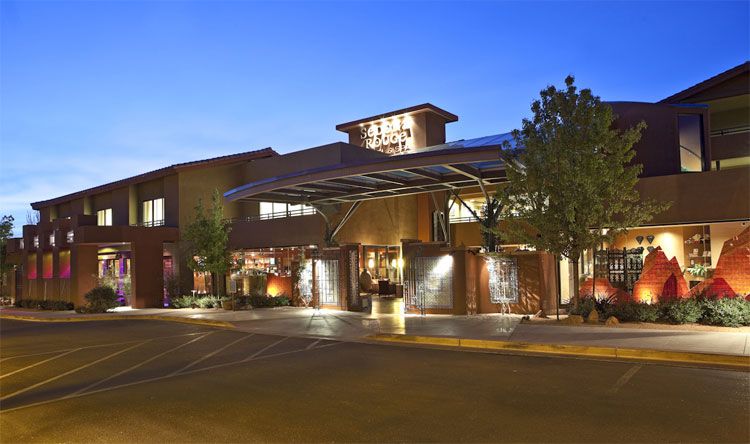 Photo Courtesy of Sedona Rouge Hotel & Spa
In the heart of Sedona, Arizona lies the
Sedona Rouge Hotel & Spa
, a Four-Diamond luxury hotel full of charm and history. Spanish kings ruled over the land years ago, and with that same level of superior sensibility, the Sedona Rouge Hotel & Spa has created a modern day retreat fit for royalty. The hotel is only minutes away from Red Rock Country and hundreds of acres of Coconino National Forest.
Central to the allure of Sedona Rouge is its exquisite spa designed for relaxation and rejuvenation, with ten treatment rooms, a Tranquility Lounge, hydro-therapy tubs and steam rooms. A passion for the art of well-being and customized spa services are the hallmarks of the Spa at Sedona Rouge. The Spa provides a sensory refuge, using the power of touch and natural elements to inspire you to take a step out of time relax and heal.
Massage therapists perform a variety of modalities including Custom Massage, Cupping, Myofascial Release, LomiLomi, and Ayurvedic services. The Spa offers treatment rituals with rich healing butters, detoxifying wraps and floral baths locally crafted from indigenous botanicals. For radiant skin, expert estheticians customize each facial using highly effective skin care products.
Famous for its Vortex sites, natural areas of enhanced energy that facilitate meditation, self realization and mind/body/soul healing, many travelers journey to Sedona to enhance their physical and spiritual well-being. The Spa at Sedona offers intuitive and wellness services such as Psychic Readings, The Rising Star Healing System™, Yoga, KinetQi and Spiritual Acupuncture to facilitate your journey to self discovery.
Located within the tranquil Spa building, Sedona Rouge offers six sumptuous spa guest rooms and a romantic spa suite. Equipped with large jetted tubs, the spa guest rooms provide guests with a serene and relaxing retreat.
In the guestrooms, the Spanish and Mediterranean décor give the spaces a warm and inviting feel with dramatic and rich colors in every room. Guests will sink into peaceful slumber on the Simmons Super Plush Pillow Top mattresses, tucked under a down feather duvet. Lavish amenities fill the room like a 32-inch LCD flat screen television, gourmet coffee service, and a petite fridge for guest convenience.
Click Here to Book Sedona Rouge Hotel & Spa
REDS Restaurant inside the hotel offers a gourmet twist on time-honored comfort foods. Taught by the women in his family, Chef Ron Moler delivers rich foods and extraordinary flavors that will leave you craving more. It's contemporary design and lively atmosphere makes this restaurant the perfect place for meeting up with old friends or enjoying a date night with a loved one. REDS was acclaimed Sedona's Best Restaurant and Lounge for the best Appetizers and Best Happy Hour by Kudo's Readers' Choice Awards.
The world-class destination of Sedona is brought to life with accommodations at the Sedona Rouge Hotel & Spa where nature and luxury come together in harmony. Allow the beauty of Red Rock Country to revitalize the spirit while you restore your body to a peaceful state at this opulent Arizona retreat.
Sedona Rouge Hotel & Spa
2250 West Hwy 89A
Sedona, AZ 86336
800-501-4819
SedonaRouge.com