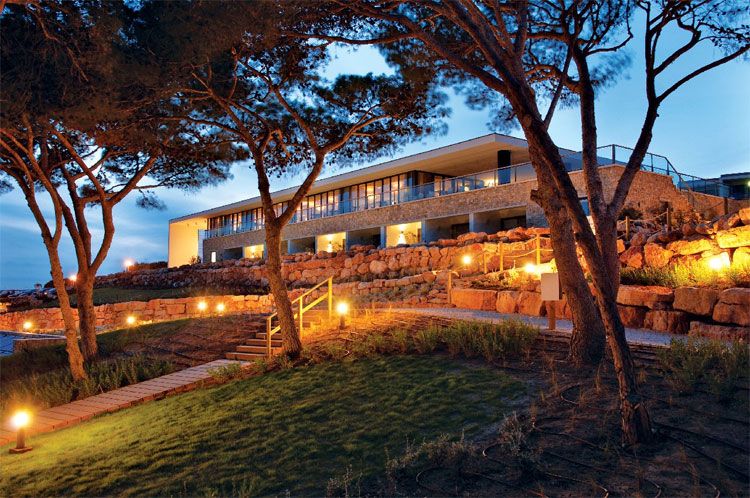 Photo Courtesy of Martinhal Beach Resort & Hotel
Boasting stunning architecture and playing up natural elements inspired by its surrounding landscape, Martinhal Beach Resort & Hotel allows guests to experience the unspoiled Western Algarve. Luxury seeps through every inch of this beautiful five-star resort which is met by unrivaled hospitality. Its organic décor is a welcomed treat bringing grace and simplicity to the resort.
The hotel offers 38 beautifully appointed rooms as well as two duplex Beach Suites with private balconies or terraces. The Terrace Rooms, situated within the main building, are inspired by the Western Algarve. Throughout the room, lush furniture and natural elements fill the space like timber and wicker, exuding an organic, minimalist feel. Paired with the appealing designs by Michael Sodeau, the muted pastel tones offer a mellow atmosphere that soothes the mind and invites pure relaxation.
In addition to the Terrace Rooms the Beach Rooms, just a short walk away from the beach, are arranged in clusters of four. Keeping with a natural theme, the flat roofed buildings are wrapped entirely in natural timber to blend into the local landscape and allow guests to take advantage of coastal panoramic views. Inside, the cool color schemes present a refined approach to classic beach accommodations with subtle touches that add to these visually striking rooms.
Portugal's coast lends itself to some of the best and freshest ingredients available which makes any restaurant within the hotel a fine dining choice. O Terraço at Martinhal Beach Resort & Hotel, follows time-honored methods to create delicious and unpretentious Portuguese cuisine. Dining at the restaurant is a culinary journey for both adults and children alike through a menu of authentic Portuguese cuisine.
Make sure to take advantage of their exclusive list of wines with your meal. At Os Gambozinos Italian fare is served for dinner only, featuring delicious pizza and savory pasta dishes. With a lighter and informal atmosphere, this restaurant is ideal for families and larger groups.
Martinhal's philosophy of barefoot luxury extends into Finisterra Spa, located on its own private grounds, inviting guests to relax and enjoy a day of pampering. Its deliberate muted colors and organic textures work towards creating a mutual balance between modern design and nature. The spa staff have thoughtfully created massages and treatments that not only restore wellbeing but honor Portuguese maritime history and seafaring culture.

Click Here to Book Martinhal Beach Resort & Hotel
The resort amenities include five swimming pools, two of which are ideal for families as well as a smaller pool designed for toddlers. The Oasis Pool, a beach entry free-form swimming pool, is centered within the Garden Houses area. At the heart of the resort's entertainment is The Village Square. This central hub is home to Kids Club, Fox Club, and the well-equipped gym. While the children are at play, parents can enjoy a cocktail or appetizers at Os Gambozinos located in the same square.
A playground of possibilities, Martinhal Beach Resort & Hotel with its prime location and five-star accommodations, is a treat for every guest.


Martinhal Beach Resort & Hotel
Quinta do Martinhal, Apartado 54
8650-908 Sagres - Portugal
800.800.0356
Martinhal.com