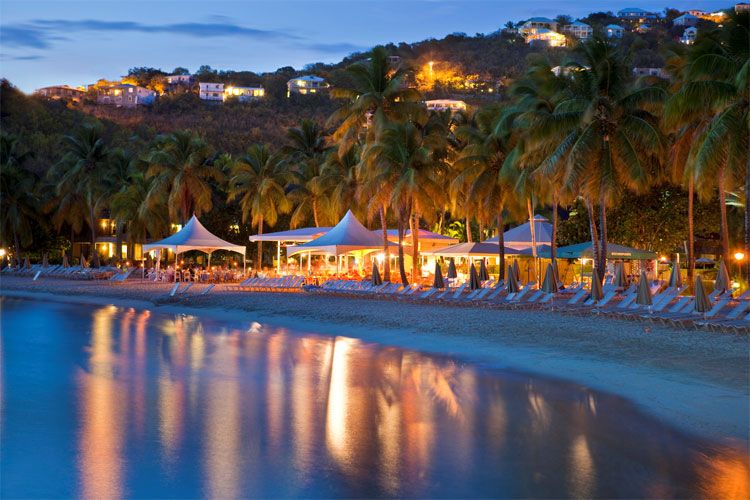 Photo Courtesy of The Westin St. John Resort & Villas
The Westin St. John Resort & Villas
is a tropical hideaway sitting along the shoreline of Great Cruz Bay and extending along their very own 1,200-foot-long white sand beach. Just minutes from the Virgin Islands National Park, the resort is the perfect choice for a private getaway nestled in the natural beauty of the Caribbean.
The luxury accommodations include 175 guest rooms and 146 villas and offer stunning views of the coastline. Inside the Deluxe Guestrooms, the Westin's Heavenly® Bed awaits along with modern amenities like a 32-inch flat screen TV, refrigerator, high speed Internet and safe.
The Guest Suite provides additional room with one or two bedrooms and can be booked with different townhouse floor plans. With the master bedroom upstairs, the downstairs can be used to entertain guests in the living areas. Choose a suite with a dining area to enjoy a romantic meal, or try one of the many restaurants located within the hotel.
Culinary experts combine fresh ingredients and quality service to bring guests Caribbean cuisine that delights the senses. Cruz Bay Prime is a fine dining restaurant serving up aged choice grass fed Angus steaks, regional seafood and meats inside a spacious open air setting. If you are looking for a more casual setting, check out the Café and Bar which has buffet breakfast served daily and a bar ideal for gathering with friends or family over some cocktails.
Among its many highlights, The Westin St. John Resort & Villas also caters to guests' well-being through their exclusive spa. The spa staff generously guide you through treatments designed to assist in finding a peaceful state of relaxation on your vacation. Treatments like Caribbean Bliss begin with a 50-minute pool-side cabana massage followed by an After Sun Aloe Wrap and a Renewing facial. Any option you choose will have you wishing you never had to leave.
Click Here to Book The Westin St. John Resort & Villas
The resort also has a variety of outdoor and water sport activities available for its guests like boating and scuba diving. Exploring the open waters is made easy with the onsite Boating Butler who can create your ideal island-hopping adventure through the main sights and even some off-the-beaten-path. Or choose one of the 25 dive sites for scuba diving enthusiasts to discover coral gardens and the many tropical fish of Great Cruz Bay.
Striking ocean views and spacious accommodations paired with the luxuries of a Westin property, make The Westin St. John a wonderful experience for any traveler. Leave your worries behind and enjoy year-round 85 degree weather in the Virgin Islands where anything is possible—all you have to do is get there and find out.
The Westin St. John Resort & Villas
P.O. Box 8310
St. John, Virgin Islands 00831
US Virgin Islands
800-517-8865
WestinResortStJohn.com