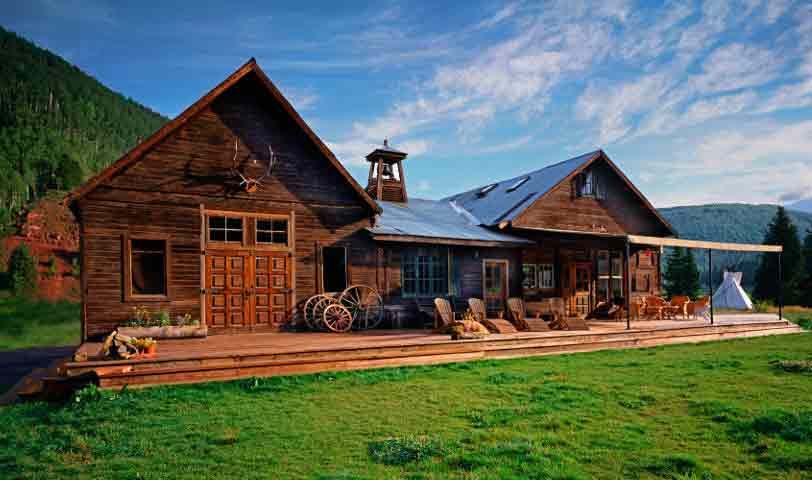 Photo Courtesy of Dunton Hot Springs
I went to Dunton with a group of fun, sporty friends and my boyfriend. We mixed up our time between hikes, fly-fishing, horseback riding and plenty of reading and chilling out in the property's hot springs. Think Wild West with a BIG difference. Built on the site of an old mining town, this charming resort combines the rugged outdoors with beautifully decorated log cabins dotted around the central lodge. Romantic enough to suit a honeymoon couple cozying up in one of the rustic cabins, as well as perfectly situated for an active hiking trip in the national parks and relaxing in the hot springs of the spa — but still great for kids or a large family party...not many places can suit all groups!
A few things you need to know when visiting is it's great for really getting away from it and going back to basics to some degree, all in pretty mountain scenery and unspoiled landscapes. It's a perfect place for a cozy, quiet and romantic getaway with a partner, for relaxation and outdoor activity, yet also well-suited to family gathering, or with your best pals! Also a good spot for an executive or small, off-site company retreat.
My most memorable moment from the trip was a three-hour horseback ride, along snow capped mountains, evergreen forests and ice cold streams, followed by a long dip in the outdoor mineral-packed hot springs. I ended my day with a hearty and delicious dinner at the main house's communal table, chatting and laughing with our friends. The best time to go depends on what you seek — summer is wonderful for long walks, horseback rides and wildlife, while late fall/winter is perfect for skiing, snowshoeing and cozying up to read and ponder by the roaring fire.
However, be aware of a few things. Even in summer it can get chilly at night. This really is the "Wild" West; towns and shops will not be easy to get to but that is precisely its charm. Also, if flying private, going for three days is feasible. But for those flying commercial, getting here and back home is nearly a full day from the east and west coasts —best then to tie it into a longer itinerary. Dunton is very comfortable but is not perfectly manicured or pristine. Not for everyone, so be aware of the group's likes.
Each of the 12 cabins tucked into the landscape has been hand-built (sometimes by the former miners of nearby Emma mine) and all are a different blend of local artifacts, rustic style with cool, chic interiors. Two cabins have TVs, and there is a movie theater on-site with satellite TV and a library of 800+ titles. Or just sit in the rocking chair on the porch and stare spellbound at the views of the Rockies. An insider tip: Well House Cabin has a direct link to the namesake hot springs, and Dolores Cabin is right on the stream with a pretty terrace.
For meals, you'll stroll over to the dining room, located in the former town saloon. From hearty breakfasts (including the most delicious home-made granola and warm flakey croissants) to farm fresh lunch and dinner dishes, served with wine from their vineyard, Sutcliffe Vineyards, you will look forward to every meal. Communal dining adds to the cozy camaraderie, but if you're looking for secluded romance, opt for in-cabin dining. The food is excellent, top quality ingredients made with tender loving care. The chef will accommodate special requests (some of us ordered vegetarian meals half the time so as not to go over the top on meat). The service at Dunton is homey, friendly and attentive. The staff tries hard, and they aim to please. Outside of Dunton, there's not that many dining options (this is a true getaway), but the menu in the restaurant changes daily so you'll not tire.
There's a lot to explore and experience out and about the local area. Get yourself outdoors into the rugged Wild West. In summer there's fly-fishing, hiking, riding and climbing. In winter, cross-country skiing, snow-shoeing, ice-climbing, skating, snowmobiling, etc. There are also two national parks nearby, so there is plenty of outdoorsy goodness to be had. They are also one of the few places in the US to offer dog sledding on the property. For some much needed TLC, head over to the charming log cabin spa and request their soothing hot-stone massage; one of the many treatments offered. Follow that with a dip in the mineral rich indoor or outdoor hot springs: Bliss! (especially after a long hike.
Part of the charm of Dunton is its remoteness and this makes it a bit of a challenge to get to, but for many it is worth the effort. You will truly feel as though you have escaped. Plan to fly into Denver and take a "puddle jumper" to Telluride or Cortez. The hotel can advise you of the best option for your particular needs. From $650 per night based on double occupancy and including all meals and house wine/drinks. It's also a unique venue for weddings or events. Buy-out the town, for approximately $22,500 per night you can rent the whole place for 42 people to dine, party and stay the night.
Dunton Hot Springs
52068 West Fork Road #38
Dolores, CO 81323
(970) 882-4800