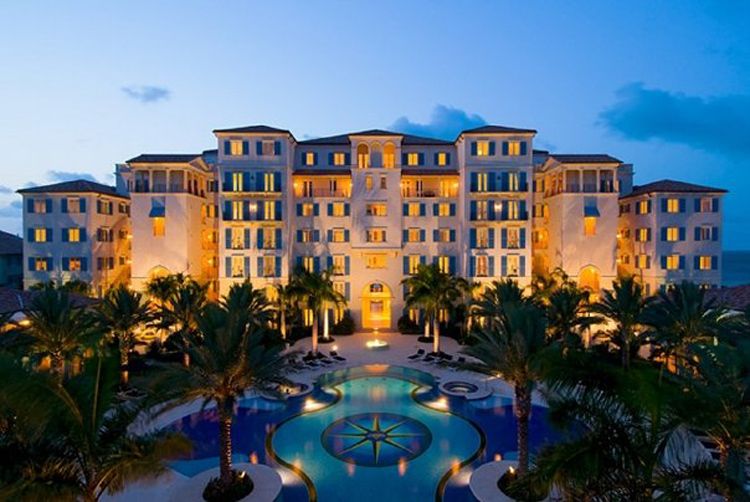 Photos Courtesy of The Regent Grand
The best hotel properties know how to greet their guests with the "wow" factor. The Regent Grand Resort, located on the
Turks and Caicos Island of Providenciales
, makes a point of impressing each of their guests not once, not twice, but three times. The first time a guest's eyes widen is when they check in at the front desk. The Regent Grand's elegant concierge area is awash in blonde marble.
It's hard to ignore what's beyond this introduction as each guest's eyes are drawn to the cobalt-blue outdoor pool and then a glimpse of the Caribbean Sea. This initial impression is the first indicator that you're in for a special island experience.
The second "wow" happens when you turn the key and enter your room. This time, you are greeted with a luxurious suite, complete with kitchen, living area, custom bath, and a sweeping balcony. This visual embrace is a mere appetizer for jaw-dropper number three, though. The reason most vacationers travel to Providenciales is the island's headline attraction: Grace Bay Beach.
The Regent Grand
is strategically situated on Grace Bay—a 12-mile stretch of powder white sand and turquoise water that many consider the finest beach in the world. What's unique about The Regent Grand's choice location becomes apparent once you pull open the balcony's sliding glass door and step out to drink in the real-life postcard view.
The Turks and Caicos Islands are surrounded by the most high octane shades of turquoise water that one could ever hope to see. Your head can't help but swivel as you absorb the incredibly vibrant vista. What you are looking at can only be described in a single word: "Wow."
Guests at this boutique hotel can choose from one, two, or three-bedroom suites. Each room is attended to by The Regent Grand's charming and meticulous staff. This hotel is fortunate in that almost their entire staff has been on-hand since the hotel opened its doors in 2007. This continuity translates into a warm familiarity for returning guests and a terrific "go to" reference for those visiting Providenciales for the very first time.
The Regent Grand's location also delivers attractions on the side of the property that doesn't face the ocean. The resort is mere steps from the Regent Village, Providenciales newest and most encompassing shopping area. A wealth of restaurants, shops, banks, and excursion merchants are so conveniently located, there is no need for a rental car. If you feel the need to stretch your legs, the Regent Grand offers a fitness center, tennis court, spa, golf, and even bicycles at your disposal.

If it's been awhile since you were treated to a 'pinch yourself it's so good' vacation experience, then consider The Regent Grand Resort in Providenciales. Whether you're a returning customer or a first time guest, you'll soon realize that "Regent Grand" is Caribbean for "wow."