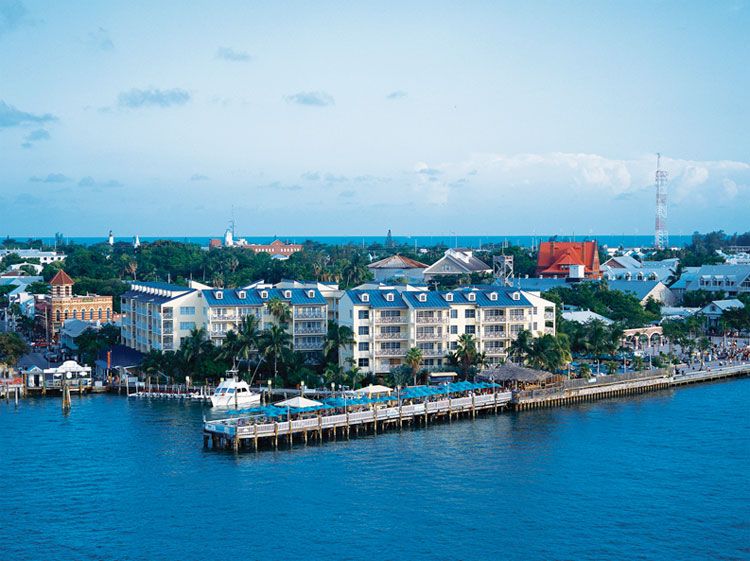 Photo Courtesy of Ocean Key Resort & Spa
Located at one end of Duval Street in the heart of Key West's bustling tourism center, the aptly-named
Ocean Key Resort & Spa
—a Nobel House property—makes for an easy walk to many of the area's most historic landmarks, museums, restaurants, bars and nightclubs. Parking is taken care of curbside by friendly valets in T-shirt and shorts leaving one to simply step inside and browse the eclectic, rectangular-shaped lobby with a small, informal reception desk at one end and a boutique shop selling easy-wear clothes and everyday knickknacks such as souvenirs, books and sunglasses at the other.
Photo credit: Columbia Hillen
An overhead canopy of abundant foliage and flowers, trellis dividers and colorful wooden deck chairs decorate the area immediately behind the lobby where many of the rooms are located. Even the elevators reflect the playful persona of Key West—emanating from its notorious bohemian past with colorful paintings of toucans and pineapples adorning the sliding doors, amplifying the hotel's boast of presenting 'an elegant West Indies style with a palette of turquoise, indigo and lime for a Florida Keys twist.'
Photo credit: Columbia Hillen
We had a suite next to the Hot Tin Roof restaurant, with a railed patio-cum-veranda overlooking the dipping pool, Jacuzzi and cabanas. Swaying palm trees lead the way to the shops lining the pier and the Gulf of Mexico coastline from where cruise liners and leisure craft dock and depart. In this respect, guests are advised to choose an ocean-side room on a higher floor where street noise is negligible and viewing more advantageous.
Photo courtesy of Ocean Key Resort & Spa
Swing doors separated our living room area from the bedroom where we enjoyed an old-fashioned, king-size, two-poster bed of burnished wood, high enough that my diminutive wife exerted some energy each night getting on to it. Living area furnishings included a lengthy, well-padded, blue and lime-green striped sofa, a television, several wing-back chairs, and varnished wood round tables positioned just inside the veranda.
Photo courtesy of Ocean Key Resort & Spa
Overhead, a rotating fan harkened back to a bygone era when Hemingway and cohorts waxed poetic after consuming large quantities of 'Papa Dobles' and ran amok here (aged rum, grapefruit juice, maraschino liquor, lime and sugar, for those who wish to try it). The bathroom, an extension of the bedroom, was a delight, with twin wash-hand basins, a Jacuzzi-style bathtub and a large open shower.
Photo courtesy of Ocean Key Resort & Spa
Hotel guests can pamper themselves at Spa Terre, which specializes in Asian-style body and beauty treatments, or enjoy a work out in the fitness center. A water sports center can arrange snorkeling and fishing charters, parasailing and boat or jet-ski rentals. Drinks can best be enjoyed down at the Sunset Pier Bar, a collection of colorful, macaroon-shaped chairs aligned along the private pier.
Photo courtesy of Ocean Key Resort & Spa
There are, of course, many restaurants to choose from in Key West, but for my wife and I, the best of them proved to be a mere few steps from our own room. Credit goes to friendly, efficient restaurant manager Joseph Lyles and the creativity of Chef Brendan Mica, for a dining experience at the Hot Tin Roof that was the highlight of our stay.
Photo courtesy of Ocean Key Resort & Spa
Located right at the edge of the water, the restaurant presented an intimate but lively atmosphere with small lamps hanging from white-painted wood walls and tables set close together cosseted in candlelight. Thin window drapes fluttered in the ocean breeze. The restaurant's design is classic Key West—a combination of Victorian, Bahamian and New England.
Photo courtesy of Ocean Key Resort & Spa
Lighting being low, special illuminated menus were innovative and most helpful. The cocktail menu is quirky and we opted for two martinis: a Hot Tin Tini (pineapple vodka) and a Spicy Melon (watermelon, jalapenos and mango), both served refreshingly dry, each with a different twist, one sweet, one spicy.
Photo courtesy of Ocean Key Resort & Spa
Keen for fresh fish and seafood, we started with ceviche and crab claws. The claws, which came resting on a bed of ice, had been cooked just right, soft but firm, accompanied by a delicate tarragon sauce. Our salad was best described as contemporary and tangy—frisee salad with goat cheese and roasted nuts and a grapefruit-flavored dressing. It being a chilly evening—unusual for Key West—the smooth warm mushroom, truffle and parmesan bisque was most comforting.
Photo courtesy of Ocean Key Resort & Spa
We stayed with seafood for our main dishes: caramelized grouper, the most common fish caught around the Keys, with coconut, corn, chorizo, poblano and carrots. Deboned, filleted and submerged in a generous portion of sweet and savory South American ratatouille-like sauce, the dish proved a delight. My wife chose broiled lobster tail with a Romesco sauce, which reminded her of a wonderful trip to Tarragona years before. It came as a small pyramid, the lobster tail perched atop a bed of crab cake, a thin moat of sauce around it.
Photo courtesy of Ocean Key Resort & Spa

The culinary journey being so captivating, we felt it unfair to leave without a proper farewell of dessert—a chocolate lava cake served with chocolate-covered Amarena cherries, creme fresh and cherry sauce. What a way to say goodbye!