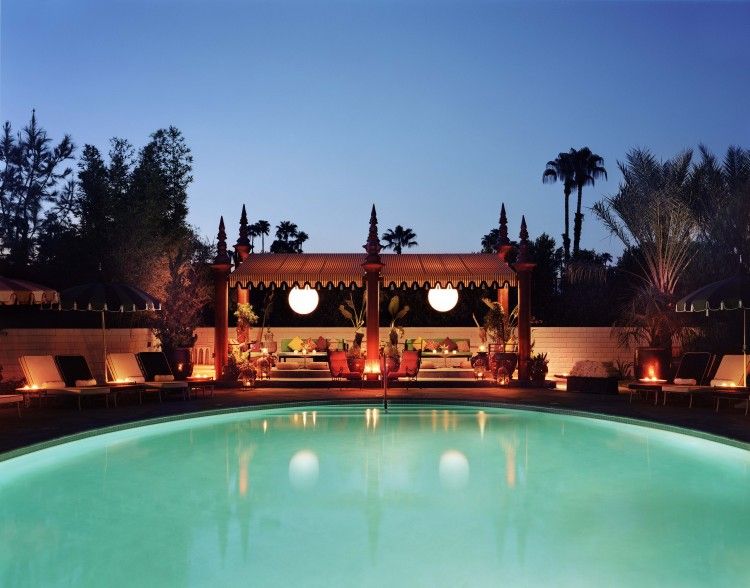 Photo Courtesy of The Parker
I was wearing a pair of bright orange heels poolside at
The Parker Palm Springs
last weekend. I commented, "Well, these aren't appropriate for the pool." A lady nearby leaned over and laughed, "It's Palm Springs. Inappropriate
is
the appropriate!" Indeed, Palm Springs has remained one bizarre haven for the aspirational and well-heeled traveler, almost inappropriately so. 
Poolsides stay packed with sunglass-donned guests even in the 115-degree summer days. Golfers pack plush, velvet courses nearby eerie forests of giant windmills. Architecture from the 50s through the 70s is cherished, gaudy gold accents to moss green paint. And then there's The Parker. As one of Palm Springs' latest resort re-inventions, it doesn't just embrace the hey-day of the area's celebrity glamour, but makes it its mission to poke a little fun at it. The affect: a marvelously fabulous place to stay. Here are a few of my favorite reasons why:
The design:
Formerly Gene Autry's Melody Ranch and Merv Griffin's Givenchy Resort and Spa, The Parker was designed with Palm Springs' golden-era stardom in mind. Jonathan Adler, the ceramic bowl maker turned design mogul, was tapped to outfit the entire property. Although The Parker is one of his only hotel projects, the decision to woo Adler couldn't have been more appropriate. A late mid-century/early seventies design scheme can be tricky, as disco balls and shag rugs rarely project sophistication.
The Parker, however, is just that, without taking itself too seriously. Adler calls it "irrelevant luxury," and that belief is part of the Alder company manifesto. Fun, bright reds punch up the hotel's living room among fur pelts, hanging wicker chairs, and lime-green glass accents. Dangling clear loops make for a chandelier and a massive marquee spelling out "DRUGS" hangs over the fireplace near the check-in counter nearby are the massive orange front doors.
The playful and artfully chosen elements continue through the 144 guest rooms and 12 villas. I loved the matching set of leather-banded chairs in our sitting area, as well as the graphic print artwork. A design bug myself, I completely admired every design piece of my room, and I could tell each furnishing was a meticulously found and placed item; even the amenities like Molton Brown shower gel and Hermes soap, were well thought out.
The play:
The Parker has a penchant for playfulness, which makes it easy to delight guests young at heart. A "manifesto," similar to Adler's list of beliefs, is displayed throughout the hotel and includes statements such as, "We believe in inner beauty. But, do what you can on the outside," and "We believe in the American country club experience: mixed doubles, a long steam, and a stiff cocktail."
Croquet, Petanque (the French version of Bocci), and tennis on clay courts keep guests sporty and country club minded. The Lemonade Stand, an adorable freestanding restaurant, offers fresh juices, cocktails, and snacks under misters and yellow awnings nearby all the recreation.
The busiest areas, I found, were the pool-sides, catered well by the peppy Parker staff. The three pools, all saline treated, offer views of lofty palm trees and stunning purple mountains at sunset. Past dusk, guests seem to gather at Norma's, the property's half-indoor, half-outdoor kitschy diner; and Mr. Parker, the low-ceiling, velvet-cloaked restaurant fitted with a lacquered piano and over-sized green booths.
P.S.Y.C (the Spa):
It's not a psychology course, but this spa would ease your mind from the craze of everyday life. P.S.Y.C, the "Palm Springs Yacht Club" is The Parker's beautiful spa, and perhaps my favorite offering of the resort. There isn't a yacht, and no one cares, as the royal blue and classic white spa's nautical theme triumphs any desire for an actual boat (Besides, this is Palm Springs). I noticed the rope design in the silver wallpaper in the spacious manicure area, as well as the round windows-all "ship like" sans "trying too hard."

A wooden indoor "deck" hosts yoga classes and converts to lounge areas by the indoor pool, heated year-round. The menu of treatments is basic and non-fussy. I enjoyed a wonderful Swedish massage, which I savored while listening to a custom soundtrack I selected from a menu. Before my treatment, I read several magazine articles from the lounge area's iPad. Nice touch, Mr. Parker.