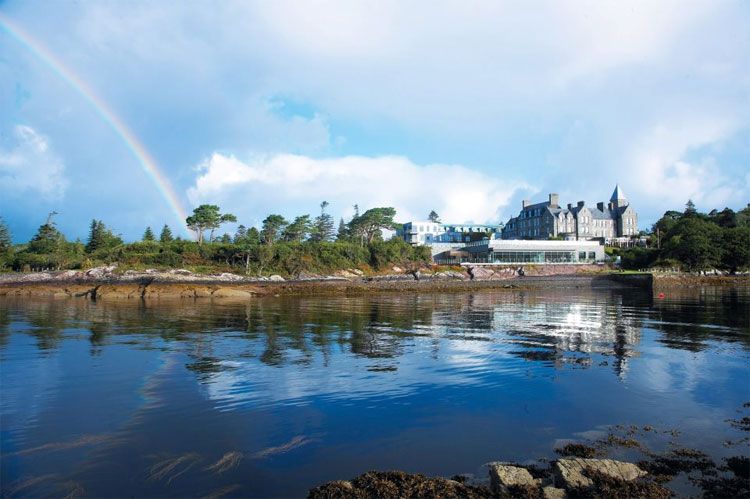 Photo Courtesy of Parknasilla Resort & Spa
The first glimpse of
Parknasilla Resort & Spa
on the southwest coast of Ireland is of an imposing gray-granite building at the head of a rocky promontory fringed by tall, sweet-smelling Cordylines, or palm lilies. One could be mistaken for thinking one had arrived on the Mediterranean coast rather than County Kerry, a few miles from the sleepy town of Sneem. The Gulf Stream that passes here grants this particular region a warmer climate than many other parts of the country, where subtropical plants and vegetation flourish.
Photo Credit: Columbia Hillen
A winding driveway takes one to an ample parking area fronting the hotel, a simple one hundred yard walk to the main building. Nearby are varied man-made boardwalks through the forest and along the coast, providing scenic views over the property's spacious grounds, including the old bathhouses used by previous generations and the cottage where former French President Charles De Gaulle stayed. The hotel also provides regular free one-hour guided tours through the sprawling coastal acreage, which includes a 12-hole golf course beside the ruins of Derryquin Castle.
Photo Credit: Columbia Hillen
Parknasilla, from the Irish, Pairc na Saileac, meaning the 'Field of the Willow Trees,' is a rambling four-star vintage manor house, with rooms and stairways radiating off a central carpeted corridor that runs through the middle of the property, ending at the Pygmalion Restaurant, the main dining area. Aside from its 83 bedrooms and suites and 24 two-bedrooms, the property also comprises 38 three-bedroom self-catering villas just off the main building.
Photo Courtesy of Parknasilla Resort & Spa
Our room was on the second floor with wonderful views over the rocky peninsula below and floating lobster pots further out on the bay. With a predominantly white color scheme, offset by orange carpeting and sandy-colored curtains with a floral leitmotif, it provided ample space with both the main bedroom and a separate side room complete with armchairs, a coffee table and a writing desk. A large framed photograph depicting a seashore scene hung above the bed. The bathroom, with a partial glass-fronted shower area, displayed a chessboard-style floor design offset by gray-silver wallpaper.
Photo Courtesy of Parknasilla Resort & Spa
Downstairs are several relaxation rooms around the central 'Doolittle Bar,' decorated in traditional style with dark wood, crimson and green furnishings and floor-to-ceiling windows looking out over the rocky coast and bay. The Pygmalion restaurant is large with 18th and 19th century oil paintings adorning its walls. Named after a play by George Bernard Shaw (upon which the musical
My Fair Lady
was based), the large dining room, with its sunroom overlooking the bay, is where both breakfast and dinner is served. The breakfast menu features a buffet selection and an ? la carte option, with the local Sneem black pudding and smoked kippers a must-try.
Photo Courtesy of Parknasilla Resort & Spa
Dinner can be very busy so reservations are recommended, especially if one prefers a table with a view. Chef Peter Farndon offers a menu of modern Irish and international cuisine, with local produce such as Kerry mountain lamb, grass-fed Hereford Irish beef and fresh fish. He and his team excelled in preparing the slow roasted pork belly, but he garners most praise for his pork rillettes bon bons that burst like fine bubbles of flavor. The starter of Kenmare Bay scallops, pan-seared and paired with Sneem black pudding bon bons, a yin-yang of colors and flavors, is pure, unadulterated gourmet sin. As for dessert, chocolate fondant, a miniature tower of melted delight, combined with Guinness-flavored ice cream is the premier choice.
Photo Courtesy of Parknasilla Resort & Spa
Aside from the varied outdoor walks, one of the unique highlights of a stay at Parknasilla, which is located on the scenic Ring of Kerry, is the hotel's twin outdoor Jacuzzis located on a wide wooden terrace overlooking Kenmare Bay. These lie adjacent to a large swimming pool and spa complex composed of 13 treatment rooms and a thermal suite. Centered on a platform of Elemis spa therapies and products, the treatments combine standard massages with seaweed wraps and frangipani oils, as well as hot stone massages and facials. A generous relaxation room provides an oasis of tranquility.
Photo Courtesy of Parknasilla Resort & Spa
Shaped like the deck of a cruise ship, an open viewing area, mere yards from the main entrance of the hotel, with wooden bench seats and a promenade space, invites late night cocktails under the stars or a fresh coffee watching the sun rise.
Photo Credit: Columbia Hillen
Parknasilla has a rich heritage dating back to 1692, attracting such literary luminaries as George Bernard Shaw—thus the name of the restaurant—so it is no surprise to learn that a special celebration was held to commemorate the centenary of the property's library. 'Library' may be a bit of a misnomer as not only does it house a wide array of books, but also the game room featuring a central billiards table and television. Old photographs of the hotel through the years are displayed along the walls.
Photo Credit: Columbia Hillen

Aside from golf, Parknasilla offers a range of other activities including archery and a fun walk for children featuring miniature fairy-houses. It also arranges to take guests kayaking on the bay in motorized vessels, which leave from a location beside the hotel itself.