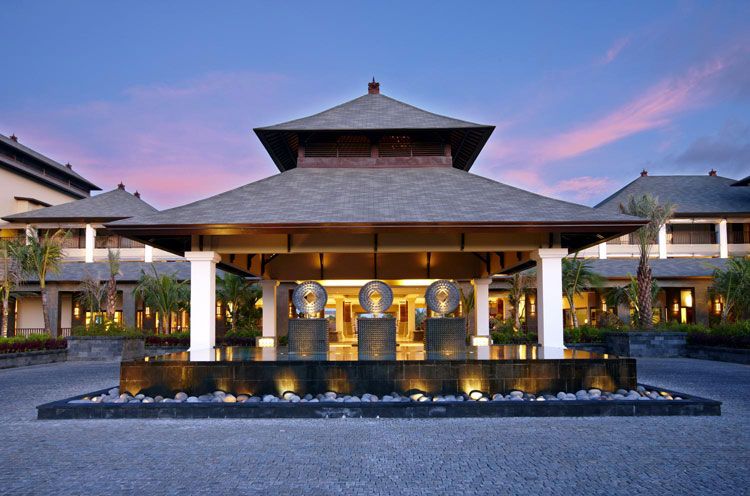 Photos Courtesy of the St. Regis Bali Resort
Encompassing some of the most beautiful and lush grounds in Nusa Dua, the St. Regis Bali Resort is an island destination that excels in every facet of hotel accommodations, amenities and service. Each year since its inception in 2009, the St. Regis Bali Resort has earned more acclaims than the previous year; and their consistent awards not only cover the location and accommodations, but also philanthropic endeavors, wine selections, conservation efforts and numerous best overall awards. If you're looking to an exceptional hotel that tops most hotels, this is the destination you've been looking for.
The 81 suites offer glorious amenities that'll make leaving your room a challenge in itself. The spacious rooms are furnished and designed with deep, rich woods, plush beds, grand balconies, and all the amenities you've come to expect from a St. Regis property. Each suite type also has something different to offer, which will help to create your ideal retreat based on your wants and needs. The Orchid Suite has a spacious living area and small kitchen with a full refrigerator. The round wooden dining table seats 4 guests and outside, the deck features a day bed and sun lounge chairs for extra lounging.
The Bali resort also has a number of private villas available which come equipped with large bathrooms, living areas, and gorgeous furniture — all of which reflect the best of Balinese arts and culture. The exclusive villas are surrounded by lush tropical gardens that give the hotel a feeling of a secluded and luxurious island adventure.
Although the villas and suites are reason enough to stay at the St. Regis, there are still many things activities and amenities being offered that give guests even more reason to stay. Swim in the stunning turquoise lagoon, relax in the main pool or have some family fun in the children's pool; the hotel has a number of options for getting a dip in during your vacation.
Situated on the warm sandy beaches of Bali, the resort has a large variety of water sports equipment for your ocean-bound delights. Canoes, wind surfing, diving tours, snorkeling and kayaking are all available at, or nearby, the hotel and more exhilarating activities like jet skiing, deep sea diving, para-sailing and banana boat rides can be set up through the resort's Water Sports Center. Trying one of these activities for the first time and feeling a little unsure? Lessons are available from the experienced water sports staff that'll have you paddling, diving, or wind surfing like you've been doing it your whole life.

While the hotel offers up one of the most romantic locations on the globe, the resort is remarkably kid-friendly. The Children's Learning Center offers half- and full-day programs that will challenge and engage kids from 4 to 12 through a variety of creative and thought-provoking activities. Led by a teacher, this service offers a great learning experience in a safe, friendly environment while you and your significant other explore aspects of the resort and Bali that may not interest. While the children are enjoying their day, spend time at the wonderful Remède Spa, fitness center, one of the onsite bars, or enjoying a quiet meal at one of St. Regis' delightful restaurants.
Named for Indonesia white wood, Kayuputi restaurant is truly a vision in white. Its décor oozes elegance and its al fresco dining is made even more beautiful by the backdrop of the Indian Ocean. Calling it's style, Asian inspired Haute Cuisine, the Bali fine dining restaurant is open for lunch and dinner and a Champagne Brunch on Sundays. Soft white cushion seats furnish Kayputi inside the high-ceilinged establishment and a grand open kitchen. Dining is a pure treat for all the senses.
Without a doubt, the St. Regis Bali Resort earns every award they receive with a supremely attentive staff and a collection of extraordinary accommodations and amenities — all of which are ready for you to get your most memorable vacation to date underway.
The St. Regis Bali Resort
Lot S6, PO Box 44
Nusa Dua, Bali 80363
Indonesia
877.787.3447
StRegisBali.com