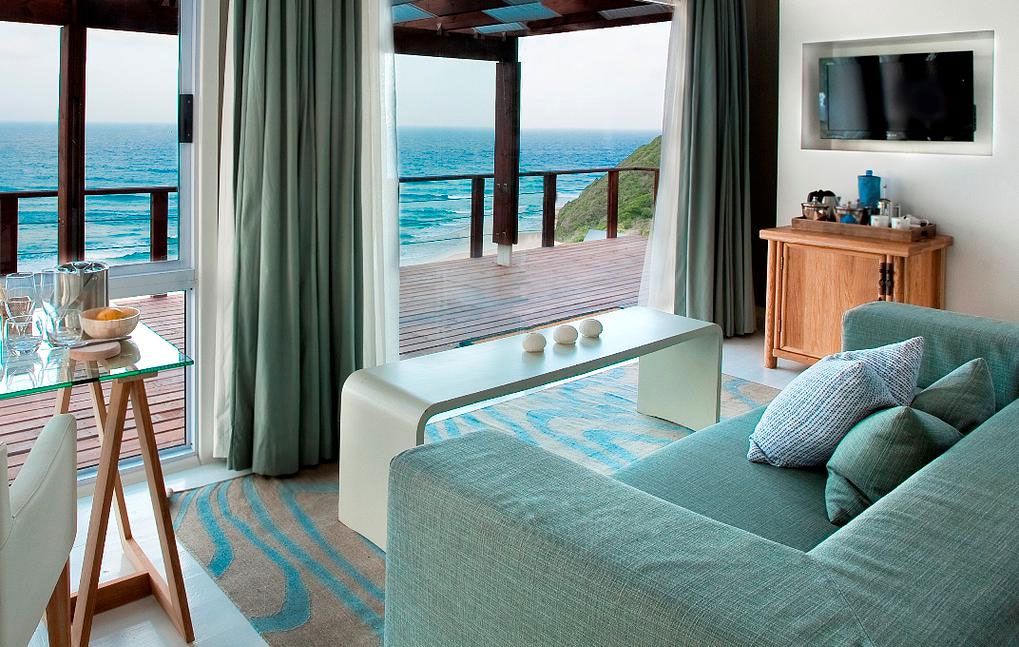 Photos Credit: White Pearl Resorts
Because world-class beaches and resorts abound along the central and northern coastline of Mozambique, its southern region can sometimes be overshadowed. But paradise seekers willing to take the road less traveled should consider White Pearl Resorts, Ponta Mamoli located along a remote stretch of golden sands in the south. White Pearl Resorts is nestled onto a towering, flora-smothered dune with 21 private suites overlooking unspoiled beach and bush.
The resort exudes modern and casual sophistication within its suites, communal spaces, elevated dark wood walkways and overall atmosphere. It is an optimal choice for those who prefer their luxury more easy-breezy than stuffy and over-the-top. Each suite comes with a private plunge pool, outdoor shower, a generous beach-facing deck with plush lounge chairs and a private on-call butler.
Mozambique native Ananais Chambule steers the ship as the resort's head chef, delivering a refreshing authenticity in his offerings. In the mornings, guests can enjoy a breakfast tray of charcuterie, pastries, and fresh fruit in the hotel's all-glass dining room. During lunch, dine on lime and whiskey prawns or traditional Cataplana stew of mussels, chorizo, prawns, and prosciutto on their sleek Beach Bar balcony. If you're looking for a more romantic dining experience, you can book a private three-course dinner on your privacy which may include a decadent seafood platter of fresh-caught prawn, line fish and calamari.
You can make your stay as immersive or as secluded as you'd like, and as sedate or as thrilling you'd prefer. There are many activities for the adventurous guest such as galloping through wild bush country or endless expanse of remote beach, and snorkeling on an ocean safari where you'll encounter coral-lined waters replete with fish and resident bottlenose dolphins yards away from the resort. If you're a PADI-certified guest, take an exhilarating Pinnacle Reef dive among the sharks and other sea life.
Between November and February, the resort's location hosts a migration of nesting loggerhead and leatherback turtles along the beach, providing a natural spectacle for guests. White Pearl Resorts also offers a Cultural Town Tour in the rural Ponta Mamoli neighborhood, as well as spa treatments in a high-perched suite with sweeping vistas.
To get to the resort, guests can opt for helicopter transfers from nearby Maputo International Airport. In 30 breathtaking minutes, you'll drive past the skyline of Mozambique's capital city, perhaps spotting zebras and elephants above the vast Maputo Special Reserve.