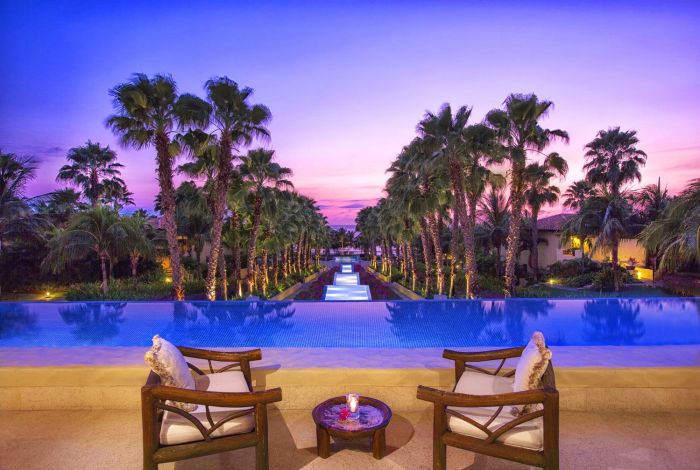 Photos Credit: St. Regis Punta Mita
Mexico has more than its share of world-class beach resorts, but there is no destination that caters to both gourmands and golfers quite like the St. Regis Punta Mita. Perched on the Pacific Ocean amongst the astounding natural beauty of the Riviera Nyarit, the property has elevated the beach resort experience thanks to its unrelenting determination to provide the very best cuisine in the country.
Punta Mita already enjoys an enviable exclusivity. There will only ever be two resorts in the gated beachfront compound, the St. Regis and its neighbor the Four Seasons, which along with private condos share two world-class, par-72 Championship Jack Nicklaus Signature golf courses. The resort offers 89 guestrooms and 31 suites outfitted with all the style and panache that elite travelers have come to expect from the brand.
Instead of being crammed into one large building, the accommodations are to be found in detached tile-roofed Mexican style casitas dotted throughout the property, with its stunning landscaping of blossoming flowers and swaying palms. There are three inviting infinity pools overlooking the beach as well, which boast incredibly soft sand. Of course the signature St. Regis butler service adds an extra measure of pampering that allows you to relax from the moment you arrive on property and are not even required to unpack for yourself.
The resort's 10,000-square-foot Remède Spa is one of the most tranquil, professional and comforting spas you will ever have the privilege of visiting, and booking a treatment during your stay is an absolute must. In addition the beautifully-designed facility offers a sauna, steam room, fitness center, salon, Jacuzzi, cold plunge pools and relaxation gardens, where you can also choose to indulge in serviced canopies.
The restaurants are where the St. Regis' commitment to quality really comes to the forefront. There are now four venues on the property, including oceanfront spots Las Marietas and Sea Breeze, the signature restaurant Carolina, and a "bistro boat" dubbed the Mita Mary that serves fresh seafood right on the sand. Mita Mary began as a pop-up and was recently made a permanent fixture as it proved extremely popular with guests. In addition to a beachfront bar there is a lobby bar with beautiful views where the resort's signature Champagne ritual is presented featuring bottles of Veuve Clicquot sabered in the grand tradition.
Demand for rooms at the resort is always high, but lately it has been attracting even more interest thanks to new chef Jose Meza Arroyave, who is now in charge of the Carolina restaurant. Though quite young he arrived with a formidable reputation already in place, having previously been chosen by the country's most famous chef Enrique Olvera to run his restaurant Moxi in San Miguel de Allende.
Using only the freshest local ingredients Arroyave has brought his award-winning method of presenting traditional Mexican dishes in a new light. Showing a flair for incredible presentation he makes classic cuisine shine anew, always with intriguing and unexpected flourishes. Some of his selected dishes include Green Pozole Ceviche with the Catch of the Day, Cacahuazintle Corn and Fish Chicharron; Quail Tacos with Foie Gras, Hoja Santa, and Chili Adobo; Duck Enmoladas with Mulato Chili, Black Mole, and Homemade Tortilla; and Papaya with Yogurt Foam, Lemon Sorbet, and Cilantro.
This month is particularly auspicious for the St. Regis as it plays host to the Sixth Annual Punta Mita Gourmet & Golf Classic from January 28-31. The event will begin with an opening night cocktail reception presented by Aeromexico and Delta Airlines at the resort's Sea Breeze Beach Club where guest chefs, winemakers, sommeliers, tequila masters and artisanal brewers will welcome guests with an array of cocktails and culinary delights. The highlight of the event is the Punta Mita Cup, a two-day golf tournament played on the legendary Punta Mita golf courses.