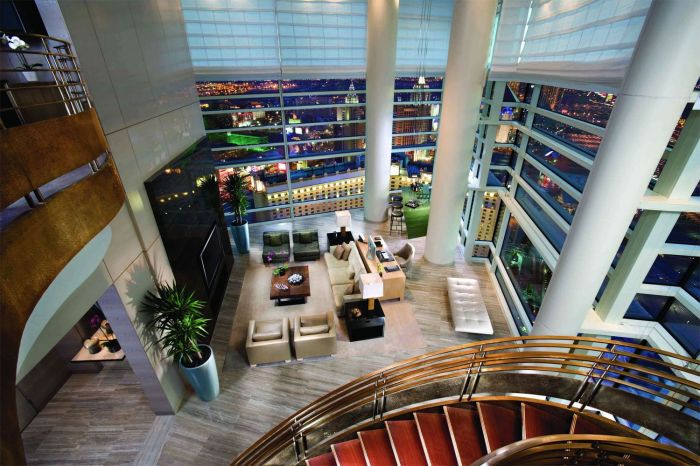 Photos Credit: Aria Resort & Casino
This is an experiential column – here, we see, sense and feel the villa and suite life in all significant dimensions. Beyond First Class is our mantra, and our stories involve the nuanced experience of the most elegant suites worldwide.
After experiencing many suites, villas and luxury destination club residences, I have developed a philosophy about these temporary living spaces. The goal of many luxury resorts is to imitate the comfort and elegance of a high-end home, translated into a suite or villa. These often have private butlers, valets, limos, separate entrances, elevators and lobbies that all create an exclusivity that many guests expect.
On a recent trip to Las Vegas, I experienced the $10,000-a-night Sky Villas at Aria Resort & Casino. The experience begins when Sky Suites guests are whisked away from McCarran Airport in a private ARIA limousine, arriving at a VIP lobby for check-in. The lobby is separated from the clatter of the crowds and is decorated with fresh flowers. Complimentary espresso, cookies, snacks, juices and water are on offer. From there, we took a private elevator to the 58th floor where Villa 11 awaited.
Aria calls the Sky Villas a unique residential-style space. The interiors are designed from natural materials—stone, glass and wood—and include no jarring colors or ostentation, just muted, peaceful grays, whites and beiges. Floor-to-ceiling windows covered the walls, and from so high up, there are exceptional views of the city, the Spring Mountain Range and the snowy peaks of Mount Charleston.
The residence also includes a new guest dimension, just instituted this year: tablets that allow guests to order room service food, book spa appointments and make reservations for restaurants and events. You don't have to call anybody for anything, if you don't want to. Many who reside in these 2,000- to 7,000-square-foot residences, typically request and receive "entourage" rooms, which are in the Sky Suites, a few floors below. Those one-bedroom accommodations are a little over 1,000 square feet, and are used for friends, family, nannies or private security staff. When athletes stay in the villas, beds are often custom-created and brought in, so that very tall persons can sleep more comfortably.
Each two-story villa includes floor-to-ceiling windows, 24/7 butler service, a full kitchen that can be stocked with whatever food the guests would want, 12-person dining room and the option for a private chef. Upping the ante, are the villas' exercise rooms, massage areas, steam rooms and hairdressing salons all located within the residences and boasting Hermès Eau de Merveilles bath amenities. Should you need a personal trainer, hairdresser or masseuse while there, it can easily be arranged. There is also a private elevator for guests, with another for the staff.
While we were enjoying the ambiance of the living area, an Aria employee came to maintain the mauve Dendrobium Orchids. Each day, a horticulture staff member waters and dusts the plants. The property boasts only living foliage as a way to define luxury.
The aura of the Sky Villas interiors is muted, offering calm colors, glass and stone, plus a peaceful ambiance. A cut above most of Sin City's suites, the Aria's top suites offer a welcome and calming respite from the chaos and lively Vegas entertainment just a few floors below.