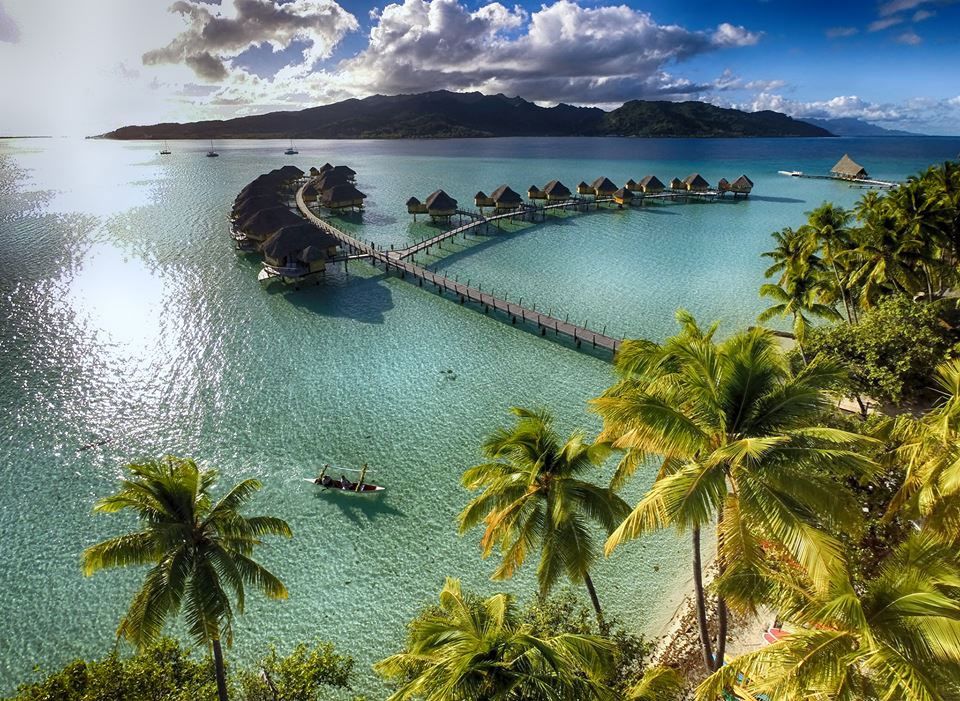 Photos Credit: Le Taha'a Island Resort and Spa
A stay at the five-star Le Taha'a Island Resort and Spa begins long before your arrival to the property. Upon landing at Raiatea airport you are greeted by a hotel representative who will guide you to the resort's boat shuttle to the island of Taha'a. Helicopter transfers are also available for a quick 14-minute flight from the airport.
Following check-in you'll be escorted to one of 60 accommodations which are divided into 48 over-water bungalows, 10 private beach villas, or two royal enclaves. Each offers Polynesian décor and immediate access to the warm and impossibly-transparent aquamarine lagoon surrounding the grounds. We jumped into the crystalline waters before every meal, lounged on our private deck, sipped Nespresso, viewed the fish and stared at the starlit sky all from the comfort of our bungalow.
If wellness is part of your holiday regime, the fitness center, the endless variety of water and land activities, and the spa will fill the bill for endless hours of recreation. The Tahitian masseuses come from a long tradition of studying body work and incorporating their skills, knowledge and training into their therapeutic hands to put their guests into a state of blissful relaxation.
The activities concierge can organize just about anything you'd like to experience. Don't miss the tour of the newly-opened Taha'a Rum Distillery. The project, started by Laurent Masseron, uses indigenous, organic sugar cane to produce boutique rum that rivals the best. A tour of one of the many black pearl farms, such as Love Here Pearl Farm, is also a thoroughly educational experience.
Lunch at the Beach Bar offers poolside fare,including Angus beef carpaccio, while dinner at Le Vanille, the resort's main restaurant, offers a wide selection of items to ensure that guests always have something new to discover. Executive Chef Julien Roux combines his French technique with local ingredients to create delicious island cuisine. Dishes include Shrimp Risotto with ginger and coconut milk, and locally-caught parrot fish with asparagus, sweet potato, pine nuts, arugula and capers. Food and Beverage Manager, Jerome Gabe will also assist throughout the meal to offer the best pairings for each dish. His knowledge of food and wines make for intriguing pairings through the meal.
This serene sanctuary has garnered numerous accolades including being recognized on Trip Advisor's 2016 Travelers Choice awards and named the fourth best resort in Australia and the South Pacific according to Condé Nast Traveler. If you're considering a trip to Taha'a, high season in French Polynesia is from May 1 to October 31. During this time you'll find warm weather ranging between 70-82 F, and from June through September, the area receives less than three inches of rainfall per month.
Rates begin at $1,195 a night.