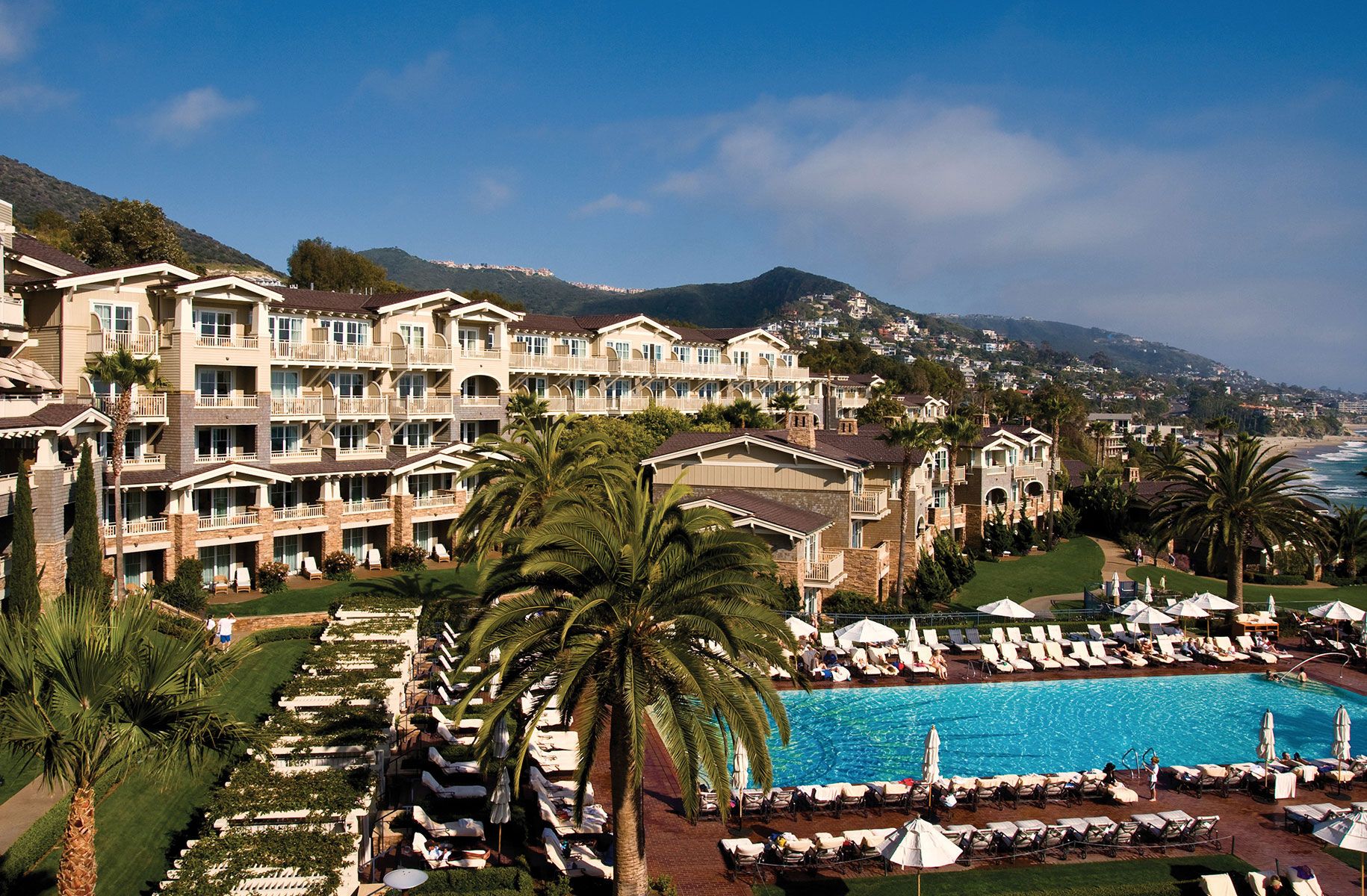 Photos Credit: Montage Laguna Beach
It doesn't take too much foresight to build a superb resort in Southern California. Simply procure beachfront property and point the entire resort towards the expansive Pacific Ocean. The Montage Laguna Beach did just that and opened this resort on 30-acre plot of highly coveted, pristine oceanfront land in 2003. Thirteen years later, the resort remains a beloved destination for locals and well-heeled travelers from as far as China and Germany.
Many visitors are not guests of the hotel. Those exploring the Laguna Beach area find the grounds of the property are stunning and well worth a visit, if only for a seaside lunch or sunset cocktails. This location is the brand's flagship hotel and since its inception, the group has added five properties to its collection. The most recent addition is in Lahaina, Hawaii.
Just past the wood-paneled lobby, a bright lounge area lures guests to the window sills that overlook an uninterrupted view of the shimmering ocean. Below the ocean horizon, a sunburst mosaic-tiled pool sprawls outward, made with more than 100,000 yellow, blue and white tiles. The pool is flanked by lines of lounge chairs, massive Canary Island Date Palm trees and immaculate green lawns that reach to the edge of the 50-foot ocean bluff. The lounge area has a stately Steinway piano that is played daily and a handsome bar for refreshments. Many visitors take to the sun drenched patios, ideal for sunset toasts and late-afternoon canapés.
Down a few floors, one can stroll along the grounds and admire the 50 or so tropical flora species that cover the prime real estate. Executive Chef Craig Strong's organic garden, plump with fruit trees, berry bushes, herbs and seasonal produce helps complete many of the restaurants' dishes.
Just a few steps from the garden is The Spa, one of the resort's best assets. The 20,000-square-foot facility blends seamlessly between its outdoor and indoor elements. A portion of the women's lounge is outdoors in the ivy laced garden complete with a fireplace and cold plunge pool. Stationary bikes are pointed towards the ocean and placed on the steps outside. Though the 21 treatment rooms are all indoor, most of the treatments are inspired by ocean elements, such as the Replenishing Marine Mineral Wrap that uses warm, nutrient-rich seaweed.
After a late morning of lounging in the private pool area and noshing on a smoothie and refreshing salad, I met my therapist for a 90-minute Seaside Ritual treatment. This therapy incorporated a few of my favorite spa indulgences: an invigorating scrub, a mineral bath and a hydrating, lush wrap. The wrap is comprised of silk laced with Undaria algae extract, known to give skin a pure, detoxed glow.
The Montage Laguna Beach is taking advantage of its Southern California location this year with four seasonally-themed packages. This spring's offering begins with a stunning coastal helicopter tour, followed by a picnic on a seaside cliff. A private dinner, catered by property's Executive Chef Craig Strong, takes place around sunset. The summer package is much more adventurous and aims to celebrate the centennial of California's National Parks Service. Guests will be whisked away to enjoy one of four experiences: a Jeep/ATV tour in Death Valley, a horseback ride in Joshua Tree, stargazing at Yosemite Park, or snorkeling at Channel Islands. A private Chef's Table dinner is also included.