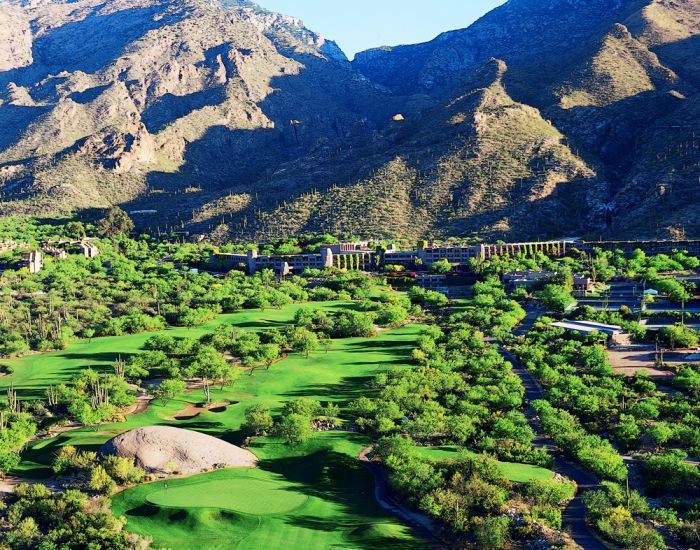 Photo Credit: Loews Ventana Canyon Resort
Swimming at sunrise in an open, heated pool with bare rock mountains towering high above is just one of the pleasures of staying at the Loews Ventana Canyon Resort outside Tucson.
Crescent-shaped, this upscale 398-room (including 27 suites) hotel sits snug in the most impressive of locations, embracing the Santa Catalina Mountain range and the Sonoran desert, while facing the city lights twinkling below under balmy evening skies.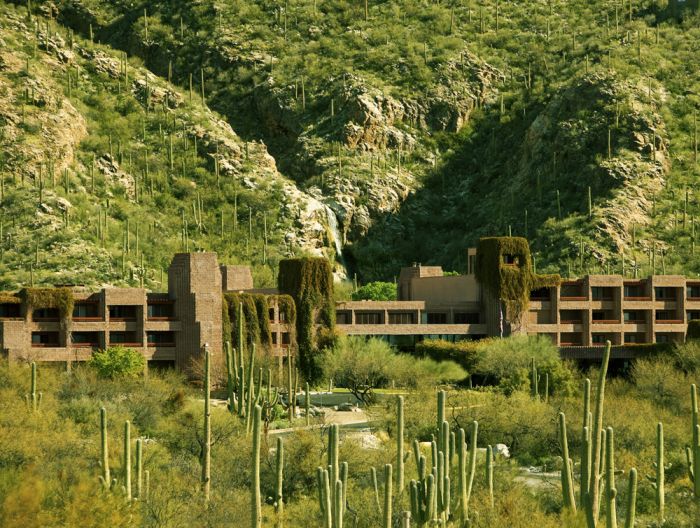 Photo Credit: Loews Ventana Canyon Resort
As if hewn out of solid rock, the hotel owners have made full use of the natural locality without spoiling its innate attractiveness. A delightful winding path leads guests gently upwards on an environmental discovery walk past diverse flora to a sparkling 80-foot waterfall. The falls flow into a brook that joins the major water feature on one of the property's golf courses. The trail also includes a custom butterfly garden, complete with all the plants necessary for the full life-cycle of a butterfly and a trickling water feature that attracts birds of all kinds. Seating along the route allows one to linger and absorb the surrounding serenity. Over 200 signs line the trail and identify plants and animals indigenous to the area. The hotel offers guided tours three times a week.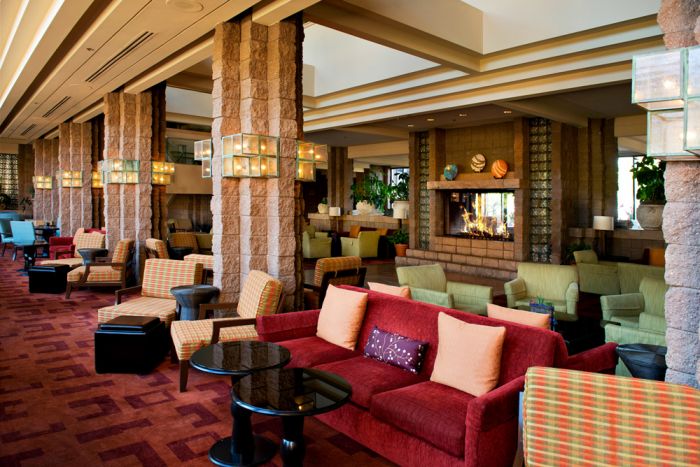 Photo Credit: Loews Ventana Canyon Resort
Earthiness plays as important a role inside as outside the hotel, with a flagged-stone floor, standing rock pillars and ornamental furnishings composed of semi-precious stones decorating the lobby. Cream-colored sofas, leather chairs and simple stools offer guests the chance to relax and enjoy the informal atmosphere, with glass-topped tables on shiny metallic legs for drinks and snacks. Attractive honey-colored lamps, a gleaming brass stairwell, giant flower pots filled with cactus and large earthenware urns add to the overall ambience.
Highlights of our comfortable room, 4302, included a huge square bathtub (the largest I've ever indulged in) and an expansive balcony granting panoramic views over a nearby lake, one of two Tom Fazio-designed PGA golf courses and the inspiring cityscape of Tucson spreading out to the horizon. The musical chirruping of birds in the mornings was an added bonus, uplifting one's spirits.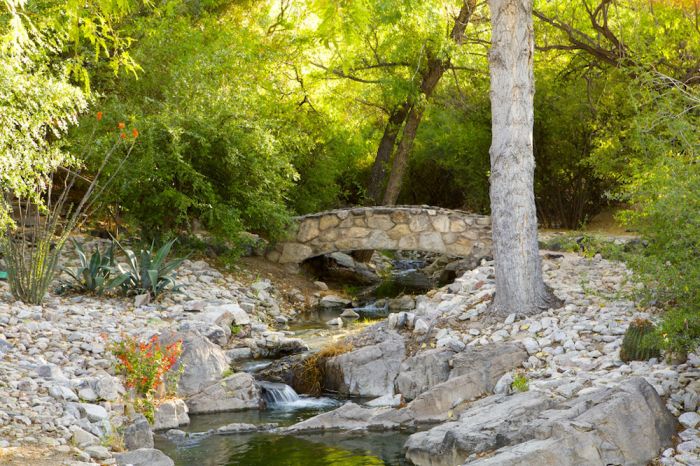 Photo Credit: Loews Ventana Canyon Resort
Having recently completed a multi-million dollar renovation, the property hosts many diverse activities, with two heated pools, an outdoor Jacuzzi, the two golf courses, Canyon and Mountain varieties which wind through the Sonoran Desert, as well as a lakeside spa and tennis courts. With floor-to-ceiling views of the majestic mountains, the fitness center is a popular place with yoga classes and other special programs held there.
For something quite different, guests and their children can also feed fish at a soothing Koi Pond or indulge in star-gazing on clear nights, using the resort's own telescope. Every week, a program leader from the Mt. Lemmon SkyCenter at the University of Arizona guides guests through the kaleidoscope of stars, planets and galaxies. The hotel also hosts a 'Coyote Kids Club' with fun activities that include 'Monster Pinatas,' 'Painted Lizards' and 'Sand Bracelets.'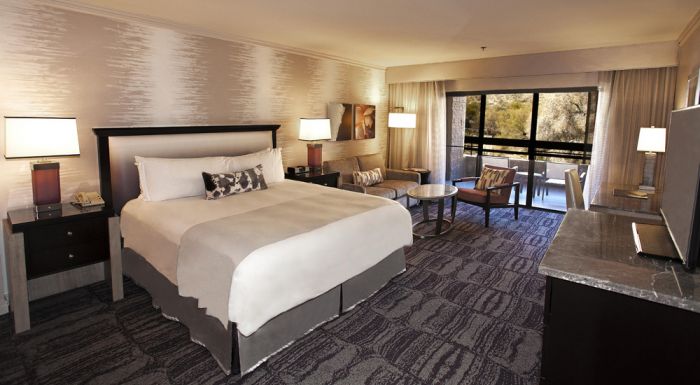 Photo Credit: Loews Ventana Canyon Resort
With 37,000 square feet of indoor function space and nearly 40,000 of outdoor space, the resort also caters to corporate meetings and conferences, as well as family occasions such as weddings.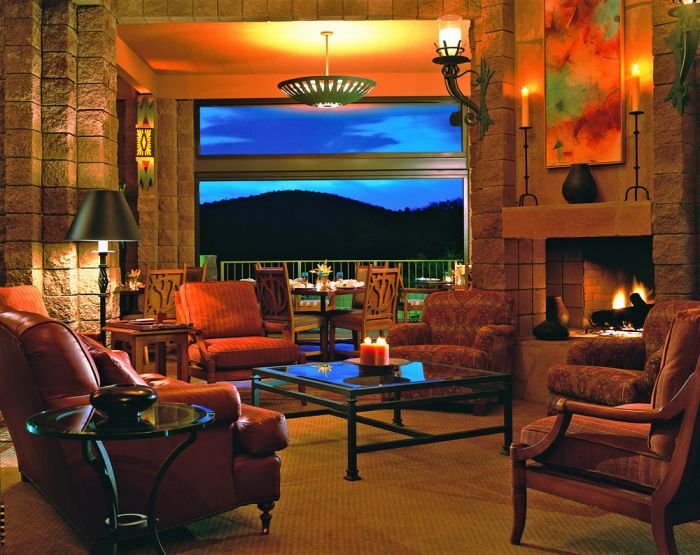 Photo Credit: Loews Ventana Canyon Resort
Loews Ventana Canyon Resort has four restaurant and lounge options plus a Blues, Brews & Barbecue Sunday Brunch. The 'Flying V Bar and Grill,' a former ranch which stands across the street from the main hotel building and features stone pillars and floor, sturdy varnished wooden tables and a roaring pit fire outside, is a choice place to dine.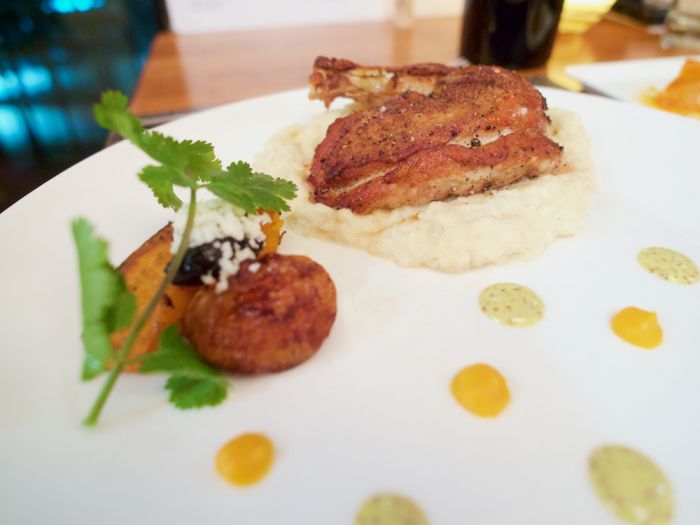 Photo Credit: Columbia Hillen
Interestingly, the property has a 'guacamoliere,' a person who whips up guacamole tableside with a range of vegetables and fruits such as green and red onions, mango, watermelon, cilantro, garlic and tomatoes, all served in a wooden bowl. My companion and I followed that up with tostadas topped with mushrooms, jackfruit, cashew crema, avocado, purple cabbage. A cold tossed salad, served on three tostadas, with a delightful sweetness from the jackfruit, nuttiness from cashew and spiciness from jalapeños.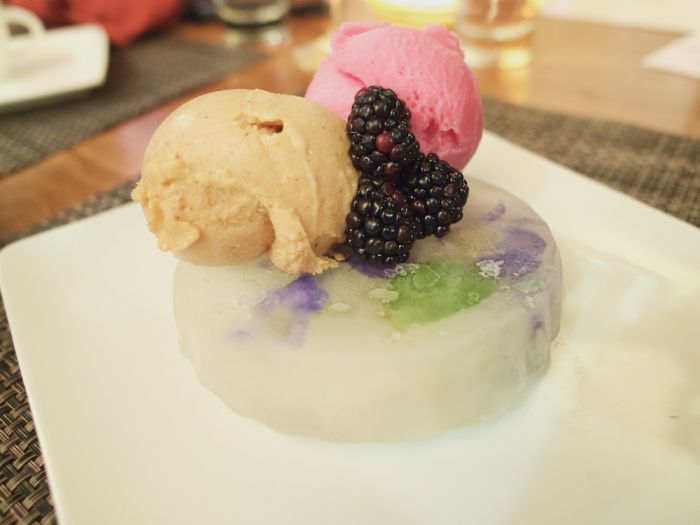 Photo Credit: Columbia Hillen
We both chose meats for mains. Tender baby back ribs bathed in an agave barbecue sauce with a soft spiciness in the after-taste, were served with jicama slaw and a corn on the cob. The roasted breast of pheasant emanated a deliciously pungent charcoal flavor and was accompanied by calabacitas, mashed cauliflower and a house mustard remoulade. Even the salad was innovative: baby kale with Cotija cheese, figs and pomegranate. A 2013 cabernet from Amavi Cellars in Walla Walla, Washington was a perfect complement. As for desserts, try choosing between homemade sorbet (prickly pear, lemon, banana and tamarind on a circular bed of solid ice with fresh herbs from the hotel's own garden embedded inside) or toasted banana cake with 70% chocolate pots de creme in an espresso cup and a slim bar of toasted banana dolce. Or why not both?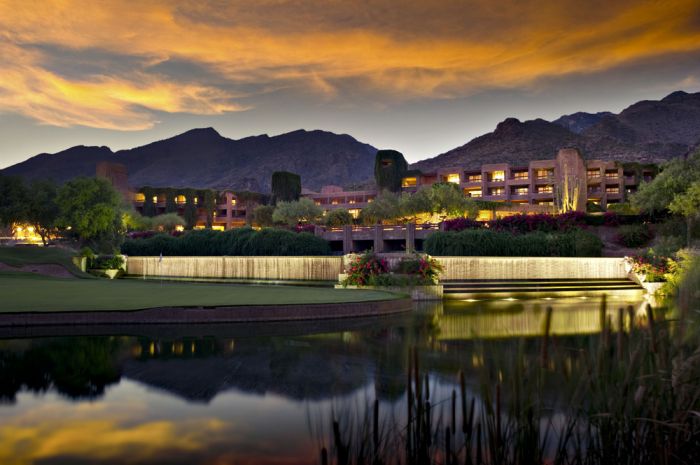 Photo used with permission from Loews Ventana Canyon Resort
Back at the hotel, appetizers and a light dinner menu are served in the Cascade lobby lounge where live music takes place. The 'Canyon Café' serves breakfast, lunch and brunch with its food described as 'modern American with Southwest Soul.' The 'Vista Barista' features freshly-baked pastries, breakfast sandwiches and light snacks and the 'Bill's Grill' is a poolside grill with cocktails and light fare.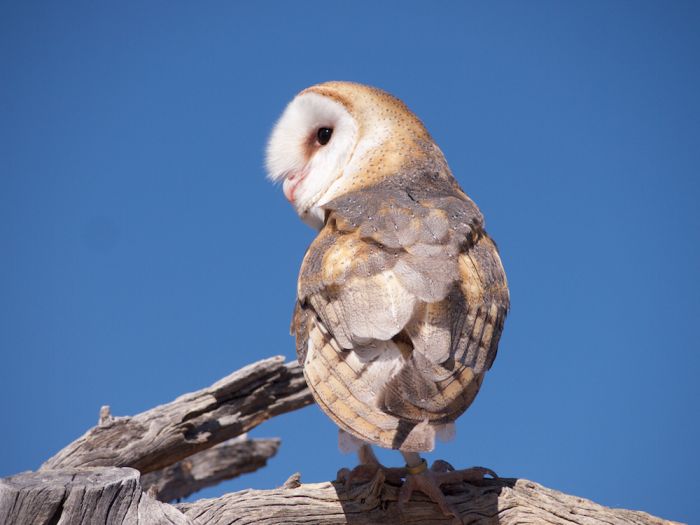 Photo Credit: Columbia Hillen
Rewarding excursions include a trip to 98-acre Arizona-Sonora Desert Museum and the Amerind Foundation. The former is a fusion experience: zoo, botanical garden, art gallery, natural history museum and aquarium. It has two miles of walking paths through various desert habitats with 230 animal species, 1,200 types of plants and 56,000 specimens. It also has one of the world's most comprehensive regional mineral collections. The Amerind is a museum and research center dedicated to the preservation and interpretation of Native American cultures. Exhibitions tell the story of America's first peoples from Alaska to South America and from the last Ice Age to the present. Its Fulton-Hayden Memorial Art Gallery highlights western themes by such artists as Carl Oscar Borg, William Leigh, Frederic Remington, and Andy Tsihnahjinnie, as well as contemporary Native American art. Sometimes, Indian artists demonstrate their skills in the museum.