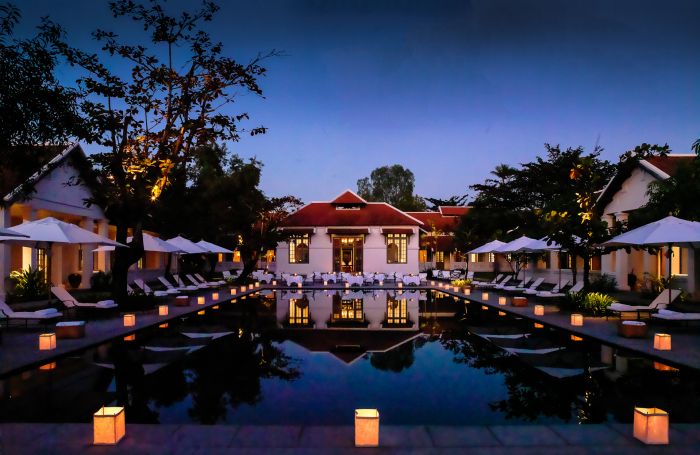 Photos Credit: Aman Resorts
It wouldn't be an Aman property without spectacular grounds, an unbelievably spiritual essence, or a UNESCO World Heritage address. Amantaka, located smack dab in the center of Laos' UNESCO-protected Luang Prabang, has all three attributes. This resort is a true jewel of Aman's expanding collection. I traveled to Myanmar and Laos recently and purposely made a stop in Luang Prabang just to experience this Aman. I'm only disappointed that I didn't visit sooner.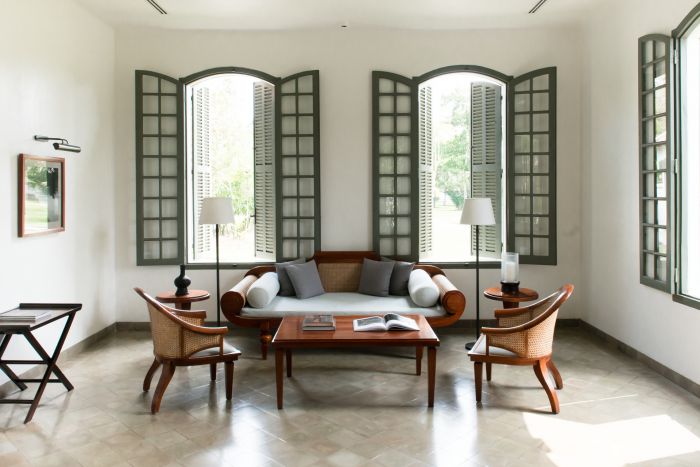 Amantaka, so named after tipitaka, meaning "the teaching of the Buddha," has a trace of elegant transcendence. The 24-suite resort is indeed steps away from sacred Mount Phousi, Phra Bang, and the daily trek of monks who walk at dawn in silence to collect alms. Inside the property, however, is a further sense of serenity which General Manager Donald Wong surmises is due to the site's history of healing at the city's national hospital.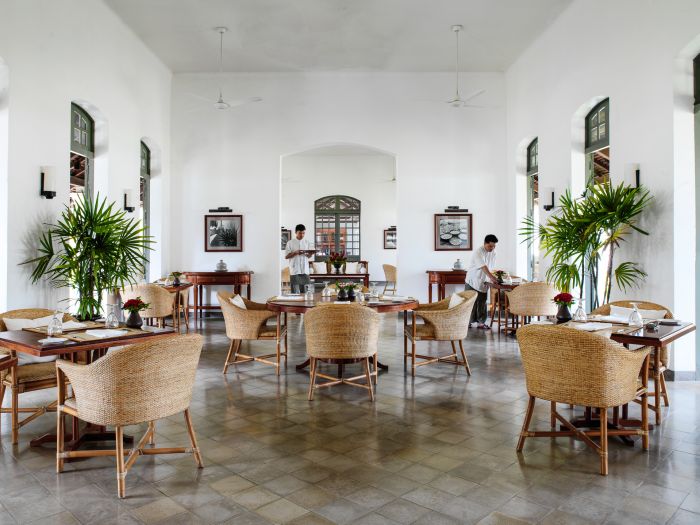 Meticulously restored down to its light green louvered shudders, Amantaka maintains its colonial French style which spread throughout Laos, Camboia, and Thailand in the 20th century. The restoration of the property was a prodigious effort led by renowned architect (and at the time, local resident) Pascal Trahan and Aman's interior design team led under Adrian Zecha, the founder of the Aman resorts.
Beyond the gleaming white exterior and the stunning pool area flanked by fragrant magnolia trees, the suites are filled with black-and-white photos depicting Buddhist life, four-poster beds, and rich cherry wood furniture by Mandalay. Mandalay is a furniture and interior group owned by Laos locals and husband-and-wife duo Elene and Gilles Boute. One signature aspect of Aman accommodations is enormous bathrooms, often which take up nearly half of a single suite. My bathroom was its own sanctuary and featured a long hallway with a stand alone bath tub, walk-in shower, and double door access to the private pool and patio of my suite.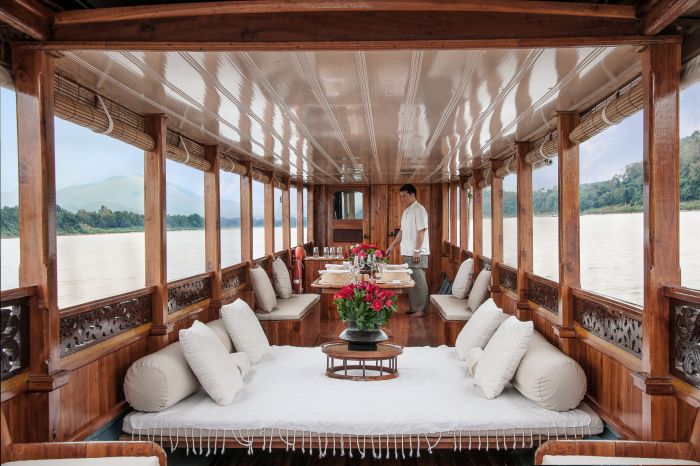 Though my bathroom and private pool could suffice easily for a spa, Amantaka's spa is a treat of tranquility. Given the intimate size of the property, I had the spa to myself on two occasions. One unique and soothing treatment I loved is the Baci Cleansing Ceremony, which incorporates traditional Lao chanting along with deep exfoliation and a massage. Blind massage therapists have long been a tradition throughout Asia, and Amantaka has its own fleet of therapists for its must-do "Seeing Through Their Hands" massage.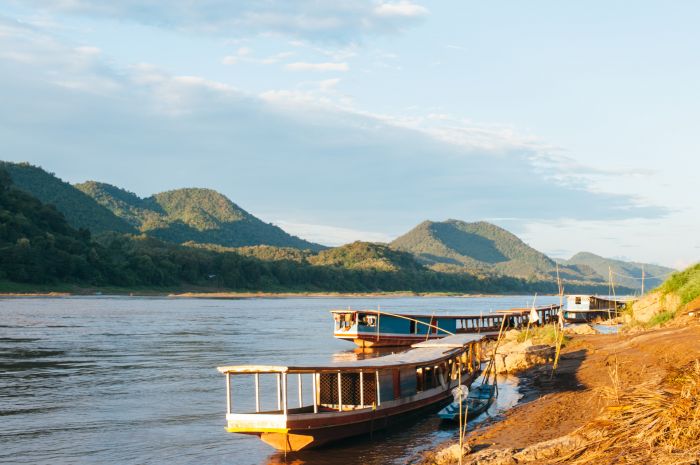 True to Aman ethos of cherishing and appreciating the local culture, Amantaka offers several excursions and activities for curious guests. The Mekong River cruise was one of my favorite experiences, and Amantaka has a custom-built traditional boat that takes guests down the wide, lazy river for sunset drinks and canapés. While the lush mountains drifted by us, our guide shared the history of the region, the importance of the water way and the current developments of Laos. Depending on the season, guests can also take a dip in the limestone pools of the Tad Se waterfalls, reached by boat on the Nam Ou River.
Also dependent on the (birthing) season is the Baby Elephant Experience offered in partnership with Mandalao, an elephant sanctuary with remarkable standards for elephant wellness. No riding of elephants happens at Mandalao, unlike other "sanctuaries" found throughout the country. Instead, this experience offers intimate up-close time with baby elephants (currently, baby Kit), fruit feeding, and a stroll with Kit and his family who endured logging camps before their rescue. I also enjoyed the brief time in the local Khmu village, and our guide happily translated our greetings and questions about their elephant neighbors.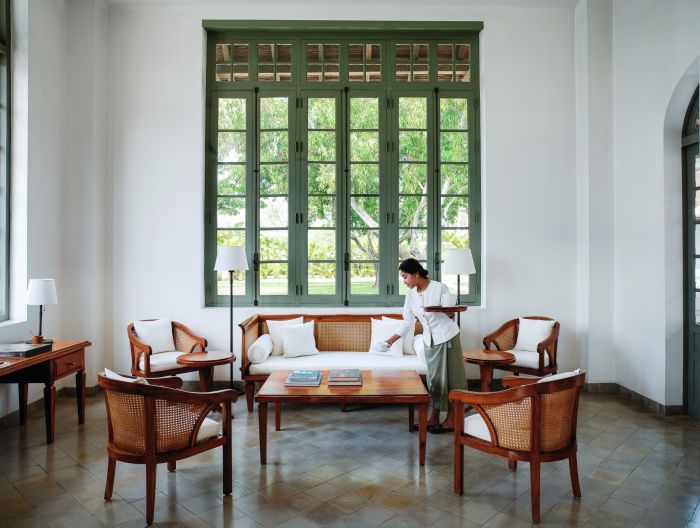 Back at Amantaka, guest lectures from local scholars and academics are held regularly in the properties' stunning library and which makes teatime intellectually delicious. Also consistent with Aman's attention to wellness and tranquility are the group's latest wellness "journeys," launched last year. Thus far, Aman has sold out an impressive roster of wellness retreats ranging from yoga to spiritual healing journeys.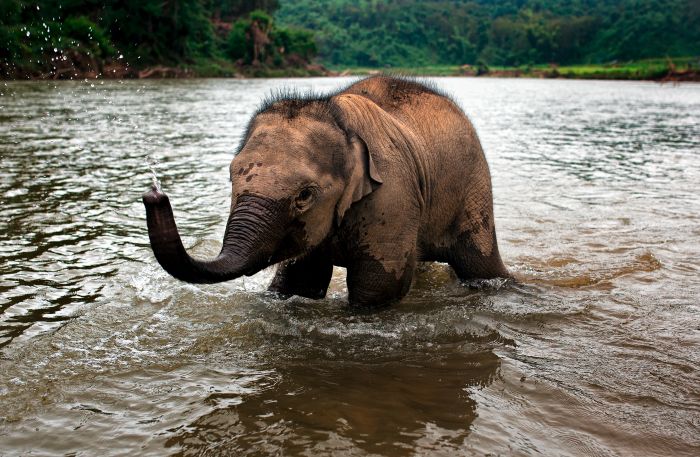 The first 16-day retreat will be led by Yamuna body rolling founder and lauded wellness guru Yamuna Zake. It includes stays at Aman's Bali (Amandari and Amankila), Java (Amanjiwo), and Philippines (Amanpulo) properties. I don't need a private jet or wellness guru to lure me to an Aman. Amantaka stands alone as a destination itself with its incredible setting, impeccable accommodations, and relentless devotion to sharing a special place with all guests.