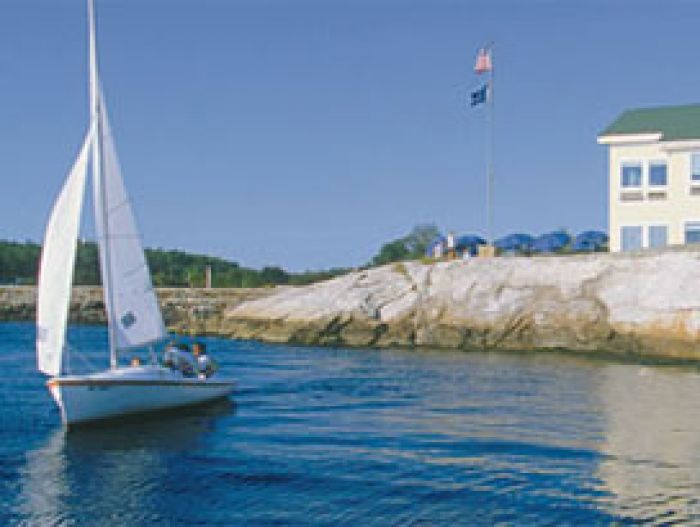 Luxury Resorts:
Located on more than 550 acres on the coast of Maine in Casco Bay, Sebasco Harbor Resort this year celebrates its 80th anniversary. The vacation destination has a variety of accommodations, including the Lighthouse, Main Lodge, Spa Suites and private cottages.
We stayed in the Captain?s Cottage, which offered a direct oceanfront view of Sebasco Harbor. There was a fully equipped kitchen (which was ideal for preparing meals and snacks) along with original pine floors, a huge Fieldstone fireplace in the living room, two bedrooms, one with two twin beds and the other with a queen. We relaxed on the screened in deck at night and watched some boats come in and out of the harbor. During the day, we took up a small grill and cooked outside. Our bulldog was greeted under the VIP (Very Important Pet) program, which included a dog bed and some extra treats, which she enjoyed.

The cottage, which was built in 1938, is located at the edge of Round Cove and is the most private cottage available on property on a 1.5 acre lot with direct waterfront access. It is also being offered for sale fully furnished (with a rental program available) and would make an ideal summer cottage. The buyer also receives a two-year membership in the Sebasco Harbor Resort Golf Club (initiation fee waived).
The sprawling resort complex overlooks Casco Bay and offers a variety of activities and amenities, including candlepin bowling, volleyball and tennis courts, an ice cream shop, wine tastings, weekly lobster bakes, nine-hole golf course, sailboat and motorboat rentals, and two waterfront dining restaurants.
Guests here can opt for the meal plan, which comes complete with breakfast and dinners. The lobster bake is a popular event with boiled potatoes, corn on the cob, hot dogs, burgers, coleslaw, hot sausage, grilled chicken breast, clams and steak. For dessert, don?t miss out on the watermelon and blueberry pie. The property also offers nightly entertainment, which was an ideal ending to a relaxing day in Maine.
Located just a mile from the beach and 12 miles south of Bath, the property also offers a solar heated saltwater pool on-site along with the newest addition to the property, the Fairwinds Spa, part of a recent $12 million renovation.
Sebasco Harbor Resort offers the perfect place to relax and unwind. Whether you are looking for a romantic getaway or family reunion, this property will surely delight.
For
JustLuxe
Kellie Speed