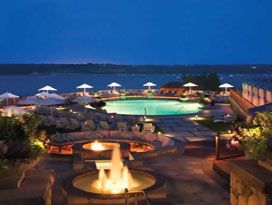 Let us tell you about Lloyd, the wonderful bellman at the Wequassett Resort and Golf Club.
We had met Lloyd at this splendid resort last summer, in 2008. This year, in July 2009, we returned to the resort, and happily met up with Lloyd again, who gave us a most welcome greeting and a kiss hello. We were delighted to see him again - and it was obvious he was genuinely happy to see us too. Added to that, he told us that this was his eighth summer at the Wequassett, because, in his words, "The Wequassett really knows how to treat their employees." We totally believe him, because all the employees here are happy, and it shows. How so? They burst with enthusiasm, pride, and great service. We have stayed at a lot of world-class resorts, and we can say, unabashedly, that at the Wequassett, we have experienced some of the best, most inimitable service that we have ever experienced, anywhere across the globe. We were - and continue to be -- impressed by the impeccable service that it proffers on its lucky guests.
And when you get right down to it, sometimes it's the little things that count the most. For example, after we arrived, sans dental floss, we inquired at 11PM at the front desk if they might be able to assist us in getting some. Faster than you can say, "Crest," a staffer appeared at our door with a signature bag filled with toothpaste, mouthwash, toothbrush, and the forgotten floss.

Another time, Debbi was seated in the Wequassett's Outer Bar & Grille, having an iced coffee. It contained a lot of ice, and certainly nothing to complain about. However, one of the waiters noticed the mountain of melting ice and found it to be at fault. "Mrs. Kickham," he said. "Let me improve upon that for you." With that, he took away Deb's coffee - and returned moments later with a frothy confection. "I used espresso and whipped the ice into it," he said. "You should like this one much better."
That's pretty much the way things are run at the Wequassett Resort and Golf Club. In fact, the resort describes these displays as "heroic acts" on the part of the staff, and unbelievably, there were almost 1,675 documented at last count for just this year. Like the time when Andy Ross, Director of Sales and Marketing, learned that a bridesmaid was in despair having forgotten her mascara before the wedding. Without missing a beat, Ross drove to CVS and spent a mere $5 to make her day happier. Or the time that a server overheard two guests discussing and raving about a particular book all through dinner. Ross went the extra mile, bought the book on Amazon.com, and set it on the guest's bed as a surprise. "These are the small touches that we keep track of," says Ross, who adds that the resort has a party once a month to celebrate these displays of superior service. At each party, the employee voted the best gets an award.
You just have to love staying at a resort with this superlative attention to detail. We certainly have - and doubtless, so will you.
Other touches that we noticed - with delight - were the basket of complimentary suntan lotions set out at the pool - an especially nice touch. And we thrilled at the beautifully packaged complimentary chocolate-chip cookies that were doled out to all guests as a special after-dinner gift, in the main restaurant. (They were made with Valrhona chocolate and amazingly delicious.)
Ross also told us that the resort's bedding is now also being used at the Boston Harbor Hotel in Boston (both are members of Preferred Hotels and Resorts). And that the newly opened Mandarin Oriental in Boston is using the Wequassett"s "Control Four" technology in which the TV remote handles all TV, electrical and lighting, fireplace, and music in guest rooms. Says Ross:" We're the itty-bitty property that everybody watches."
The property recently invested $40 million to make the beautiful property even more spectacular - including a 3,000-sq.ft children's activity center with a separate kid's pool; an Olympic-size lap pool; four tennis courts; grilling facilities; and new landscaping - all meaning that its standards for excellence will reach even more unprecedented levels.
Accommodation Options
120 Rooms including
7 Suites
The resort offers 115 rooms and 3 suites, with the most expensive suite, Nos. 217 and 219, costing $3,750 per night. Signature Ocean Suites, the resort's finest accommodations, feature walls of windows overlooking charming Pleasant Bay, which is typically filled with boats - they are picture-postcard beautiful. These rooms feature state-of-the-art splendor, with the "Control Four" technology and a high-definition Plasma TV. They also include a marble bathroom; a showerhead the size of a dinner plate; double sinks; Molton Brown products; and a Jacuzzi outfitted with a special silver tray bearing a copy of Anne Morrow Lindbergh's Gift From The Sea, all complemented by beige-and-white New England toile wallpaper. The bedroom features two queen-sized beds; Keurig coffeemaker and assorted coffee pods; a mini bar ( a very attractive amenity where everything is available at cost, meaning that you can get Pellegrino and Pringles for just 75 cents - a point that Lloyd proudly told us about); and a desk. The resort offers wireless Internet throughout, and offers complimentary laptops, which we gladly made use of (we are writers, after all). To be honest, the only thing the resort overlooks, well, is Pleasant Bay.
When not in our room, we preferred resting in the recently renovated pool area featuring numerous tented cabanas, umbrellas a-plenty, and perhaps the most comfortable cushioned beach chairs we've ever experienced at a resort. Resting on them, it was like lying in bed, we kid you not. Next to the pool is a slip of sand where you can dip your toes into the ocean. Take our advice and forget that - just have the resort pack you a picnic lunch and take the complimentary boat ride out to its private beach that's part of the acclaimed National Seashore, and have yourself one fantastic Cape Cod day. We can't think of a better way to spend any day.
Delicious Dining
The restaurants at the Wequassett are designed to impress - just like the staff. The Outer Bar & Grille is an open-air venue serving traditional Cape Cod favorites in an easy, breezy atmosphere. Appetizers include stuffed quahogs and a shrimp-and-crab cocktail. We adored the arugula baby spinach salad served with a sweet strawberry vinaigrette with toasted pine nuts - it's a winner. Pizzas and paninis are also available. We delighted in the grilled swordfish served with orcecchiette pasta and ratatouille, and the grilled salmon with olive tapenade.
28 Atlantic, however, is the resort's piece de resistance, and Cape Cod's only restaurant to have received four stars from Mobil, four diamonds from AAA and the highest Zagat rating down on the Cape. This magnificent room features walls of windows overlooking Pleasant Bay, and is a stunner. Here, Chef Bill Brodsky serves classic Cape Cod cuisine with a gourmet twist - such as Chatham "day-boat" scallops with mushroom ravioli and truffle cream sauce. Appetizers include organic baby lola rossa and tango greens served with raspberry vinaigrette, and organic simple greens in a champagne vinaigrette, all artfully prepared and served. The entrees, which start at $25 for braised organic chicken, also include a petite clambake and a caramelized salmon with white bean ragout. It's not so much a menu as an extraordinary experience. "I try to keep the preparations as simple as possible to let the quality of the amazing ingredients that I use take center stage," says Brodsky. Sumptuous side orders include porcini-scented whipped potatoes; asparagus-mushroom gratin; and creamy polenta with goat cheese.
We weren't surprised that we had such a delightful meal - the menus are adorable in themselves, and, like an invitation, hinted of what was to come. The menus are plastic with a blue gel inside, whose look is to inspire waves. A totally fun concept, for an excellent restaurant whose wine list, which covers all regions of the world, has won Wine Spectator's Award of Excellence many times.
Thoreau's is the popular bar area adjacent to the main dining room, serving favorites such as clam chowder, yellowfish tuna sushi, cheeseburgers and chicken sandwiches. Here, if you desire, you can even order from the 28 Atlantic menu - patrons sitting next to us did just that and spent more than $300 on their dinner in a very relaxed setting.
Activities
Weddings and Conferences
Clambakes
Private beach accessed by boat
Pool
Poolside pampering with spa treatments from The Pampered Mermaid
Kayaks
Championship golf
Fitness Center
Four tennis courts ($30 hr.)
Complimentary shuttles to the village of Chatham
Jazz Festival that runs June through September

While the Wequassett offers numerous activities, the highlight is the golf at the neighboring Cape Cod National Golf Club, one of the finest, most prestigious private clubs in the nation. The championship-quality, 6,954-yard, 72-par course with 18 challenging holes was designed by Brian Silva, Golf World Magazine's 1999 Architect of the Year. The breezy, well-groomed course takes full advantage of the Cape's unique topography and natural beauty. Tee times cost $140.



To sum it all up, the Wequassett is a stunner - in every way. A stay is a totally exceptional experience - and one you'll never forget. When you go - give Lloyd our best.

Local Attractions


The entire Route 6 Area
Automobile museum
Walking and hiking paths
Beaches in Truro and Wellfleet
Antiquing
Fishing
Day trips to Nantucket and Martha's Vineyard
Whale-watching

Route 6A, which takes you to the Wequassett, is 39 miles long and is the longest contiguous historic district in America - it contains four centuries of architecture. The scenic route is rife with antique shops, art galleries and restaurants. For the car fanatic, the Heritage Museum and Gardens in Sandwich owns and exhibits the most important collection of American automobiles in the United States. Enjoy biking? The Cape Cod Rail Trail follows a former railroad path for a 22-mile stretch through the towns of Dennis, Harwich, Brewster, Orleans, Eastham and Wellfleet - and is a wonderful way to see Cape Cod via bike, horse, or just your own two feet.

We especially recommend taking the quick half-hour drive to explore the incredible world-famous beaches in Truro and Wellfleet, which are part of the legendary Cape Cod National Seashore. A beach such as Newcomb Hollow, in Wellfleet, for example, has incredible dunes that are almost 100 feet high. You should also take in Head of the Meadow in Truro, which also has beautiful sand dunes. Both of these beaches are ideal for swimming and sunning; there's a $10 charge to visit Head of the Meadow. No visit to the Cape is complete without visiting these stunning sands.



By Debbi K. Kickham and William D. Kickham. Esq.
JustLuxe Contributors
Marketingauthor.com