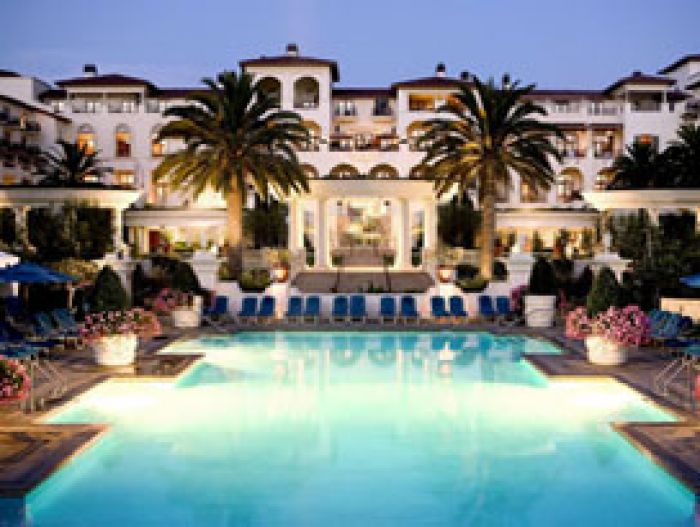 Hotel Review:
Whether you are looking to get away for a weekend, or are planning an exciting family vacation, the
St Regis Resort, Monarch Beach
in Southern California does what a St. Regis does best: offer you and your family the best of all worlds. Not only are their amenities top-tier, but so is the service, the dining, and all the facilities you'll have access to during your stay.
The Tuscan Style resort is devoted to relaxation and rejuvenation, and its ideal location along the pristine beaches of Southern California provides its lucky guests the opportunity to escape the everyday and enjoy the sand and surf of Laguna Beach.
Like all St. Regis hotels and resorts, Monarch Beach has worked hard to bring to you all the same comforting accommodations you would find at home in their rooms and suites: lavish goose-down comforters for a restful night's sleep, oversized soaking tubs and dual vanities in the all-marble bathroom, and sitting areas furnished with comfortable leather chairs and custom-made carpets.

There is no denying that the suites at the St. Regis Monarch Beach are equipped with all you need to feel at home, even if you are thousands of miles from the real thing. Enjoy the sunset over the Pacific from your private balcony or relax in the Jacuzzi tub to soothe your skin after a day in the sun.

But what makes the resort exceptional are the things you will do in addition to enjoying the comfort of your room or suite, whether you are tempted by the indoors or the outdoors.

Three swimming pools await you during the day: the family-oriented Lagoon Pool, the main pool, and the 3-lane lap pool at the Spa Gaucin fitness center. Those seeking a daytime retreat without having to return to the indoors can indulge in the lavish pool cabanas, that offer everything you'll need to enjoy the sun on your own terms: a private patio, flat screen televisions, DVD video systems, ceilings fans, cordless phones and internet access including Wi-Fi.




The expert therapists and aestheticians at Spa Gaucin are ready to transport guests from the stress of everyday life to the peaceful setting of one of their 25 treatment rooms, or one of the four romantic couples' suites, where you are immersed in tranquility and tempted with a long menu of signature, customized treatments. Along with the spa, St. Regis Monarch Beach also offers the renowned Vogue Salon for luxurious manicures, pedicures and salon treatments for both men and women.

In the evening, after you have indulged your senses either on the beach and in the ocean or at the spa in a treatment room, you will be eager for a satisfying and rewarding meal. This is where the one-of-a-kind dining experience, Stonehill Tavern, awaits you.

With celebrated Chef Michael Mina at the helm and world-renowned designer Tony Chi behind the design, the ambiance and cuisine work hand-in-hand to bring you a meal you won't forget. The modern American menu features Mina's signature small plate trios, allowing you to taste your favorite menu items in three distinct preparations.

The fireside dining room is well suited for larger gatherings as well as private business gatherings or intimate celebrations. Tony Chi's contemporary design lends itself perfectly to Mina's unique and artful culinary interpretations, creating a sophisticated atmosphere that is augmented by the pristine views of the Pacific Ocean.

There is something to be said for California living: it is easy to adapt to and hard to leave. After your first stay at the St. Regis Monarch Beach, you will find yourself looking to return year after year to enjoy some of the SoCal sunshine with your entire family, or a much-needed solitary getaway

For JustLuxe Kate Prihoda