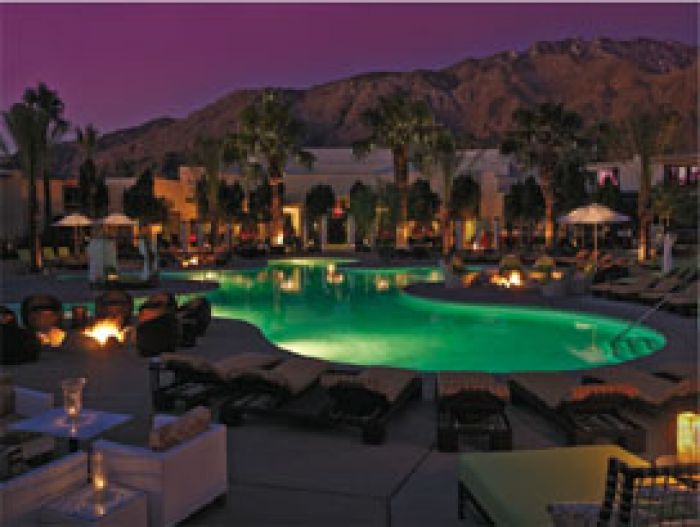 Resorts & Spas:
Historical is the new sexy in the hotel biz. Iíve been investigating a few properties of late-the Andaz in West Hollywood, the Peninsula in Beverly Hills, the Island Hotel in Newport Beach-none of which have been torn down, but instead revived to the nines with a focused effort to cherish historical significance. My latest trip to the
Riviera Resort & Spa
in Palm Springs proved that historical certainly means hip.
Opened in 1959 in the heyday of Palm Springs, The Riviera Resort and Spa quickly became the go-to destination for celebrities. Now with a 70 million dollar renovation, this little desert legend is about to get hot again. The 24-acre property boasts 406 suites, each appointed with bold sweeps of greens and oranges, mod meets modern furnishings, fun pop art, and massive bathtubs. The resortís suites surround the cabana rimmed, palm tree laden pool. My guest and I lounged around it for hours and enjoyed the pampering of the resortís pleasant staff.


Views of the pool enhanced our dinner experience at Circa 59, the resortís signature restaurant decked out in red chandeliers, wing back chairs, and sweeping drapes. What glam! Our server, Steve, could not have been more on point and presented a stunning meal highlighted by excellent halibut and steak. I also found the crab cake appetizer to be exquisite-bursting with crab, tangy and sweet, and swimming in a beautiful sauce. The next day, we were delighted to find Circaís menu offerings available pool side, as served up by the Bikini Bar and Side Bar.



Across from Circa 59 and over the gleaming pool sits the Rivieraís 11,000 square foot spa, SpaTerre. I was delighted to find SpaTerra not to be a traditional attachment to the resort, but its own destination. SpaTerra features a Watsu pool, 18 spacious treatment rooms and exotic lineup of rejuvenating services inspired by Balinese, Thai and Indonesian rituals. I enjoyed, for the first time, a Bali massage, traditionally given to brides-to-be and performed with rhythmic, drum-like moves.

Looks like the Riviera is celebrating itís 50th birthday in top form.

Katherine Sutton
Freelance Writer
JustLuxe Contributor

Riviera Resort and Spa

Riviera Resort and Spa

Riviera Resort and Spa

Riviera Resort and Spa

Riviera Resort and Spa

Riviera Resort and Spa

Riviera Resort and Spa

Riviera Resort and Spa

Riviera Resort and Spa

Riviera Resort and Spa