Rancho Valencia Spa: Intimate Escape in San Diego
Posted: Aug. 12th, 2010 | Comments 0 | Make a Comment
Luxury Spas:
Intimacy is an elusive quality for resorts and spas to master, and I often write how it's a quality so paramount to the guest experience. On a recent visit to
Rancho Valencia's
spa, my thought as I strolled the pathways of the Spanish inspired grounds was, "Now this...is intimate."
A darling of press awards, including Tennis Magazine's Best Tennis Resort in the US, Rancho Valencia is a property used to over a decade's worth of the media limelight and high profile clientele. Somehow, the resort maintains a secluded, comfortable aura and its spa is no exception.
With only ten huge treatment rooms, each complete with a private patio, the Rancho Valencia spa accommodates a modest handful of guests at a time. The cozy locker room was a treat and a nice change from many spas I visit, where throngs of ladies rush to and from the locker room to showers and saunas. I had time before my treatment for a complete gym workout, followed by a refreshing soak in the cool and warm outdoor tubs, in complete serenity. Spa attendants inquired if I had any needs and offered warm banana bread (scrumptious spa food!) or a summery cocktail from the nearby pool bar, but I was content enough admiring the intricate landscaping of the spa on a perfect Southern California afternoon. It would be a botanist's delight to explore the grounds of this spa with its flowering lily pads, blooming cacti, and cascading walls of hibiscus flowers. I'm a flower fan and loved the variety around every turn and nook throughout the spa.



As for my treatment, as if I hadn't felt spoiled already, I boldly chose the Ddeep tissue massage. Sometimes a deep tissue massage can prove to be uncomfortable, but my therapist was attuned to me the moment I shook hands with her. "Ah, you held both of my hands," she smiled. "Don't worry, I can be as strong or light as you need." What a relief to a newbie of intense massages! I nearly dozed off during my massage, a perfect balance of pressure where I could handle it and lightness where I needed it.

As a local of the San Diego area, I'll certainly be returning to this hibiscus bliss of a spa. By the way, residences of the exclusive Villas at Rancho Valencia and their guests are free to enjoy the resorts' facilities gratis and receive a 15 percent discount on spa treatments. Time to meet some fellow locals, I think.

Learn more: www.ranchovalencia.com
Related Topics : Best Hotels, Luxury Travel
LET'S CONNECT LUXURY NEWS & MORE






Featured Luxury Hotels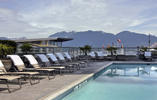 Vancouver, Canada
Fairmont Waterfront
The Fairmont Waterfront Hotel, Vancouver showcases the best of Vancouver....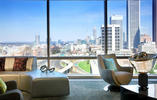 Atlanta, United States
W Atlanta - Downtown
Contemporary sophistication is all yours at this savvy southern W Atlanta...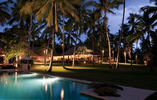 Bali, Indonesia
Alila Manggis
One of Bali's best kept secrets, Alila Manggis is a secluded, stylish seaside...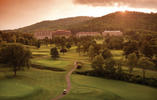 Asheville, United States
The Grove Park Inn
The Grove Park Inn opened on July 12, 1913. Secretary of State, William...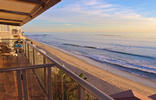 Laguna Beach, United States
The Retreat in Laguna
The Retreat in Laguna is where you can create your own personalized vacation...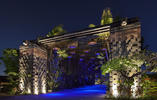 Bali, Indonesia
The St. Regis Bali Resort
Bask in luxury on the soft, sandy beach of Nusa Dua, the Garden of Bali, where...