Katherine Bond View Profile

Freelance Writer
Rancho Valencia Spa: Intimate Escape in San Diego
Aug. 12th, 2010 | Comments 0 | Make a Comment
Luxury Spas:
Intimacy is an elusive quality for resorts and spas to master, and I often write how it's a quality so paramount to the guest experience. On a recent visit to
Rancho Valencia's
spa, my thought as I strolled the pathways of the Spanish inspired grounds was, "Now this...is intimate."
A darling of press awards, including Tennis Magazine's Best Tennis Resort in the US, Rancho Valencia is a property used to over a decade's worth of the media limelight and high profile clientele. Somehow, the resort maintains a secluded, comfortable aura and its spa is no exception.
With only ten huge treatment rooms, each complete with a private patio, the Rancho Valencia spa accommodates a modest handful of guests at a time. The cozy locker room was a treat and a nice change from many spas I visit, where throngs of ladies rush to and from the locker room to showers and saunas. I had time before my treatment for a complete gym workout, followed by a refreshing soak in the cool and warm outdoor tubs, in complete serenity. Spa attendants inquired if I had any needs and offered warm banana bread (scrumptious spa food!) or a summery cocktail from the nearby pool bar, but I was content enough admiring the intricate landscaping of the spa on a perfect Southern California afternoon. It would be a botanist's delight to explore the grounds of this spa with its flowering lily pads, blooming cacti, and cascading walls of hibiscus flowers. I'm a flower fan and loved the variety around every turn and nook throughout the spa.



As for my treatment, as if I hadn't felt spoiled already, I boldly chose the Ddeep tissue massage. Sometimes a deep tissue massage can prove to be uncomfortable, but my therapist was attuned to me the moment I shook hands with her. "Ah, you held both of my hands," she smiled. "Don't worry, I can be as strong or light as you need." What a relief to a newbie of intense massages! I nearly dozed off during my massage, a perfect balance of pressure where I could handle it and lightness where I needed it.

As a local of the San Diego area, I'll certainly be returning to this hibiscus bliss of a spa. By the way, residences of the exclusive Villas at Rancho Valencia and their guests are free to enjoy the resorts' facilities gratis and receive a 15 percent discount on spa treatments. Time to meet some fellow locals, I think.

Learn more: www.ranchovalencia.com
Featured Luxury Hotels
Sedona, United States
The Sedona Rouge Hotel and Spa
The Southwest United States was once part of a vast domain of little known...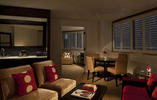 New Orleans, United States
W New Orleans
What's the word for W New Orleans? Spicy. Located just steps from the notorious...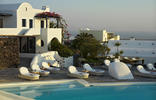 Santorini, Greece
Vedema Resort Santorini
Vedema Resort is the place where style, emotions, creativity and perfection...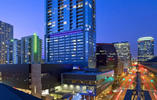 Austin, United States
W Austin
Visiting Austin for business or leisure? At the W Hotel in Austin, you will...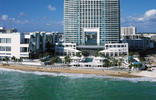 Fort Lauderdale, United States
The Westin Diplomat Resort and Spa
REFRESH UNWIND The Westin Diplomat Resort & Spa offers a refreshing way to...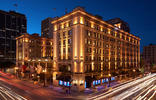 San Diego, United States
THE US GRANT, A Luxury Collection Hotel
A San Diego icon since 1910, THE US GRANT, a Luxury Collection Hotel provides...