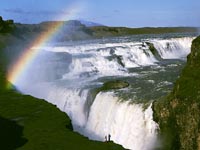 Overview:
With its glassy glaciers, hot thermal springs, spectacular geysers, active volcanoes, lava fields, stunning waterfalls and snow-capped mountains, Iceland is indeed the original 'land of fire and ice'.
It is not only unique and wonderful natural phenomena that intrigue visitors to this, the second largest island in Europe, which lies close to the Arctic Circle northwest of Scotland and south of Greenland. The hardy Icelandic people, descendants of ancient Norsemen and Celts, are intriguing too, having spawned what is now renowned as the oldest-surviving parliament in the world (called the 'Althing'), founded in 930AD. Iceland also boasts a much-revered literary heritage of the best medieval works, mostly based on heroic sagas.
Most of the country's popular tourist features are in the south of the island near the capital, Reykjavik, in the region known as 'The Golden Circle'. Top of the list for scenic splendour is the Gullfoss double-tiered waterfall, set off with a brilliant rainbow, and the spouting hot springs of Geysir.
Reykjavik means 'smoky', but in the case of Iceland's pristine capital (which is Europe's most northerly capital city) the smoke is not smog, but rather steam from the underground springs that warm the city. Reykjavik has a well-deserved reputation for being the cleanest, most invigorating city in Europe, where the standard of living is one of the highest in the world. The city may be small, but it is full of interesting attractions, from galleries and museums to thermal bathing spots, and the nightlife is second to none.
What else is there to do and see in Iceland? Well, how about whale-watching; chic fine dining; hiking the highlands; viewing Europe's largest glacier, Vatnajokull; fishing the rivers; taming one of the great wild Icelandic horses; river-rafting; exploring the ice on a snow-scooter; shopping for designer wear, souvenirs and gourmet foods; joining the descendants of the vikings in the Summer Solstice Festival at Hafnarfjorour; visiting the northerly island of Grimsey to cross the Arctic Circle; and visiting the recreated medieval farm at Stong, to name but a few!