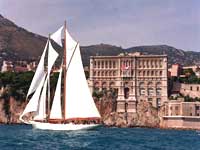 Overview:
An independent city-state west of the French Côte d'Azur, the Principality of Monaco is the playground of Europe's celebrities and idle rich. They are drawn by the sun, glamorous lifestyle and, most importantly, tax-free income, not to mention being in close proximity to one of the world's most publicised and famous Royal families. There are more millionaires per capita in this, the world's most densely populated country, than anywhere else, but true 'Monagasques' make up only about 15 percent of the population in a country that is jam-packed with opulence, wealth and the world's most expensive real estate.
As anyone who has seen the legendary Grand Prix will know, Monaco and its unofficial capital Monte-Carlo (the country doesn't actually have a capital) aren't as good looking as its sleek residents and visitors; most of the buildings are unattractive monstrosities, and the tiered urban jungle is cut off from the shoreline by sweeping roads: the roads on which Formula 1 racing cars screech during the annual Grand Prix in the second week of May each year.
Monaco does, however, have a suitably glamorous history: disguised as a Franciscan monk, Francois Grimaldi reclaimed a fortress on the Rock of Monaco from a rival Italian bloc in 1297, giving the country its name, which is derived from the word monk. The country soon became a major port and prospered, and when Lord Honore II took power in 1604, he declared himself a Prince - a tradition that remains today. Later, Monaco was annexed by France, but the Grimaldis soon regained their power and in the late 1800s, in order to restore wealth to the country, Prince Charles III created the Societe des Bains de Mer, consisting of a casino, some hotels and a theatre, from which sprung today's glittering Monte-Carlo area.
If it's open spaces you are seeking, go elsewhere (apart from a few ornate parks there is little to enjoy); likewise, if your wallet is light, stay away, unless you want to try your luck at filling it in Monaco's landmark Roccoco Casino. However, if you want see and be seen, and rub cloaks with royalty, then Monaco is the place to be.