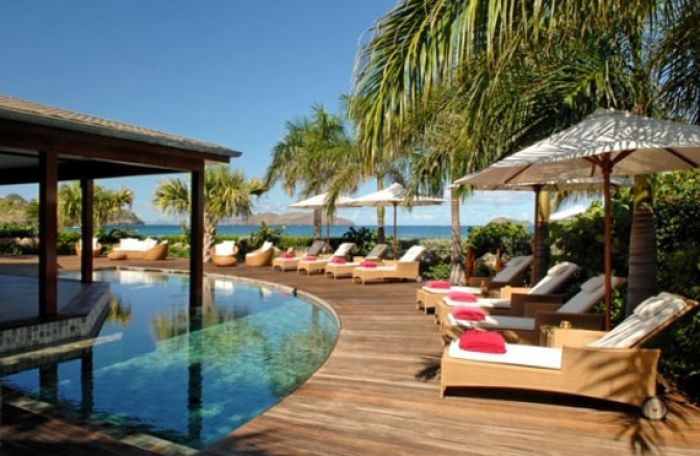 Photo Courtesy of La Plage Villa, St. Barts
St. Bart's offers some of the
best beach resorts
and villa rentals in the Caribbean, including the luxurious La Plage Villa in St. Barts. Just steps from the white sands and clear blue waters of Lorient Beach, La Plage Villa is a breathtaking example of island architecture, complete with every possible amenity and close to some of St. Bart's best attractions. The five bedroom villa with en-suite bathrooms offer spacious rooms with air conditioning, ceiling fans and French satellite television. Elsewhere in the villa is a complete kitchen for gourmet cooks, as well as a second kitchen for household staff. Each suite also offers stunning ocean, pool, or garden views and private terraces.

La Plage is located right on the beach and just minutes from the nearest grocery store, airport and town of Gustavia. In Gustavia, you can indulge in luxury shopping and fine dining in both French and Creole traditions. Eating on the island is a way of life with "accras" — small, deep-fried codfish fritters — being a favorite of many visitors. Shopping mimics the elegant streets of Paris with H?rmes, Louis Vuitton, Chopard, Bulgari and Cartier shops in the city.
After a day of adventures, La Plage Villa is the ideal spot to return for a relaxing soak in the spacious Jacuzzi or a drink on the terrace. Visit
Villa-la-Plage.com
to learn more.